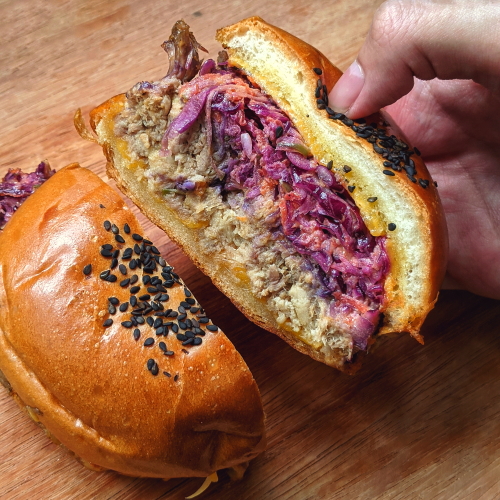 Best Burgers in Singapore That are Not Just Shake Shack
Burgers are great during circuit breaker, compact and easy to transport. Here are some of the Best burger places You should try.
I wouldn't call myself a burger expert, but I love indulging any sandwiched packages of joy. I have eaten my fair share of burgers and they translate well to deliveries during the circuit breaker period, even if you run the risk of soggy buns. It's a great time to try new places during circuit breaker to support the tumultuous F&B scene.
I'm missing usual suspects like Three Buns and Hans Im Gluck since I limited the list to those I've eaten in the last few months, having more confidence in their standards.
Burnt ends
It's impossible to get a seat at Burnt Ends, a mainstay in World's 50 Best Restaurant rankings. So takeaways was one silver lining in the bleak pandemic clouds that allowed me to try this Sanger Burger ($20).
The vivacious slaw bloomed like fireworks in the night sky. Likewise the burger illuminated crevices of my palate with its hearty flavours with voluminous gushes of well-spiced flavours from the pulled pork. That hefty but succulent block of protein was immensely filling and enough for two people.
The buns also miraculously retained all of their cloud-like integrity through the journey. Comfortably partnered with law crunchiness and dense meatiness, the textures on this baby never got boring. Notes of spicy chipotle aioli, sharp cheddar and slaw piquancy then rounded up the profile, which made me quiver with its immensely comforting heartiness.
They are open for takeaway or islandwide delivery, and also recently made the popular Burnt Ends Bakery a permanent fixutre.
Burnt ends
Website | Facebook | Instagram
Address: 20 Teck Lim Rd, Singapore 088391
Getting There: Approx 10 mins walk from Outram Park MRT
Hours: (Daily) 11.30am-9pm
Price Range: $20-$100
BurgerLabo
BurgerLabo's flavourful basic burger ($18) patty delivered a sensual textural threesome — an absolutely pristine crust gave way to juicy succulence, then a slight crumbliness coated the palate full of rousing beef bits and fluids.
The cheese and simple sauce built on it magnificently and was then enveloped with pillowy buns from Bakery Brera. it's not hard to see why BrugerLabo is touted as the best burger in Singapore, even if the price is slightly steep for it's small make. Truly burger engineering ingenuity.
Also do not miss out on a side of truffle fries, theirs are intoxicatingly fragrant and one for diehard truffle fries fans.
They are open for takeaway or islandwide delivery, call 6694 0807 or 8828 1478 to place orders.
BurgerLabo
Website | Facebook | Instagram
Address: Gillman Barracks, 41 Malan Rd, Singapore 109454
Getting There: Approx 15 mins walk from Labrador Park MRT
Hours: (Daily) 11am-8pm
Price Range: $20-$40
Dirty Buns
Living in Yishun, their double burger ($11, $14 with fries and coke) understandably arrived cold but the buns were still satisfactorily soft even if the bottom buns were slightly soggy.
Living up to their name, the patties were dirty and filthy as juices dripped with every bite. Sporting a balanced seasoning and delectable texture, these Dirty Buns patties played well with the cheese and pickles for some flavour interplay.
Definitely a lot of potential especially at the crazy low price of $11. Worth a return trip after circuit breaker. If you live closer to Bukit Merah, you might want to try out this hyped newcomer.
They offer pickup or island delivery for a mere $4, but pre-order early since they often sell out due to that quota.
Dirty Buns
Address: 102 Henderson Road S159562, Sprouts Hub
Getting There: Approx 15 mins walk from Redhill Mrt
Hours: (Daily) 5pm-7.30pm
Price Range: $8-$20
Five Guys
I prefer Five Guys Singapore to Shake Shack. I think they actually have a pretty decent and indulgent cheeseburger ($15, all the way toppings). The hefty and juicy patty was flavourful with an enjoyably tender texture that carried a whisper of char, though a touch more would have elevated it.
The presence of grilled mushrooms and onions also added some earthiness and sharpness which really boosted the profile. However, whilst their buns were soft and fluffy, they got pretty soggy towards the end.
They are open for takeaways now, and are available on grab food.
Five Guys Singapore
Website | Facebook | Instagram
Address: Plaza Singapura,

#01-32/33/34C/35, Singapore 238839

Getting There: 5 mins from Dhoby Ghaut MRT
Hours: (Daily) 11am-10pm
Price Range: $20-$30
Meatsmith
Meatmsith's selling their Cheeseburger for just $10 is just opening for daylight robbery — it was an unbelievable price-quality ratio. Two beautifully-smithed patties grilled marvellously, then smothered between pillowy brioche buns to create this inexplicably scrumptious little package.
The grill bestowed a smokey fragrance and gentle crust onto the succulent patties, which combined with the rich flavours of the sauce and cheddar for maximum umami. Playful pickles then entered the fray with their tart-sweetness to elegantly cushion those heavy-hitting flavours.
Meatsmith is open for takeaway (you can get their burgers at the Telok Ayer branch for just $10 daily) and islandwide delivery.
Meatsmith
Website | Facebook | Instagram
Address: 167/169 Telok Ayer Street, Singapore 068620
Getting There: Approx 10 mins walk from Telok Ayer MRT
Hours: (Daily) 11:30am–3pm, 4–9pm
Price Range: $10-$20
25 Degrees
When they are on top of their game, 25 Degrees' Number One ($14) is still my numero uno. An irresistible combination of a thicc and juicy slab of patty embraced by buttery and fluffy buns.
25 Degree's signature is a unique burger. It's accented by gorgeously caramelized onions and crispy bacon, then finished by sharp punchy gorgonzola and piquant thousand island sauce, which added an one-of-a-kind spunk atop its irresistible umami overload.
25 Degrees are doing takeaways and delivery on foodpanda and deliveroo now. Call 68097990 to order.
25 Degrees Singapore
Website | Facebook | Instagram
Address: Hotel G, 200 Middle Rd, Hotel G, Singapore 188980
Getting There: Approx 10 mins walk from Bugis or Bencoolen MRT
Hours: (Daily) 11am-11pm
Price Range: $15-$20
Hammee's
Hammee's operates out of a hawker centre, but they churn out restaurant-grade burgers. Their classic cheeseburger ($6/$8 for double) featured an obscenely juicy patty packed to the brim with rich bovine flavours.
There was magic in its eloquently mixed texture — mildly crumbly but mostly tender with doses of fattiness, all enveloped in a beautiful char that infused some crisp.
Dressed with simple sauce and perfectly caramelised onions, then sandwiched between two fluffy and buttery buns — simple but beautiful. The simple setup provided a stage for the patty to star, and it deserved an Emmy.
They are open for takeaways, you can call them at 98188014 to make advance orders before picking them up.
Hammee's
Address: 31 Commonwealth Crescent Market, #02-93 Singapore 149644
Getting There: Approx 10 mins walk from Bugis or Bencoolen MRT
Hours: (Wed-Sun) 11am-5pm, or until soldout.
Price Range: $6-$10
Alma by Juan Amador
I tried an older version of this burger during a pop-up, but I can only imagine it has been fine tuned by the Michelin-starred restaurant since.
Alma's Angus Beef Burger ($29) came with a juicy patty which carried a slight overabundance of fattiness, giving it a weaker bite but the trade-off was a stronger and richer flavour. But the genius was how a piercing cheddar sharpness accented that rich beefiness.
Paired with the mellow gochujang sauce's controlled sweet-savouriness and touches of spiciness, it was a rousing medley of flavours that was firmly anchored by those dreamy buns.
Alma by Juan Amador is open for takeaway and limited delivery , including a wide menu consisting of their famed one michelin starred mains and other items.
Alma by Juan Amador
Website | Facebook | Instagram
Address: Goodwood Park Hotel, 22 Scotts Rd, Singapore 228221
Getting There: Approx 15 mins walk from Orchard MRT
Hours: (Tues-Sat) 12pm–2pm, (Mon-Sat) 6pm–9.30pm
Price Range: $30-$100
Chico Loco
After all the beefy bois, here's one for the chicken lovers and it's a good one — Chico Loco's eye-catching hot buttermilk chicken sandwich ($14). That colossal slab of chicken was perfectly seasoned, gratuitously crispy and unbelievably succulent.
A lively ensemble of slaw, jalapeños, pickled cucumbers and spicy mayo tangoed with the flavourful chicken on the palate, in a salaciously-spiced and enjoyably-salted showcase. Topped with sesame buns from Burnt Ends, this is a burger definitely worth your calories.
Chico Loco is currently offering takeaway and islandwide delivery.
Chico Loco
Website | Facebook | Instagram
Address: 102 Amoy St, Singapore 069922
Getting There: Approx 10 mins walk from Telok Ayer MRT
Hours: (Daily) 11.30am–9.30pm
Price Range: $15-$30