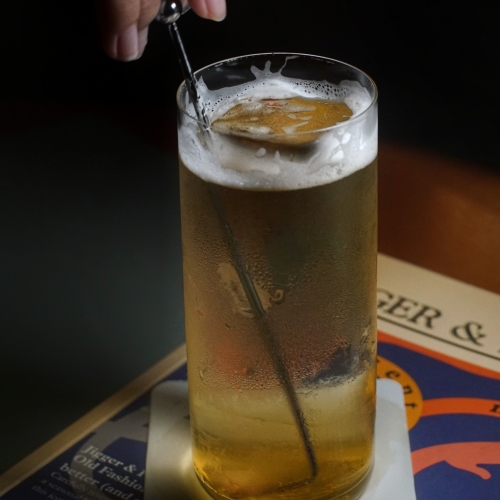 Legendary Cocktail Bar Jigger & Pony is Named Singapore's Best Bar Again
If mixology is an art, Jigger & Pony is Singapore's museum for cocktails. This institution is a cornerstone of bar history here that spurred on the careers of many of today's top bartenders.

To call Jigger & Pony the godfather of the Singapore cocktail scene is fitting. First opened in 2012, the bar has been one of the stalwarts driving the cocktail scene forward during its fledgling stages
Known for a dedication to the craft and a notoriously stringent bartender exam, patrons can expect the most precise classic cocktails executed with Japanese-style perfectionism
A relocation from Telok Ayer to neighbouring Tanjong Pagar in 2018 saw them find a new place to call home inside the Amara Hotel, in a much swankier and refined setting to match their signature bartending finesse.
It is that devotion to the highest standards that saw them climb the ranks of the World's 50 Best Bars rankings with insane swiftness after their move.
Fast forward to 2022 and Jigger & Pony has recently just clinched No. 2 on Asia's 50 Best Bars, above other prestigious local comrades such as Manhattan and MO Bar.
Needless to say, Jigger & Pony is a must-visit for anyone keen on exploring classic cocktails mixed with purpose and discipline.
Great Value Happy Hour
Many cocktail bars in Singapore would offer welcome snacks to pair with your drinks. Here, you are greeted with refillable bowls of crispy cassava chips that are coated in fragrant umami seasoning.
Anyone looking for a merrymaking session of high quality at affordable prices, Jigger & Pony's affordable happy hour should be on your itinerary. A rather rare sight to have a World's 50 Best Bar still offering decent happy hour deals.
Start off with the zippy Yuzu Whiskey Sour ($16/happy hour) that's elegantly zesty and silky smooth, one of the beloved mainstays on their menu.
Ramping up in potency, get a taste of Jigger & Pony's immaculately balanced Negroni ($16/happy hour) that boasts of sweet punchy braggadocio while not turning too syrupy — a good faithful account of the Italian classic.
A Decent Menu
Being the humble perfectionists they are, the main menu at Jigger & Pony is endearingly dubbed "A Decent Menu."
As with the Negroni, their Old Fashioned ($28) is a faithful adaptation crafted with bourbon, bitters, and demerara sugar. No frills and just made with Jigger & Pony's fine-tuned precision.
Given how deeply entrenched classics are in the bar's culture, it's also natural to find more simple, unconfounding reconstructions of time-honoured recipes.
Aside from the aforementioned enlivening of Whisky Sours with Yuzu, Jigger & Pony's Espresso Martini ($28) is another uncomplicated classic reimagination — made a lot more photogenic.
With the added pizzazz of a cacao tuille and a moderated dose of sweetness from coffee flower honey, this is slightly easier to stomach than usual. But if you're an overt coffee snob like me, this might still not hit the spot.
Admittedly, nothing ever really strays too far into the adventurous zone but a few interesting ones include the Champagne Cocktail ($28) and Korean Boilermaker ($28).
One is a simple cognac base that is turned wild after a champagne yogurt pill is plopped in for additional effervescence, and the other is a vivacious elevation of Soju Bombs built on scotch, passionfruit, and hops to emulate beer but without the bloat.
Jigger & Pony regulars would also strongly push for the Madame Presidente ($28) as a quintessential classic. Despite a similar name, it's quite different from an El Presidente.
This is a medley of gin, dry vermouth, orchid and bitter melon liqueur, topped with a cute Campari lollipop. Sophisticated in balance, with the right mix of punch and fruitiness — easy to drain.
Let the Bespoke Speak
One area that Jigger & Pony sacrifices, in its pursuit of perfection, is a circumscribing of the bartenders' improvisation.
Virtually any classic can be ordered but there are exact directives on their preparation that the bartenders need to know by heart.
Hence, it's rare to find much flair when it comes to bespoke orders ($28). Ramos lovers though would love how well-shaken and creamy they make theirs, even in Mezcal Ramos Fizz form.
Known as the maverick I am, I of course try to ask for entirely-new recipes from the bartenders. Sometimes, the sparks fly and certain curious concoctions are born.
Circumventing my general distaste toward coffee cocktails, I was charmed by an interesting amaretto shake-up of the Irish Coffee that was fragrant, slightly sweet, and supremely comforting.
There is obviously a long list of other memorable creations created on the fly by Jigger & Pony's bartenders but their strength definitely lies in the classics, due to the attention to detail drilled into all the bar staff.
And it's because of those unyielding standards and gruelling training that gives Jigger & Pony the standing it has in the bar scene today.
While the accolade of No. 2 Bar in Asia can be debatable, there is not a shadow of a doubt that the inimitable finesse and hospitality of Jigger & Pony earns them a deserved spot in the upper echelons of bars.
Make your reservations here.
Jigger & Pony
Website | Facebook | Instagram
Address: 165 Tanjong Pagar Rd, Amara Hotel, Singapore 088539
Hours: (Tues–Thurs, Sun) 6pm–12am, (Fri–Sat) 6pm–2am