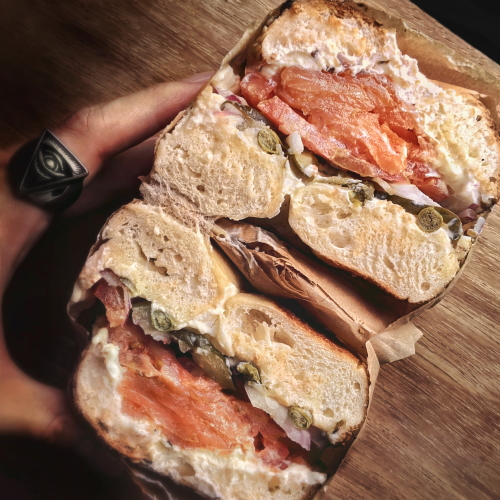 Sandwiches are like burgers, but more diverse. Perfect choice for takeaways, with an overwhelming variety to spice things up too.
Whilst my previous listicle was on burgers, I couldn't refrain from doing one for sandwiches too. Considering some of my favourite places are heavily bread focused, and some of my favourite dishes ever are sandwiches, it was only natural.
I kept this list as varied as possible, because the tedium of monotony would have obviously kicked in by now at the start of phase one post-circuit breaker.
Two Men Bagel House
Talking about bagels in Singapore, Two Men Bagel House will always be mentioned. There's little mystery to their popularity after you bite into their handmade bagels.
The Lox ($12) used supple smoke salmon and smooth cream cheese to form a flavourful foundation for an array of complements, like pickles and red onions, to deftly build upon.
The recommended sesame bagel capped the profile with a nice fragrance, whilst its fluffiness mixed with the slickness of the ingredients for an enjoyable mouthfeel.
They are open fortakeaway or islandwide delivery, and also available on deliveroo (Novena, Holland Village, Tanjong Pagar).
Two Men Bagel House (Novena)
Website | Facebook | Instagram
Address: 103 Irrawaddy Rd, #01-04 Royal Square, Singapore 329566
Getting There: Approx 5 mins walk from Novena MRT
Hours: (Mon-Fri) 8am-4pm, (Sat-Sun) 9am-4pm
Price Range: $10-$20
wine rvlt
WINE RVLT is a wine bar but many know them for their patty melt ($26). Costs a pretty penny but worth its price tag — my vote for best sandwich in Singapore.
Eating it was truly a romantic experience. Lips quivered as they met the perfectly buttered and crispy Japanese milk buns, then an euphoric mingling of saliva with the sensual juices from the succulent Westholme A4 Wagyu — my heart swooned as I chewed.
Pleasure was further amplified by a magical blend of balancing sweetness and zest from the ketchup and herb sauce, a different richness to complement the beefy decadence.
Wine RVLT have launched make-it-at-home kits starting from 8 June, DM them or whatsapp them at 9022 2655 or 9388 1436 for info.
RVLT
Website | Facebook | Instagram
Address: 38 Carpenter St, #01-01, Singapore 059917
Getting There: Approx 10 mins walk from Clarke Quay MRT
Hours: Temporarily closed
Price Range: $30-$100
Park Bench Deli
Park Bench Deli is the synonym for "sandwich" in Singapore. Their sandwiches have never disappointed, especially the classic peanut butter and jelly ($10).
This decadent beauty was a crazy stroke of genius. Layers of crunchy cornflake-crusted chocolate and milk bread made me scream "diabetes is worth it". As you bit down, gloriously thick peanut butter and berry jam geysered out.
Park Bench Deli has revolutionised PB&J. It's simple, you take the unhealthiness and turn it up to eleven. Simply sinful. Yet. So. Satisfying.
All of Park Bench Deli's great sandwiches are available for takeaways and delivery now.
Park Bench Deli
Website | Facebook | Instagram
Address: Telok Ayer St, 068627 Singapore
Getting There: 10 mins from Telok Ayer MRT
Hours: (Wed-Sun) 11am-8pm
Price Range: $10-$30
salted & hung
Salted & Hung is known for one thing — their meat. Needless to say, it's hard to resist this hunky wagyu pastrami ($25).
A massive alpha that shames all other sandwiches; but it's not just quantity over quality. Every morsel of the thick stack was crammed with smoky rich beef juices. These flavours popped quite boldly after some ingenious attenuation from the mustard and tart pickles — crazily decadent.
Pastrami was immensely tender and beautifully graced by intermittent scores of gentle fat, though slightly chewy at parts. Finished with some impeccably toasted sourdough, it compelled me to swiftly this beast liek David Fell Goliath.
Sink your teeth into this massive boy now, through pickup or island-wide delivery .
Salted & Hung
Website | Facebook | Instagram
Address: 12 Purvis St, Singapore 188591
Getting There: Approx 10 mins walk from City Hall Mrt
Hours: (Daily) 11.30am-9.30pm
Price Range: $25
le bon funk
Le Bon Funk is yet another natural wine bar with a legendary sandwich, name me a more iconic combo.
This beef tongue sandwich's ($26) highlight was a mound of crazily tender beef tongue that sported an endearingly unique texture. It was all cloaked in a herby gribiche, essentially an egg-mayo salad sauce, which was an exceedingly complex concoction.
The sauce mingled harmoniously with the heavy savoury notes and cumulated in a fascinating explosion of flavours.
They are open for delivery or takeaway currently only on Friday and Saturday.
Le bon funk
Website | Facebook | Instagram
Address: 29 Club St, Singapore 069414
Getting There: Approx 10 mins walk from Telok Ayer MRT
Hours: (Fri) 12pm-8.30pm, (Sat) 4pm-8.30pm
Price Range: $30-$100
Sando
Japanese sandwiches are all the rage and Sando, a hidden gem, makes great and affordable sandos.
A pristinely crispy panko crust encased the bouncy patty of this pork katsu sando ($10). Caramelised onions sprang with a controlled sweetness and acidity, which tangoed elegantly with the softly piquant tonkatsu sauce.
The buttery buns' fluffy insides and light crispy crumb, combined with crunch from the lettuce, made for the perfect finishing touch.
These sandos can be picked up or delivered to your door step ; they have outlets at Labrador Park and Telok Ayer.
Sando (Cross Street Exchange)
Website | Facebook | Instagram
Address: 18 Cross St, #B1-125, Singapore 048423
Getting There: Approx 5 mins walk from Telok Ayer MRT
Hours: (Mon-Sat) 9am-3.30pm
Price Range: $10-$20
Korio
Korio's grilled cheese ($8) has seen plenty of exposure on instagram because it's just that photogenic. As delicious as it looked.
The stunning crisp of the sourdough encased the dreamily molten cheeses, with the sharpness of the cheddar particularly striking and blending beautifully with the bread's sourness, as well as the depth of flavour of the caramelised onions.
The onions were dreamily soft and not fibrous and oozing with vivacious sweetness, complemented by a kiss of acidity.
Snag some sandwiches and fluffy donuts now, they are open for delivery and takeaways.
Korio
Address: Far East Square, 135 Amoy St, #01-03, Singapore 049964
Getting There: Approx 5 mins walk from Telok Ayer MRT
Hours: (Mon-Fri) 9am–3pm, (Sat) 9am–2.30pm
Price Range: $10-$20
gyu & tori
Wagyu sandos often carries hefty price tags, but not at Gyu & Tori. The original wagyu patty katsu sandwich cost merely $10, probably the cheapest around.
The patty was so consistently tender and gave a nice contrast to the crunchy panko crust; though the bread could have been toasted better. Still, the quality was pretty damn good for the price.
The tonkatsu sauce also packed plenty of piquant-umami notes, and blended harmoniously with the gush of beef juices.
Gyu & Tori doesn't have a website, but delivery can be arranged on grab, deliveroo or foodpanda , whilst pickup can be arranged through a call or SMS to 9722 7545.
Gyu & Tori (Paragon)
Address: Paragon Shopping #B1-K26, 290 Orchard Rd, 238859
Getting There: Approx 10 mins walk from Orchard or Somerset MRT
Hours: (Daily) 11.15am–9.30pm
Price Range: $10-$20
Micro Bakery
Still my favourite at Micro Bakery after multiple visits. This grilled cheese sandwich ($12) with brie, cheddar and mozzarella was scrumptiously rich, and possibly one of the best I've had.
Its flavour profile was thoughtfully balanced, seeing pronounced Brie earthiness and Cheddar sharpness bookended by sauerkraut piquancy. Served with an addictively zesty tomato dip, this was love at first sight.
Get some of that sourdough and sandwiches, by picking up or through delivery at Botanic Gardens or Katong.
MICRO BAKERY (SERENE CENTRE)
Website | Instagram | Facebook
Address: 10 Jln Serene, #01-05 Serene Centre, Singapore 258748
Getting There: 5 min walk from Botanic Gardens MRT
Hours: Wed-Sun: 8:30am to 3pm; closed on Mon-Tues
Price Range: Approximately $6-$20 per pax