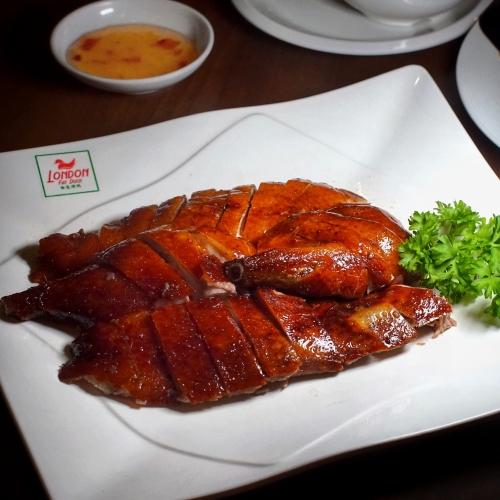 London Fat Duck's "Wagyu" Duck is a fatty and crispy bite of beauty
Crimson-hued skin that let out a melodious crackle, juicy grey meat that carries a sensual kiss of gameyness — roast duck is definitely one of life's great indulgences. If you're looking for a new alternative to your standard Imperial Treasure and Dian Xiao Er, check out London Fat Duck.
While many hadn't heard of this home-grown restaurant, London Fat Duck is known for using top quality duck — premium Irish duck to be precise, known as the "Wagyu" of ducks.
Their restaurants may not be as fancy as the others but they definitely have plenty of sincerity, churning out some great roast ducks using quality ingredients to ensure the best experience.
I'm a sucker for Wagyu, so hearing that their ducks were the "Wagyu" royalty of the quack world made me excited for a taste of their roasted creations.
Top Quality Roast Duck in Singapore
London Fat Duck's Signature London Roast Duck goes for S$35.80 for half a duck and S$68.80 for a whole and I gotta say — it's as good as it gets for the price range.
For starters, I can wax lyrical about those scarlet slivers of fat and crisp all day. They buck the trend of roast duck skin's mutual exclusivity to fattiness or crisp, providing a sublime gentle crackle underscored by a decadent fatty richness.
That's just the tip of the iceberg because the flesh itself was plenty juicy and tender, maybe not as stunning as the skin but mighty fine, nonetheless.
A robust bite of flavour with only the mildest of gameyness to keep it interesting, it gets even better when you bolster the fowl with a drizzle of London Fat Duck's dark sauce or a swig in the plum sauce.
Zest lovers might be slightly disappointed by the gentler punch from the plum sauce but non-fans would be quite elated by a more balanced profile.
Decent Sides to Go With The Duck
If you thought London Fat Duck's other creations were afterthoughts compared to their signature roast duck, you'd be dead wrong. The restaurant actually serves up pretty solid sides to support the main star.
Salted egg lovers would definitely find themselves relentlessly indulging in London Fat Duck's dangerously addictive Signature Crispy Corn & Prawn with Salted Egg (S$16.80).
It's impossible to not let yourself be lost in the salted egg fragrance imbued into the motley of golden-orange prawn and corn. Popping corn morsels inject a burst of sweet juices that really helped attenuate some of the sinful umami of the salted egg.
On the other hand, London Fat Duck's Duck Bak Kwa Fried Rice (S$14.80) didn't quite hit the spot the same way as the other two did. Still, it was a comforting and homely plate of rice that's laden with flavoursome morsels of duck bak kwa — a good accompaniment to the roast duck.
While I confess to having never tried London Fat Duck before, this was quite an impressive virgin visit and it'll found place on my list for when I have to satiate a roast duck craving.
London Fat Duck
Website | Instagram | Facebook
Address: 6 Scotts Rd, #B1-16/17 Scotts Square, Singapore 228209
Hours: (Mon–Fri) 11:30am–9pm, (Sat–Sun) 11:30am–9pm
*This was an invited tasting.