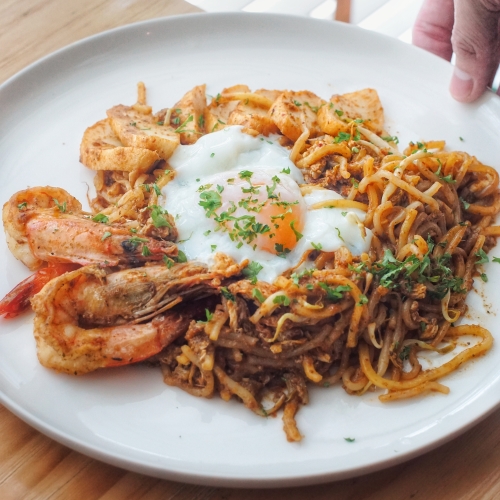 a unique cafe that's not just your typical House Downstairs shop
Minimalist white cafes are a dime a dozen around Singapore but as far as aesthetics go, not many of them beat the minimalist daydream that is House Downstairs. The quaint cafe nestled away in the serenity of Ulu Pandan CC looks just like a page out of a Kinfolk Issue.
Understated whites and soft grateful wooden accents adorn the entire space, with a chic array of furniture and fittings accentuating the Scandinavian getup even further.
But perhaps the most striking feature at House Downstairs are the sharp blinds that imbue the space with a tasteful sophistication as the daylight streams in gently, diffused by the slits of white.
Svelte minimalism, splashes of eye-arresting greens, and a deluge of warm, tranquil daylight — not many cafes in Singapore are as soothing as this cafe. Truly IG-worthy.
Innovative Brunch with a Taste of Home
While I have nothing but praise for the immaculate vibes, it's the creative slew of food at House Downstairs that truly won me over. A cafe with nice vibes but subpar food is not worth your time, after all.
They have a rather novel menu that is a juxtaposition of classic Eastern and Western cuisines, quite endearing to those who enjoy elevated spins on our favourite familiar flavours.
Starting off the meal at House Downstairs is a very unique Homemade Scallion Pancake ($6), something that you would never find in any other cafe. Simply put, I would come back for these.
For $6, you get a sensual crisp in these pancakes that break apart effortlessly, delivering simple but efficacious umami to the palate. Its condensed milk companion also adds a burst of sweetness that just complements it perfectly.
But the indisputable star of the show? House Downstairs' novel amalgamation of two local favourites into a single flavoursome temptress. This Laksa Goreng ($16) was a seamless, perfectly imagined hybrid that boasts oodles of layered spices with a gentle lick of heat.
To make things even more enthralling, the picture-perfect sous vide egg centrepiece ruptures to coat the mildly-wet noodles with a sensual creaminess that echoes a texture reminiscent of laksa gravy.
As a self-proclaimed PB&J connoisseur, I also couldn't pass up on their wild creation of Cheesy PBJ ($10) which throws in some mozzarella and caramelised banana to shake things up.
While I appreciate House Downstair's adventurous ideation, this sandwich sadly fell a bit flat as the heady banana fragrance assertively dominated the palate over all the other flavours, which kept it rather uninspiring.
And the stringy cheese texture in particular felt rather jarring when the light punch of Mozzarella was so easily obscured.
Surprisingly Splendid COffee
My mantra when it comes to coffee — don't expect great things at any place besides a specialty coffee house. But against all odds, House Downstairs absolutely floored me with their great brews.
Their curation of beans is rather interesting — their espresso blend (and parts of their filter selection) are sourced from Strangers' Reunion whereas much of their filter selection comes from local indie roasters Double Up Coffee.
I gotta say, I would gladly return for more of House Downstairs' White ($5) even though I'm not a huge fan of whites. It was nutty, balanced, and sported an immensely smooth mouthfeel. Didn't feel generic at all, which many whites run the risk of becoming, in my experience.
But what really surprised me was that their V60 ($7) pour, a Sumatran single origin roasted by Strangers' reunion. Being an Anaerobic processed varietal, this was a charming storm of funkiness and full-bodied notes.
The brew was brimming with crisp lychee notes that carried a compelling tinge of acidity but ultimately resolved itself into a comforting depth of grape and cinnamon punch.
House Downstairs' barista did an outstanding job on the extraction to bring out all the complexities of this anaerobic without getting it muddled, something that even some of the most popular cafes in Singapore have trouble with sometimes.
House Downstairs Cafe
Website | Instagram | Facebook
Address: 170 Ghim Moh Rd, #01-03 Ulu Pandan CC, Singapore 279621
Hours: (Daily) 9am–4:30pm