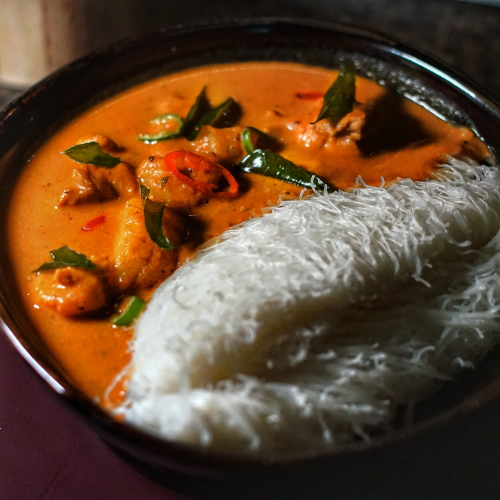 The Elephant Room is a Brave Bar Love Letter to Local Indian Culture
There's no doubt Singapore's bar scene is one of the most vibrant in the world, boasting of numerous bars that regularly appear on the World's 50 Best lists. Alas, some facets of our local culture don't get their due representation — that's why bars like The Elephant Room are here to shake it up.
The Elephant Room is a self-described "culture-forward" bar hidden out of sight right above one of Keong Saik's most popular dining spots, Burnt Ends.
Surprisingly not many people know of it but trust me, it's a party. Helmed by former Smoke & Mirrors head honcho Yugi, every inch of the bar — from the drapes that mark the entrance to the aprons worn by the staff — was painstakingly crafted to incorporate as much of our Indian culture as possible.
Back when music was allowed, Elephant Room's energy would be driven by a specially curated playlist showcasing the most creative of Indian artists from Singapore and beyond.
Comfort Food Made with Love
Building on that Indian-centric synergy, Elephant Room's menu can be best described as a marriage of unapologetic Indian flavours. On the other hand, you can also find the most comforting Indian food classics that will satiate you just as well.
An easy favourite here is their Indian Fried Chicken Burger ($18) with its exceptionally endearing fusion of Indian flavours into one of the most classic bar munchies, the burger.
A hefty slab of buttermilk fried chicken that takes centre stage, strutting its seductively craggy crust that lets out soft crackles when chomped on. Pieced together with dangerously addictive curry aioli, this was a flavour bomb setting off a juice-laden burst of umami.
Those who gravitate towards the time-honoured recipes perfected by grandmothers should also dig into the signature Elephant Room Curry Chicken ($23).
Simply soul food that will comfort almost everyone with its hearty warmth that didn't stray too far into surfeit. Everything is just made better when you slather the rich liquid gold onto those parcels of pillowy Putu Mayam.
Drinks Distilled From Facets of Life
But Elephant Room's love letter to Singapore Indian culture is best discerned from their drink menu, as Singapore's only Indian Fusion cocktail bar.
Experimental spirits will find their tastebuds assuaged by Elant Roomephesoteric Ayurveda ($24). With the emerging popularity of lacto-fermentation, you'd find an enchanting utilisation of lacto-fermented grapes in the mix.
With the distinct sharp savoury punch from the star ingredient, the tipple presents an intriguing blend of savoury and tart with an underlying herb bitterness.
Owing to my penchant for the avant-garde, my next drink at Elephant Room had to be the esoteric Pina Rasam ($24). This was an experimental ride born of an ensemble of Pina Rasam distillate, pineapple vinegar, and clarified tomatoes.
It tasted like no cocktail I've ever tasted before. Assertively spice-forward with the heady spice notes towering above the gently zesty amalgam of pineapple vinegar and tomato — quite the queer profile. Can't say I was a fan.
But ultimately, my pick from Elephant Room's menu was the King of Toddy ($24). A much more simple creation that was just impossibly delightful to imbibe. Instant gratification when the arrack's punch and the coconut fragrance hit in synchronicity.
As far as our bar scene goes, Singapore needs more daring bars that will highlight these underrated aspects of our culture. Singapore's rich melting-pot zeitgeist has unlimited potential, we just need some visionaries like Yugi to push these unseen aspects forward to the public eye.
The Elephant Room
Website | Instagram | Facebook
Address: 20A Teck Lim Rd, Singapore 088391
Hours: (Mon–Thurs) 5pm–10:30pm, (Fri–Sat) 4pm–10:30pm