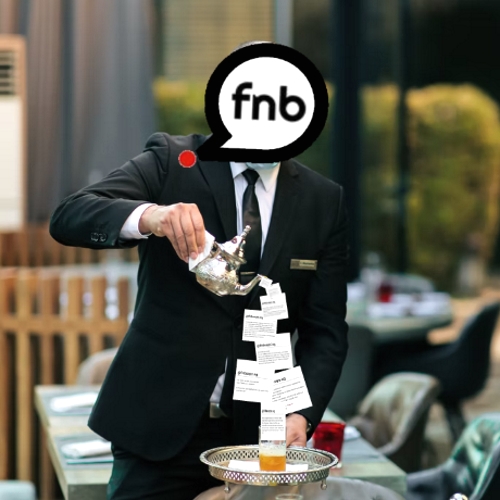 If You'll Indulge Me: fnbsays.sg, Bringing Solidarity & Hope to Singapore Service Through Shared Stories
"Service is a calling" is a mantra that many service staff may agree with. But sometimes, it could also be a spam call that's just an inane, even torturous, cacophony that drives you crazy. At least, that's what the anecdotes on the popular Instagram page fnbsays.sg tell us.
If you're out of the loop, the fnbsays.sg page was one of the most viral sensations during the Circuit Breaker and Covid period. Meant as a safe space for all things service-related, it's a whimsical look into the lives of Singapore's service staff at their most visceral, thanks to its anonymity.
Devoting yourself to service can be rewarding but also soul-crushing. With the emergence of Karens, toxic work culture, and manpower crunches, it takes a lot of mental fortitude for our front liners to stay committed to their calling.
Learning to see the silver lining and finding humour in the ugly side of service is something that keeps our ever-hospitable service staff going through all the uncertainty. On the flip side, learning to appreciate the beauty and good is also a key part of surviving in service and what makes it such a rewarding field.
At least that is what the admins hope to teach and share with their fellow service brethren, as well as empathetic customers (endearingly nicknamed "custies"), through the stories that they'd specially curated to be featured on their iconic plain-grey template.
You've seen all the funny stories and hard-to-read complaints but the admins' ability to engage was also what helped built this safe space. As an admirer of the community they've built, I took some time out to pierce that veil of anonymity and understand the quirks and the drive behind the fnbsays.sg account.
1. Thanks for coming down to chat, can you briefly introduce your page to the readers?
fnbsays.sg: The page was born during the Covid period when businesses were put in a precarious position and many of us were wondering if we were able to sustain through this tough period. In a way, it was created to be able to see how other establishments were able to fare during that stressful period.
However, there was also a vision to educate customers on what life is like at the front of the house in an F&B establishment, where it isn't as glamorous as they think it is. It's basically for people to see and understand the kind of clientele we have to deal with on a daily basis.
2. Do you think Fnbsays was something that helped many service staff through the tough times of covid?
fnbsays.sg: We sincerely hope it helped people because there were times that bringing issues up to management just triggered corporate-line-toeing replies that asked you to "suck it up" or play it down — and that mentality to us is something we strongly disagree with. Sometimes people also have a lot to share but they feel helpless with no proper platform to be heard.
And that is the power of the page that gives people a platform where they feel like they can share and be heard. More importantly, it helps the public to see the challenges our service staff face and also creates a sense of solidarity as even regular customers chime in, questioning the ludicrous actions of certain unreasonable customers.
3. What do you make of the current manpower shortage?
fnbsays.sg: It's hell but we try to make do with what we have. There are places that are extremely shorthanded with maybe just two people a day handling thousands of dollars in sales in a day. Alas, all we can do is to remind everyone that it's a tumultuous period but this too will inevitably pass, since we aren't in a position to have a say in hiring or onboarding,
Ultimately, a lot of this came down to Covid where the ramping up of deaths caused many people —many of those from other countries, in particular— to decide to focus on their family and head home to cherish that precious family time. However, it should get better now that border and quarantine control measures have loosened as Covid has become the new normal. (Editor's note: Thank you Lawrence Wong for listening to our prayers.)
4. FNB generally is a thankless job with a toxic culture, what do you think can be done to make it more lucrative beside the pay?
fnbsays.sg: Candidly, no amount of benefits can truly help someone with the wrong mindset trapped in an inescapable toxic environment. Truth be told, it is the service line after all and schedules are not the most flexible. What is imperative is to promote healthy working culture. It's not ok to scream at your subordinates in the kitchen just because that's "how it was always done". We're in 2022 and our generation likes to think: "the old ways are no longer what we should stick to."
If the status quo is one that propagates abuse and unhealthy mentalities that promote an animalistic approach to your juniors then you should work to change the system, now that you are in a position to influence the system — influence it in a positive way! The change starts with us.
There's not really that fine of a line between "tough love" and abuse — how you were trained does not have to be embedded into the culture because that merely creates endless vicious cycles. Cultivating a positive environment for us to learn from each other — that's already a win that fits into the idea of "service as a calling".
Just because some people have the preconceived idea that shelling out traditional "tough love" is how a Michelin restaurant should be run, you don't have to talk down to your team members. Especially with the current manpower shortage, demoralising people will not help us retain valuable manpower we need for operations to run smoothly.
Find a way to incorporate holistic methods of training and try to address the issue better, not merely shelling out punishment. We're human beings and it's about time we treat each other like that. Speaking as former kitchen staff, where the experience was mentally draining, entering the service industry was a breath of fresh air because of the staggering learning opportunities and rewarding interactions — never looked back.
5. What are some of the worst horror stories you've encountered or heard?
fnbsays.sg: A regular terrorised an establishment where she expected royalty treatment, even after most of the senior staff familiar with her had already left. She had to be waited for hand and foot by the most senior staff member on shift, whoever they were — she would explicitly request for them.
To top it all off, she always expects freebies at the end of all of her visits. In fact, it's ridiculous because she actually expected "see-you-again" packages and reculcitrantly takes the initiative to ask if certain items will be sold and shamelessly ask for these items to be given to her.
They basically treat the place like a food bank because of their regular status but freebies are a complementary show of appreciation and definitely not a natural expectation. She even has a tendency to ask other paying customers to vacate their seats for her and her guests just on the basis of her repeated patronage, on multiple occasions. Absolutely entitled.
6. Conversely, What are some of the most wholesome?
fnbsays.sg: Regulars giving angbaos to all the waitstaff, non-trivial amounts too. They will ensure everyone is given their fair share and return even when they aren't on shift. It's this kind of customer that really validates our work — these monetary gifts are not necessities and their offerings are a show of comfort and can even be a sign of treating you like family or friends.
It's these small gestures that really brighten up the service staff's days — like customers bringing in boxes of Royce Chocolate and pints of Birds of Paradise Gelato. Basically going beyond thank you's, and showing that our service actually affected you so positively that you were willing to go the extra mile.
7. Ever plan on doing a face reveal or do you think the anonymous factor helps give fnbsays.sg more relatability?
fnbsays.sg: We will not do any sort of reveal —face, voice, or even hand— because not many in the industry accept the page's views and some hiring managers may even perceive it as some form of threatening "whistleblowing" that will not allow them to uphold their brand image.
If we choose to meet you, it's because we feel that we have mutual respect and a mature understanding of the importance of anonymity to fnbsays.sg. (Editor's note: If you want to be blacklisted, learn from the person who brought their friend along without asking. The audacity.)
But ultimately anonymity does help people to relate better. It feels more akin to writing to a random pen pal —or like Aunt Agony— because sometimes people just want to be heard.
8. Describe yourself in tasting notes.
fnbsays.sg: I have a simple answer — Salt. Because it's simple, unassuming and just a good complementary ingredient. Ultimately, salt is strong on its own but still not noteworthy in the grand scheme of things — it's important but not the main character, and without it your food is just boring.
9. What are 3 places that are last meal worthy for you?
fnbsays.sg: Ya Kun Kaya Toast — You enter the world simply so you should leave the world simply. Nothing beats the familiarity, comfort, and solid execution of Yakun and Kaya Toast.
Roberta's Pizza — A genuine love despite it only opening relatively recently. Some flavours might be a bit of an acquired taste but you have to keep an open mind.
Elixir Boutique Roasters — The absolute Brulee'd French Toast in Singapore. It's just so good.
Read "If You'll Indulge Me" with Brian Bong, one of Singapore's Rising Food PhotographY stars here.
Peep some of the crazy stories that Singapore's Service Staff Face on the IG Page here.
Photo credits: Cover photo repurposed from Aymane Idbouhadou on Unsplash. All fnbsays.sg content screenshotted from their Instagram.