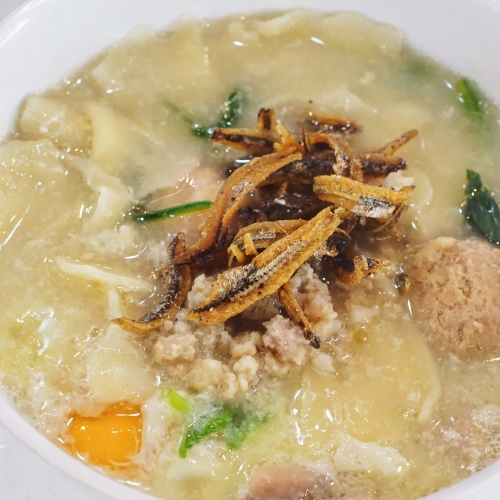 Jiak Song Mee Hoon Kueh Comforts With Hard-Hittingly Wholesome Soup
People joke that love for rice is ingrained into our Asian DNA but personally, noodles call out to me more as the staple carb. As far as comfort food goes, not many things beat a piping hot bowl of soupy noodles. And as far as the homely flat sheet noodles go, not many stalls hit as hard as Jiak Song Mee Hoon Kueh.
While I've had my share of pedestrian Mee Hoon Kueh that's just enough to quell the cravings, this stall is different. But forget that it's run by a Masterchef finalist — accolades are thrown out the window in the wild west of hawker food.
Ultimately, what moves me is Jiak Song's dedication to flavour and the craft of handmade Mee Hoon Kueh. Although I first suspected it to be another subject of hype, my first slurp instantly changed my mind.
Smoky Noodle SOup?
Here's something I don't think I've ever uttered — Jiak Song's Mee Hoon Kueh soup comes with an intoxicating dose of wok hei. Yes, that sinful smoky perfume you often find in wok-fried zichar dishes.
When faced with the dilemma of choosing between a soup and dry Mee Hoon Kueh, I always bet on the soup — and I think the gamble paid off here.
While there are different permutations of ingredients available, I suggest the Signature All-In Combo ($5.50). This option loads up the bowl with a whole trove of treasure including their bouncy pork ball and shrimp balls.
While Mee Hoon Kueh texture can turn out clumpy, Jiak Song's handmade sheets sported a gentle recoil and nice delicate chew. More importantly, the soup was sublime — brimming with flavour and also suavely kissed by a moderate trail of smokiness.
To cap it off, all the ingredients, from the meat to the assortment of balls were all well blanched and had the tender juiciness you'd expect.
Jiak Song also offers a luxurious limited edition Kurobuta Mee Hoon Kueh ($5.80) for fans of premium meat cuts. The pork slices were luscious and the broth came with a lot more umami and intensity. I got the dry version but absolutely regretted it after quickly draining the small accompanying bowl of soup.
As the soup rendition had, the dark sauce base for the dry version was also given a whiff of smokiness. Coat the sauce well and it's almost as pleasurable as the soup — almost.
Prior to my visit, I was wary of this new hawker brand that made waves on social media. Hawker brands that rapidly expand due to hype almost always certainly fade in quality. However, if even the remote Bukit Batok outpost can meet this standard, I have no doubt this will continue to be one of the best soupy noodles you can find in Singapore.
Jiak Song Mee Hoon Kueh
Address: Bukit Batok West Ave 8, Blk 177, Singapore 650177 (Multiple outlets)
Hours: (Mon–Sun) 9am–9pm
*This was an invited tasting.