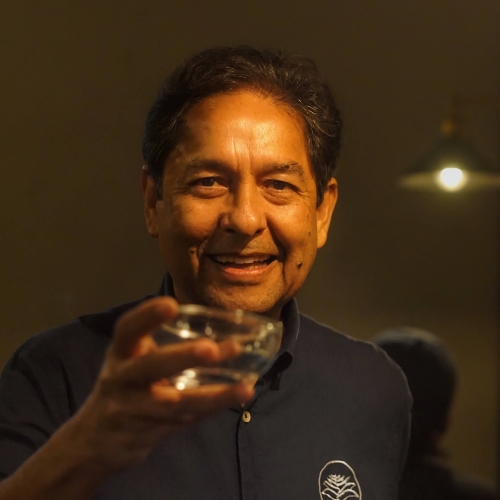 If You'll Indulge Me: Rosendo Zambrano, The Man Behind Machetazo's Artisan Mezcal Soul
Singapore's bar scene is flourishing — for a diminutive red dot, we command a lot of prestige on the world stage. Unsurprisingly, many chic artisan spirit distillers seek to venture here and one of the most exciting entrants is Machetazo, founded by Rosendo Zambrano in Mexico.
For the uninitiated, Mezcal is the feistier cousin of the ubiquitous Tequila. Although Crafted with the same botanical foundation of Agave, Mezcal boasts more diversity compared to Tequila, which is limited to only Agave Azul.
Under Rosendo's stewardship, Machetazo's Mezcal is varied and handcrafted using Agave from myriad regions of Mexico. The flavour spectrum ranges from hard-hitting Agave Espadin to the more elegant Agave Salmiana. It can be smoky, botanical, and earthy all at once.
And it's Machetzo's refinement in cooking these artisan spirits, that many speciality bars trusted in Rosendo's vision for their mixology. Even heavyweights Jigger & Pony used to house them on their shelves once.
Nowadays, you can get a taste of their Mezcal intricately crafted into cocktails at the creative hands of The Store or in the form of Singapore's best Mezcal Negroni at Foxtail.
And it's these close-knit connections that see Rosendo visiting Singapore on occasion to carry out master classes on Machetazo's spirits. Coincidentally, where I caught the elusive man for greater insight into his spirits and his story.
1. Briefly introduce yourself and the story behind your brands.
Rosendo Zambrano: I am Rosendo Zambrano, the founder of Machetazo and Mayalen brands of spirits. While I hail from a background in chemical engineering, Mezcal is something I've always been drawn to. So when I saw the opportunity to start something new in 2019, that's how we got started.
Machetzo's focus is on delivering quality to customers while adhering strong Mexican storyline. The products are tied to my roots in Guerrero, one of the Mexican states that officially produces Mezcal. There are two different versions: Mayalen and Machetazo and each of these different lines brings its own different story of the authentic Mexican experience.
2. What do you think is the most important part of brewing Mezcal?
Rosendo Zambrano: The most important part of brewing Mezcal is the Mexican authenticity. The key ingredient of the process is getting access to the right Agave plants for your base — specifically those that have been aged to at least seven or nine years old.
This makes mezcal's production uniquely different from that of other spirits. While spirits like whiskey, bourbon or vodka use ingredients wheat, corn and potato, which are considerably more accessible, we have to ensure procurement of the suitable Agave plants for our Machetazo spirits.
3. Do you think there's a lot more potential for Mezcal as a spirit?
Rosendo Zambrano: Yes, I feel that the newer generations are enthusiastic about discovering a different type of spirit by venturing outside of mass-produced, chemically enhanced, and artificially flavoured options.
Since Mezcal is earthy, all-natural, chemical-free, and organically planted, it presents a unique profile that's smoky, botanical, and distinctly complex. This is a hand-crafted product, where the smokiness depends on the hand of the maestro Mezcalero.
4. What is your favourite cocktail and how would you change it up with Mezcal?
Rosendo Zambrano: My preference is drinking Mezcal straight at room temperature. When I do combine it, it is with cucumber on the side and just one block of ice. I also recommend combining Mezcal with club soda. Consumers like it mixed with Margaritas and Palomas.
5. What do you think of the Singapore bar scene as Machetazo Originates from Mexico?
Rosendo Zambrano: The Singapore bar scene is great. People here are open to trying new cocktails, new experiences, and a variety of flavours. In this flourishing cocktail landscape, Mezcal fits right in.
6. What are your favourite cocktail bars in Singapore?
Rosendo Zambrano: Foxtail is my favourite cocktail bar in Singapore — our Mayalen and Machetazo spirits are served there! The best blends are made here at the customer's request.
(Editor's note: Foxtail is one of the strongest advocates for Machetazo here in Singapore and incorporates the Mezcal into the majority of their menu.)
7. do you have any unique ideas for a hypothetically new spirit using your handcrafted process?
Rosendo Zambrano: Off the top of my head, a botanical Gin made out of Agave is a hypothetical option.
8. Describe yourself in tasting notes like you're a mezcal or cocktail!
Rosendo Zambrano: The notes I'd use to describe myself are specific to the Mexican region for Mezcal. The best description I'd say is earthy, natural, fresh, green, and sweet on the palate.

Read "If You'll Indulge Me" with fnbsays.sg, an IG page that aims to provide solidarity & humour to tired F&B workers Here.
Read more about Machetzo's Mezcals here.