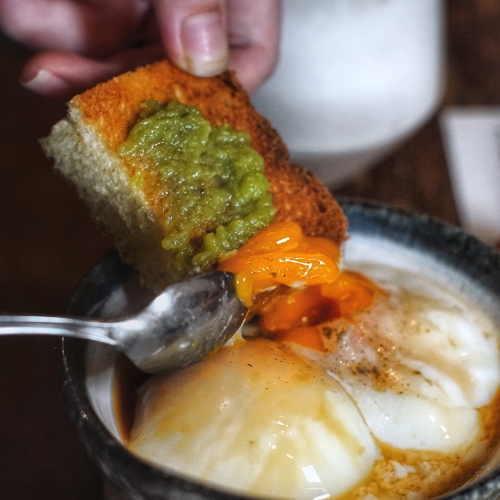 15 Underrated Places for Kaya Toast in Singapore That Aren't Ya Kun
Kaya toast is a local classic that best represents all of Singaporeans' experiences growing up — the quintessential Singaporean breakfast is kaya toast. This unassuming crowd-pleaser has already been enshrined in the pantheon of hawker classics as one of the most widely-known food items.
Being the quintessential Singaporean breakfast, it's regarded with the same importance as chilli crab or chicken rice. It once drew a barrage of hellfire from locals when Nat Geo labelled it as "sticky, slime-coloured coconut custard jam slathered over a thin crisp of toasted brown bread".
For its status, one local chain, Ya Kun, has become almost synonymous with this dish. Still, Ya Kun doesn't have a monopoly over this rich national treasure. In fact, there are many different styles, both traditional and modern, of making this breakfast dish.
The best kaya toast doesn't have to be wafer-thin bread, it doesn't have to be just kaya either — good kaya toast is what makes us think of home, and it's just a comforting sensation. Bearing that in mind, read on to find out where you can get the best and most creative kaya toast in Singapore.
YY Kafei Dian
A sense of the 90s still lingered in this rustic kopitiam along Beach Road, tesselated with green tiles while homespun round marble tables make up the majority of the seats within. It might not look like much but this quaint little Hainanese coffee shop is one of the most popular spots for Kaya Toast ($1.30) in Singapore.
Ultimately, its biggest virtue is in bun texture that's enchantingly different from your usual variety, sporting the most blissfully pillowy body with the gentlest and airiest crunch on the crust. Not to mention the brown kaya slathered onto it is unapologetically sapid — we just wished they could be a bit less miserly with the liquid gold.
YY Kafei Dian
Address: 37 Beach Rd, #01-01, Singapore 189678
Hours: (Tue–Fri) 7:30pm–7pm, (Sat–Sun) 8am–7pm
Homeground Coffee Roasters
As much as kaya toast is best enjoyed in traditional kopitiams, there is a new wave of modern coffee shops putting their bold stamps on the heritage dish, jazzing it up with more luxury and more refinement befitting of the brunch crowd.
Homeground Coffee Roasters's "Atas" Kaya Toast ($9.50) might be the most exemplary example of the recreation of kaya toast. Without context, spending $9.50 on kaya toast is a rather ludicrous proposition.
However, if you're someone with the appetite to stomach a glamorised kaya toast, Homeground's might be one of the best you can find — there's an insane crackle on the toast, jammy sous vide egg cooked at precise temperatures, sublime kaya, and a helping of exquisite French butter. Simply heaven.
Homeground Coffee Roasters
Website | Facebook | Instagram
Address: 475 Joo Chiat Rd, Singapore 427682
Hours: (Daily) 9am–5pm
Ah Seng (Hai Nam) Coffee
To date the best kaya recipe I've tasted at any kaya toast shop in Singapore — Ah Seng's kaya toast is accompanied by a green puddle of glorious coconut luxury.
Behind the storefront are a mother and son duo, continuing the legacy of the late patriarch and they are ardently keeping the charcoal-grilled-toast legacy alive. You can't go wrong with either the Kaya Bread Toast ($2.40/2pc) or Kaya French Toast ($4/2pc).
Ah Seng's "french toast" is not the conventional brunch favourite but an old-school Singapore style where the toast is imbued with a strong egginess. A style that inherently pairs perfectly with their satin-like kaya that boasted of the most exuberant coconut and egg fragrance, while also carrying a satisfying dose of sweetness. Great for those who prefer their kaya sweeter.
Ah Seng (Hai Nam) Coffee
Website | Facebook | Instagram
Address: 7 Maxwell Rd, #02-95, Singapore 069111
Hours: (Sat–Wed) 5:30am–2pm
This isn't a mistake — Singapore's sourdough darling, Micro Bakery, serves kaya toast and it's actually one of the most underrated places to get this green-jam-covered breakfast dish.
Despite their main gig of selling comforting Western brunch-style toasts and pastries, they managed to elevate the kaya toast in an extremely intuitional style expected of a sourdough bakery.
Their Kaya Toast ($7) came with lightly chewy sourdough toast blanketed by a luscious layer of kaya, where the intoxicating fragrance of pandan and coconut was the star. But it's only tied together after the supporting cast of sourdough twang, rich butter and sea salt bestowed some show-stopping nuances to the overall ensemble.
Micro Bakery
Website | Facebook | Instagram
Address: 10 Jalan Serene #01-05 Serene Centre, 258748
Hours: (Wed–Sun) 8:30pm–4pm
Address: 63 E Coast Rd, #01-06, Singapore 428776
Hours: (Wed–Fri) 8:30pm–4pm, (Sat–Sun) 8:30pm–5pm
Probably not what most envisioned when they clicked in here, searching for kaya toast spots in traditional Singapore kopitiam settings but Spago actually makes one a stunning rendition, though looking far from the traditional image.
Almost iconoclastic, Spago reimagines Kaya Toast (+$10 on course menu price) with melt-in-the-mouth slabs of foie gras perched atop the bed of heady green jam, complemented by a jammy egg yolk streak and espresso sorbet to replicate the entire experience of the Singaporean Breakfast.
Make your reservations here.
SPAGO DINING ROOM BY WOLFGANG PUCK
Website | Facebook | Instagram
Address: 10 Bayfront Ave, Marina Bay Sands SkyPark, Tower 2 Level 57, Singapore 018972
Hours: (Sun–Thu) 12pm–2:30pm, 6pm–10pm, (Fri–Sat) 12pm–2:30pm, 6pm–10:30pm
Chin Mee Chin Confectionery
A well-established brand from our grandparents' days, Chin Mee Chin is a piece of heritage that was almost lost to time until it reopened last year under a new guise and under younger management.
Despite the sleek new look and modernised glow up, Chin Mee Chin's new direction doesn't stray too far from its heydays of selling some of the best Kaya Toast ($2.20) on the East Coast. The crispy discs of toast honestly didn't feel enough as we finished up all that delectably sweet and coconut-loaded kaya in a matter of minutes.
Chin Mee Chin Confectionery
Website | Facebook | Instagram
Address: 204 East Coast Rd, Singapore 428903
Hours: (Tues–Sun) 8am–4pm
Good Morning Nanyang Cafe
Far East Plaza is home to many of the most nostalgic-tasting eateries you'd find in central Singapore and at the centre of it all is Good Morning Nanyang Cafe, renowned for its spectacularly unique take on kaya toast.
Whereas some places jazz it up with sourdough and French Toast, their one-of-a-kind riff on the breakfast essential uses one-of-a-kind Orange Ciabatta Toast ($3.20) that gives a heftier crunch while retaining a soft centre. The kaya is skewed slightly too eggy but the texture of the toast makes up for it all.
Good Morning Nanyang Cafe
Address: 14 Scotts Rd, #02-23, Singapore 228213
Hours: (Daily) 8:30am–8:30pm
Slow Bakes

Kaya toast with a view — that's the best description I can muster up for Slow Bakes, known for its scenic panoramic view of the lush and idyllic Yishun Pond Park area. Besides the surrounding eye candy, the Kaya Toast ($2.50) itself is also eye-grabbing with tantalising streaks of brown kaya and thick butter slabs melting atop the brioche toast.
While the brioche could have been more fluffy, you can pick another base for your toast from the wide array of bakes the bakery churns out including wholesome pumpkin seed loaves.
Slow Bakes
Website | Facebook | Instagram
Address: 30A Yishun Central, 1, Singapore 768796
Hours: (Daily) 7am–2pm
Hainan Kaya TOast
A bona fide hidden gem — this kaya toast stall at Geylang Serai Market is possibly one of the most underlooked kaya toast specialists in Singapore who stay true to the timeless method of charcoal grilling to bring out the best flavours of the bread.
While you can pick between regular Kaya Toast and the French Baguette ($2.20/$4.50), we strongly recommend the latter. When given the passionate spurt of heat from the charcoal grill, the baguette transforms into a beautifully crispy work of art that perfectly accentuates the sublime kaya and moreish slabs of melting cold butter.
Hainan Kaya Toast
Address: 1 Geylang Serai, #02-125 Geylang Serai Market, Singapore 402001
Hours: (Daily) 4:30am–3pm
Heap Seng Leong
This beloved coffee shop at Lavender is truly a blast from the past, feeling like a snapshot of the 80s with its assortment of rustic tables and antiquated wooden furniture. Little wonder it's one of the most popular kaya toast shops around.
Like the outfitting of the shop, Heap Seng Leong's Kaya Toast remains heavily tinged with a flavour of nostalgia, sporting the simplistic and homely taste of kaya slathered atop soft fluffy bread.
More importantly, pair your Kaya Toast Set ($3.60) with a cup of Kopi Gu You where a nob of buttered slowly dissipates into the hot Kopi, giving the entire brew a nice toffee-like sweetness.
Heap Seng Leong
Address: 10 North Bridge Rd, #01-5109, Singapore 190010
Hours: (Mon–Sun) 5am–4pm
Sen Yen Charcoal Traditional Toast
Another established institution that stays true to de rigueur practises of charcoal grilling toast, this Sin Ming operation has been the target of affection for many kaya toast lovers.
Coming in at just $0.70 per slice for either the Traditional Toast or the French Toast, this makes for very affordable breakfast fare if you're in the area. Of the two, the French Toast was my favourite with a much more aggressive crunch on its crust.
While the kaya isn't mind-blowing, their take on the pandan jam is one of the most balanced ones I've had in Singapore, loaded with delectable coconut fragrance while not being too cloying — you could easily have multiple slices here.
Sen Yen Charcoal Traditional Toast
Address: 24 Sin Ming Rd, #01-51 Jin Fa Kopitiam, Singapore 570024
Hours: (Mon–Fri) 7am–9pm, (Sat–Sun) 5:30am–5pm
Tong Ah Eating House
Of course, we can't miss out on the symbol of Keong Saik — the legendary Tong Ah Eating House. Anyone who's been to Keong Saik would have seen the striking block letters of "东亞" imprinted in bold red where Potato Head calls home.
While they've moved from their original dwelling, Tong Ah still retains its long-time prestige as one of the hottest spots for kaya toast in Singapore.
Admittedly, their clumpy kaya is rather weak in flavour but their toast textures are generally splendid, with the signature Crispy Thin Toast ($5.40) sporting that delicate crackle and the unique French Toast ($6.70) boasting of a pillowy bite. Definitely worth trying at least once.
Tong Ah Eating House
Address: 35 Keong Saik Rd., Singapore 089142
Hours: (Thu–Tues) 7am–10pm, (Wed) 7am–2pm
Keng Wah Sung Cafe

This rustic coffee shop at Geylang may not look much but you'll find loyal silver-haired clientele hankering for some of their traditional Kaya Toast which they daringly dubbed "perfect toast" on their signboard.
A Kaya Toast Set ($3.60) comes with the regular suspects of soft-boiled eggs and kopi but honestly, it doesn't live up to that "perfect toast" claim. Still, it's no-frills, old-school kaya toast done as simple as possible for those looking for a nostalgic taste of the yesteryears.
Keng Wah Sung Cafe
Address: 783 Geylang Rd, Singapore 389672
Hours: (Mon–Sat) 5:30m-11pm
Coffee Break

A charming kopi shop tucked away on the second floor of Amoy Street Food Centre run by a group of siblings continuing a family legacy that dates all the way back to 1935.
With a youthful boldness as part of its arsenal, this kopi shop is quite unlike any other, where black sesame or pumpkin spice lattes can be found on its menu.
The natural Singaporean pairing for a fragrant cup of kopi is naturally Butter Kaya Toast ($2.50) and Coffee Break's one is a thin crunchy delight that packs plenty of that crackle and comes with generous dollops of butter, along with smooth layers of kaya.
Coffee Break
Website | Facebook | Instagram
Address: 7 Maxwell Rd, #02-78 Amoy Street Food Centre, Singapore 069111
Hours: (Mon–Fri) 7:30am–2:30pm, (Sat) 9:30am–2:30pm

While most of the curation deals with traditional kaya toasts, it only felt appropriate to include Native's creative Sarapan ($25), a tipple that best displays how to transmute the nuances of a kaya toast breakfast into liquid form.
Straight off the bat, the concoction caresses the nose with a barrage of familiar scents that will remind you of an old-school kaya toast shop where singed bread smell wafted and rustic Kopi perfume permeated the shop.
It goes down with a complex but articulate blend of heady coffee and pandan aroma, then given a subtle savoury supporting touch from butter, crumbs, and soy sauce. They intriguingly distilled the essence of the quintessential Singapore breakfast while remaining well-balanced and not at all discombobulated.
Reserve your seats here.
Native Bar Singapore
Website | Facebook | Instagram
Address: 52a Amoy St, Singapore 069878
Hours: (Mon–Thurs) 5pm–10:30pm, (Fri–Sat) 4pm–10:30pm
*For more indulgent foods to hunt for, check out my guide for the best pizzas in Singapore.