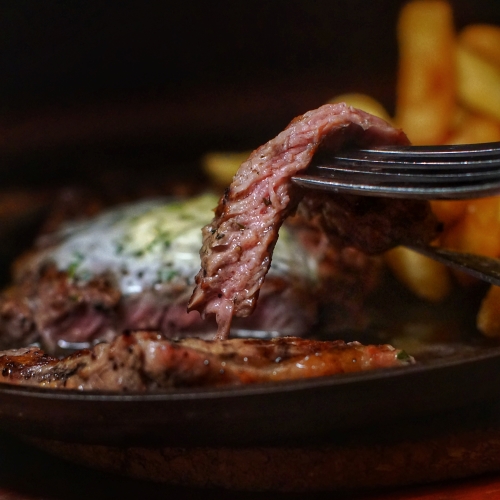 Reasonable Lunch Set Prices for Bedrock Bar & Grill's Premium Steaks
There is perhaps no protein more exalted in the culinary canon than the Steak. Owing to its status and the meticulous grilling preparation, steakhouse prices are not exactly welcoming to the hoi polloi. But if you must get a taste of properly prepared steak without mortgaging your house, Bedrock Bar & Grill's set lunch calls out to you.
Despite Singapore's casual steak joints flourishing in recent years, there's not a lot that can beat the siren song of an alluring cut of good quality steak. The likes of Featherblade and Picanhas are astounding affordable choices but sometimes steak demands greater quality.
Alas, we also try to find a compromise —lest you inexplicably shell out $300 for a cut of steak— and there aren't many more storied steakhouses in Singapore than Bedrock Bar & Grill.
Being a stalwart of the scene, Bedrock Bar & Grill has stood witness to the restaurant scene's changes. 2008 might not seem like such a long time ago but hey — we're in 2022 now. Thanks, COVID, for messing with our time perception,
Value For Its Ilk
With my wallet keeping itself as tight-lipped as possible while I was discussing the menu options, I courteously leaned towards the cheapest option on the 3 Course Set Lunch, served with a Woodfire-Grilled Ribeye Steak at $58.
As with most restaurants with some semblance of fine-dining treatment, Bedrock Bar & Grill's set lunch comes with a bread course, free-flow, on the house.
Their choice of fluffy flatbread was met with the perfect foil or roasted garlic that beautifully clung to the smokiness of the bread with its deep punchy caramelised flavour, accentuating it.
Given a choice of a side and being wary of overindulging before the headliner, I opted for the lighter Chargrilled Baby Gem. Quite the unexpected delight as juicy chunks of tomatoes and bacon gracefully complemented the fresh bite of lettuce, along with a charming supporting cast of shaved parmesan and sprightly balsamic.
The Test of Time
And here comes the protagonist of the Set Lunch, the Ribeye Steak. Sensually browned with the grill's memory deeply imprinted onto its facade, before a golden glob of herb butter is affixed atop as a stamp of approval that it's ready to serve.
Steak, for all its adulation, is not a deeply profound dish. Especially when treated in the classic fashion as Bedrock Bar & Grill does. Given their heritage, the technique is understandably flawless, as the tantalising pink fibres suggest.
Textures were how they should be — luscious, succulent, juicy, or any other synonym you can think of. A nice enriching kiss of flavour is imparted by the crown of butter, adding subtle layers of complexity atop the beefy richness.
That said, steak is an inherently produce-driven dish. While I was served a pristinely cooked slab of beef, a plain jane Ribeye lacks the capability to blow you away.
Then again, few steaks do that at a wallet-friendly price point so I think Bedrock Bar & Grill still presents itself as a good entry-level option for the Set Lunch pricing.
Given time-honoured classics are Bedrock Bar & Grill's bread and butter, my interest was piqued by the trendy newfangled dessert dish of Burnt Cheesecake as an option. All I can say is — forget it, there is little worth elucidating on.
The price tag itself already drops enough hints — don't expect the most charming supermodel for the coin you're offering. Still, Bedrock Bar & Grill's Set Lunch is a solid value proposition for those lunches where you want to slightly up the ante to impress but not go overboard. Steak will never go wrong.
Make your reservations here.
Bedrock Bar & Grill
Website | Facebook | Instagram
Address: 96 Somerset Rd, #01-05 Pan Pacific Serviced Suites, Singapore 238163
Hours: (Sun–Thurs) 12pm–3pm, 6pm–10:30pm, (Fri–Sat) 12pm–3pm, 6pm–11pm