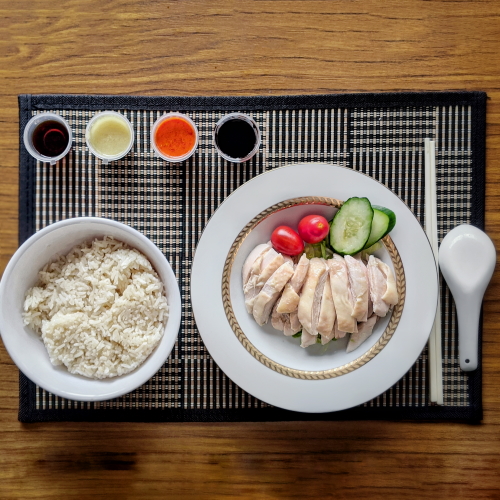 Chatterbox elevates hawker food to luxury hotel restaurant quality
Chatterbox is perhaps best known for selling the most expensive chicken rice in Singapore. Laksa and rojak are also amongst the beloved hawker dishes that are given the same luxury treatment.
Chicken rice is perennially mentioned as one of Singapore's national dishes, but its affordability and ubiquity is a strong part of its charm. This might raise a few eyebrows if you are unfamiliar, but Chatterbox's rendition of chicken rice carries a hefty price tag of $27 ($13.50 during promotion).
I had this at home during Circuit Breaker, so delivery is a factor to consider when reading my review. I saw Mandarin Orchard providing 50% off their entire menu, and I thought — hell, why not?
famousLy the Most Expensive Chicken Rice in Singapore
Chatterbox definitely serves up one of the better chicken rice I have tried. Portions were sizeable, with perhaps a quarter of a chicken and a good portion of rice, enough for 2 to 3 people — not quite an exorbitant version of your typical $3-$4 plate, maybe more $6-$8.
Quality was immediately apparent, as I indulged in the rice's intoxicating fragrance and supreme fluffiness. It was even magically devoid of any greasiness, even after delivery.
Chatterboxes sauce concocting was also immaculately as both the dark sauce and garlic were immensely satisfying, with the chilli being my favourite with its addictive fragrance and gratifying heat.
Alas. The star, the poultry itself, was supple at parts but also slightly tough at others. Hardly terrible but still, decidedly average.
There was no culinary innovation, so when the most expensive failed to hit the mark the disappointment was naturally stronger. Suffering due to experimentation would have been a memorable experience for the price tag.
Paying it safely without achieving perfection was just morbidly anticlimactic. I'm not looking for truffle or gold shavings, but where is the basis of price differentiation if it's not absolutely pristine?
Could mere rice and sauce, good as they are, support the weight of such a hefty price tag?
Up Next, the Most Expensive Hokkien Mee in Singapore
Chatterbox's Hokkien Mee ($28, $14 during promotion) also caught my eye and, as a Hokkien Mee lover, I had to order it.
Noodles absorbed most of the stock and sported a slightly moist texture whilst retaining bite. Every strand of noodle was potently flavourful from sucking it all up.
Besides wafts of indulgent seafood richness, another outstanding element was sambal chilli, probably one of the best I've tried. A fiery kick and delightful fragrance helped built layers of flavour in each mouthful of noodles.
Furthermore, the price tag was somewhat justified by the generous medley of premium seafood like king prawns, abalone clams, squid and scallop. My pick of the two luxury hawker dishes from Chatterbox.
Overall, Chatterbox failed to convincingly demonstrate its raison d'etre. What makes these luxurious renditions of hawker dishes worth the markup? Whilst undoubtedly skilful in execution, I am not convinced they are the best renditions available.
Chatterbox Singapore
Website | Instagram | Facebook
Address: 333 Orchard Rd, Level 5 at Mandarin, Singapore 238867
Hours: (Daily) 11am-11pm