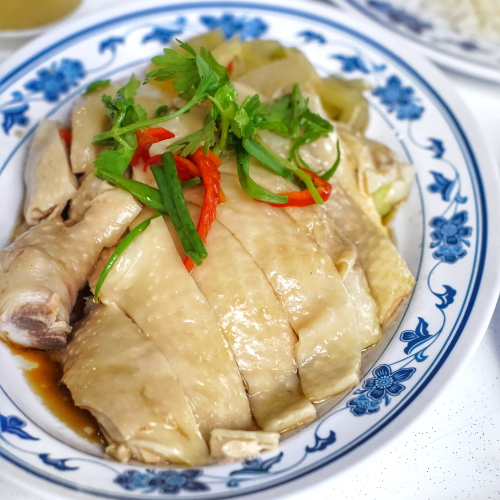 Smooth, Familiar Comfort At Tiong Bahru Hainanese Boneless Chicken Rice
Chicken rice is one of the most familiar hawker dishes that all Singaporeans grow up with and is an absolutely ubiquitous national treasure. So it's quite impressive that, in an ocean of chicken rice stalls, Tiong Bahru Hainanese Boneless Chicken Rice managed to be one of the few honoured by the Michelin inspectors.
Some may argue that the Michelin guide isn't quite attuned to gauging our no-frills hawker food using the same exacting rubricks tailored towards fine dining.
Nonetheless, to get a Michelin Bib Gourmand indicates some degree of stature that drew the inspectors' attention.
Chicken rice is a widely contentious topic anyways — some find Tian Tian a timeless classic while many consider it overhyped.
But it's easy to judge whether Tiong Bahru Hainanese Boneless Chicken Rice deserved its accolade now since they'd expanded to five stores, stretching from Tampines to Bukit Batok.
Chicken Rice With the SImplest Comfort
Expensive chicken rice can be rather divisive, like how Chatterbox's "most expensive Chicken Rice in Singapore" attracts many fans and critics alike. But coincidentally, the owner actually picked up the art of chicken rice making from a former Chatterbox chef.
So I can understand why Tiong Bahru Hainanese Boneless Chicken Rice's fuss-free, homely Steamed Chicken ($8/14/27) rice can be in with a shout for the best chicken rice in Singapore for some people — great quality but without the exorbitant price tag.
For those familiar with Tian Tian Chicken Rice's signature gelatinous-like skin, you are treated to a similar blissful silkiness here. If anything, I prefer Tiong Bahru Hainanese Boneless Chicken Rice since I'm not the biggest fan of the former.
Smooth skin, tender bite, controlled fragrance in the rice, and a well-balanced but piquant blend of chilli — that in itself is more than enough for the familiar comfort of chicken rice. There's no particular x-factor but the consistency in execution throughout the whole ensemble was commendable.
Roast Chicken fans may be enticed by the maroonish slivers of chicken skin instead and Tiong Bahru Hainanese Boneless Chicken Rice's take on Roast Chicken ($8/14/27) is pretty solid too.
That said, the texture isn't handled as masterfully as in its poached counterpart. It's something that can satisfy but isn't quite worth going out of your way to eat.
FUss-Free Sides to COmplement the Star
Chicken rice isn't the only thing on the menu, since you can find various side dishes on the menu to supplement the chicken rice. Of course, it's not the same sprawling selection as you'd find at a Zichar stall.
But I'd gladly take a roll of the Homemade Wu Xiang ($3/3pcs) because Tiong Bahru Hainanese Boneless Chicken Rice's secret recipe yielded juicy bites filled with homely five-spice fragrance.
Similarly, the Thai Tofu ($3) was a simple, fuss-free indulgence with soft chunks of beancurd plainly spruced up with some sweet-spicy classic Thai Chilli.
Does Tiong Bahru Hainanese Boneless Chicken Rice deliver a mind-blowing experience? Definitely not. And that's not what a Michelin Bib Gourmand Award is for — the food is simply tasty and easily affordable like other recipients of the award. At least it didn't bamboozle everyone with a questionable star, like that other chicken rice franchise.
Tiong Bahru Hainanese Boneless Chicken Rice
Address: Blk 136 Marsiling Rd, Singapore 730136 (Multiple outlets)
Hours: (Mon–Sun) 10am–8:30pm
*This was an invited tasting.