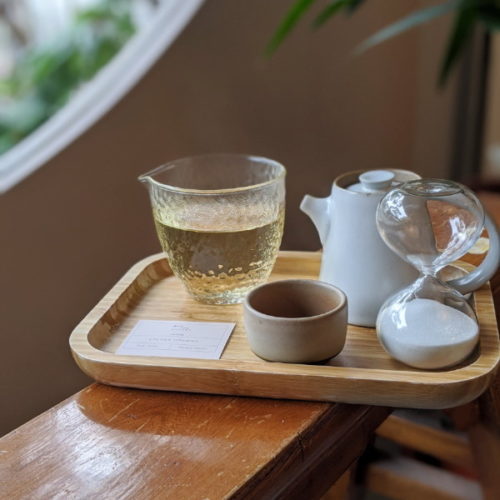 Antea Social Teahouse Marries New-Age Oriental Teas with Dreamy Aesthetics
Antea Social is its own cosy little pocket universe. With gentle pink accents, warm trendy furnishing and elegant teaware, it looked like a set out of a Kinfolk Magazine shoot. Perhaps one of the most aesthetic cafes in Singapore.
They're also my favourite teahouse in Singapore. I find their attention to detail and charming personality truly impressive. it's one of the rare places that I'd revisited more times than I can count.
Antea Social's eye for aesthetics is evident. It's minimalist and gorgeous in its own quirky way and does not fall in line with other hip cafes. Even the crockery has its own unique vibe. For example, the immensely adorable cup collection was born from the owner's travelling and collecting.
Creative Menu Selections
Their extensive menu was bursting with creativity. Besides traditional offerings like Oolong and green/black teas, Antea Social's menu was supplemented by cooler cousins like Kombucha and their speciality infused Oolong teas.
Truly, it's their infused Oolong teas that are the true draw. Having tried more than half of the line, I can attest to the ingenuity in infusion.
Place your order at the counter, choose and cute teacup and wait for the order to be served then patiently stare down the sleek hourglass.
Order it hot if you wanna chill in the cosy space —and you'd wanna, it's that nice— as Antea Social generously allows you to steep the tea leaves again. Steeping it more than twice does leave the tea thin, so order more.
One of my favourites was their Peach Oolong Tea ($6). Nothing like typical syrupy dross, and instead of a balanced blend of earthy Oolong, gently perfumed by a peach aroma that didn't add unnecessary sweetness. It was exquisitely different from typical Oolong, but still possessed the characteristics that make traditional tea so good.
Another was their Rose Oolong Tea ($6), with delicate rose aroma deftly melded into the Oolong's own fragrance. It bore an uncanny resemblance to mild Bandung but contained a much crisper rose aroma.
If you're smitten with their tea, Antea Social also offers delivery on their e-shop.
Equally Great Traditional Oriental Teas
Antea Social's more traditional offerings were great too. I have at times decided to go traditional and it was exceptional like the exciting find of Duck Shit Dancong, an extremely high-quality tea from Phoenix Mountain in China.
I tried it once and was eternally smitten by its complex and incomparable fragrance. They also have other offerings like matcha and bakes for a more typical cafe experience, but if that was your objective you're really letting yourself down by not trying their brilliant teas.
Located in the proximity of hip hotspots like Chye Seng Huat and Apartment Coffee, Antea Social teahouse nestles seamlessly into the neighbourhood of cool kids. Or perhaps, they are already one of the cool kids themselves at this point.
They are truly a hidden gem, and one of the best cafes in Singapore.
Antea Social Teahouse
Website | Instagram | Facebook
Address: 9 Tyrwhitt Rd, Singapore 207528
Hours: (Tues–Fri, Sun): 11:30am–7pm; (Sat) 11:30am–10pm