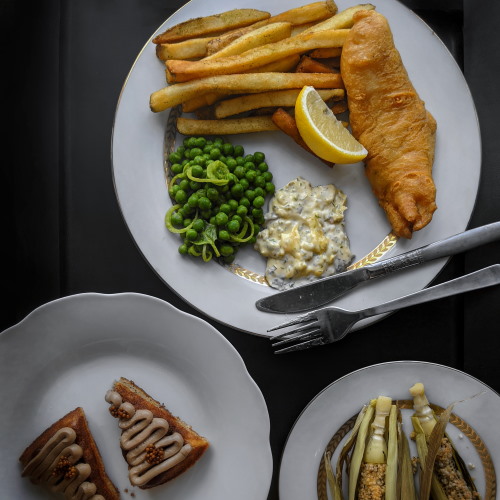 Cheek bistro is a Michelin Star restaurant with simple-looking dishes but exciting ideas.
I have long wanted to try Cheek Bistro, alas the Circuit Breaker hit. Thanks to my friend @melmeleats for treating me to this amazing Michelin-Starred meal during Circuit Breaker! (Editor's note: it has since rebranded into Fool Wine Bar)
Cheek by Jowl holds a special place in my heart as my first Michelin-starred restaurant. Naturally, I was quite intrigued by their rebrand to Cheek Bistro, as Chef Rishi moved on to open Cloudstreet . Admittedly takeaway doesn't do full justice to a Michelin Star restaurant, but this was still enjoyable nonetheless!
Starters Small But Sizeable in Flavour
Perhaps most famous for their chicken liver parfait waffles — it's an unorthodox topping with alluringly flavourful and earthy personality. Striking up a friendship with the extrovertedly bright date jam, it managed to shed off any pungency that one associates with offal. Then when adorned upon fluffy waffles, the product was a demonstration of truly elegant execution.
Only a small mouthful, but the toppings really added a different dimension to the waffles, both flavour and texture wise. Maybe waffles should mingle with friends besides ice cream after all. Friendship is truly magic.
Another accompaniment was the adorable baby porpcorn These miniatures were pinatas that burst with sweet corn juice. Just a light bite and juice gushed out, embellished by deep smoky perfume from smoked miso mayo and crunchy "popcorn" morsels. The miso mayo really added some oomph to an otherwise boring small snack.
Best Fish and Chips in Singapore
My palate was then blessed by the suntory-beer-tinged fish & chips batter, which was immensely airy with some crisp. You almost feel effortless crunching down as the batter was just so remarkably light. The lightness also ensured no nauseating greasiness some crispier fish and chips batter sport. Suntory draught beer seems to be some magical batter-improving elixir!
Encased within that beautiful batter was some succulent red snapper flesh which held a delectably firmer bite. An interesting textural variation from the typically softer and flakier fish and chips. The lighter batter allowed the firmer texture to shine through a method of contrast.
I thought the tartare sauce with their own house fermented chili was also great. If the waffles showcased friendship, then the fish and the piquant silky tartare were a perfect marriage who exquisitely bolstered each other's best qualities.
Could this be the best fish and chips in Singapore? I haven't tried enough to judge, but I can foresee this being comfortably perched near the top.
Overall, this was a good peek into the bistro's culinary innovation and potential for greatness. I would have to return someday to experience the full effect of their brilliance in person.
Cheek Bistro
Address: 21 Boon Tat St, Singapore 069620
Hours: (Daily) Lunch– 11.30am-2.30pm, Dinner– 6pm-10pm