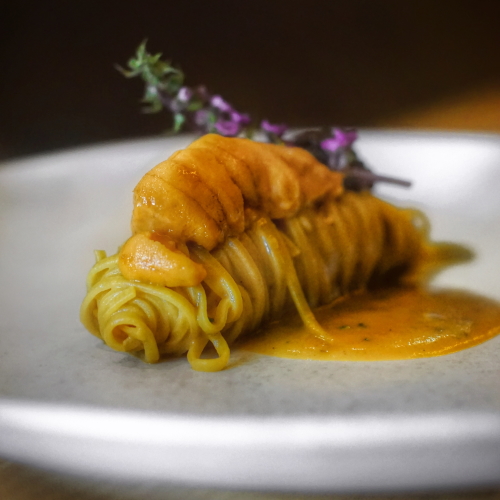 Braci Puts Up A Moving Display of Modern Italian Artistry
It's December of 2021, a year marked with a personal mission to seek out the best pasta in Singapore. With a spate of pasta bar openings, there are many overly hyped disappointments hiding amongst them. That's why I found myself at Braci, an Italian outfit applauded for its modern sensibilities even by contemporaries in Italy itself, with high hopes of finishing my pasta quest on a high.
Tucked away on the fifth storey of a quaint shophouse by the Singapore River, Braci is a Michelin-starred concept by Beppe Devito, the Il Lido Group head honcho behind other snazzy concepts such as Amo.
At the helm is Chef Matteo, a young star chef hailing from the foot of the Alps who had cut his teeth at luminaries such as Cafe Groppi and 28Wilkie.
All the pieces put together here translate into an articulately modern experience where creative pizzazz is liberally injected into the comforting Italian cuisine most of us are familiar with.
And it's that whimsical sense of adventure that's most vibrantly reflected in Braci's open kitchen, affixed with dangling multi-colour blocks that look like they belong in a modern art museum.
Above all, that willingness to buck the trend of a cuisine that's notoriously traditionalist is also what makes them so appealing to me.
Intricate SNacks to Whet The Palate
My Lunch Degustation ($118/4-course) started off strong, with an enchanting myriad of snacks that handily beat most French restaurants I've been to —if you still had any doubt about any Italian restaurant's competency in amuse-bouche.
Braci is not like the preconceived archetype of an Italian restaurant. The snacks showed finesse, creativity, and a willingness to venture outside the Italian cuisine canon.
As with any opener, you'd prefer something light and piquant to turn on those tastebuds. That's where the Caneloni fit in so immaculately, stuffed with delicate ricotta which had its dainty dairy fragrance paired with pickled beetroot zing.
Flavours are then amped up as Braci's Rainbow Trout & Roe Tart takes its turn in the spotlight. A deeply satisfying single bite brimming with umami given the slightest citrus twang by a lemon mascarpone.
Chasing that umami bite was the Japanese Iwashi on Polenta Cracker, which washed out the trout as a gratuitous richness took over, intensified by an aromatic banana shallots jam.
This all-rounded snack was the highlight of the prologue, deftly designed to facilitate a striking contrast of firm crunch and meaty fish tenderness.
Even with all these intricate snacks, one of my most memorable bites at Braci has to be the Sourdough. Sometimes we just crave the simplest pleasures, so the perfect blend of crackling crust and the fluffy crumb was simply irresistible, especially when plastered with their luscious homemade olive oil.
Virtuosity Mixed with INspiration
Anyone who has dabbled in Italian cuisine knows how important execution is, as its simplicity is also its biggest Achilles' heel. That's why it's impressive how Chef Mateo and his Braci entourage showed not only classical virtuosity but also a refined out-of-the-box imagination.
Braci stretches its culinary inspirations far and wide, with a strong endearment for the luxurious produce often favoured by the Japanese. A most stirring marriage of Italian and Japanese can be found in the starter of Verona Celery Root Aged in Wagyu Fat.
Stupendous amounts of umami are thrown at your palate, as the tender slivers of celeriac bombard you relentlessly with the sapid might of butter, bovine richness, and capers. Exploding grenades of Ikura are thrown in for good measure to push the climax to greater heights.
If you ask regulars what best demonstrates Braci's virtuosity though, the response is often a unanimous and resounding one — the 32 Egg Yolks Tagliolini (+$42), a dish almost synonymous with the restaurant.
This is one dish that furtively incorporates Japanese elements without growing excessively flashy. Braci's utilisation Bafun Uni is seamless and instinctive, even though can't be considered a traditional Italian component.
Every aspect of this pasta dish was picture perfect, from the pristine al dente bite of the semolina tagliolini to the elegant balance struck between the exuberant personalities of the premium ingredient ensemble.
As the sweeter Bafun Uni melted in the mouth like butter, the briny punch of the Murasaki Uni in the sauce kicks in, allowing an equal and harmonious stage presence. Embellished with the nutty fragrance of caviar, there was simply no fault to be found.
While I was still feeling giddy from the heavenly pasta dish, Chef Matteo appeared at my table with a covered pot in hand, seemingly excited to reveal its contents to me.
A calming scent of smoke wafted out to fill the air of my table as the lid was made ajar, revealing the final savoury item of my lunch at Braci. It was a spectacular specimen of Smoked Venison, surrounded by a lush array of Alpine pine imbuing a dignified, piney aroma to the protein.
Perhaps Venison is classified as game meat in most circumstances but this slab of perfect pink did not hide a trace of funk, as the worldly taste of Chef Matteo's hometown coaxed my incisors to instinctively sink into the succulent venison.
Juices flowed obscenely, as the sublime succulence was enriched by whiffs of intoxicating pine and the Yamazaki chutney and buttery pumpkin added a refreshingly vibrant dimension to the dish — but the venison is sumptuous enough as is.
Dainty Treats to Wind Down
While the Italian dessert arsenal is populated by the most timeless classics such as Tiramisu, the most widely-known snack has to be the Ferrero Rocher.
That's why there's something inherently charming about the Tonda Gentile, Braci's riff on the beloved hazelnut tidbit. Labelling it as a mere spin on Rocher is doing it a huge disservice though because the Piedmont Hazelnut fragrance is unrivalled by any mass-market chocolate snack.
As they say, the devil is in the details. Even though I relish in the unadulterated satisfaction a Rocher can bestow, I prefer my desserts with a touch more nuance. Which makes the attenuating touch of orange and persimmon all the more enchanting, as it presented an elevated twist on the classic chocolate-orange combo.
Remember how I mentioned the Tiramisu as a quintessential Italian dessert? Well, it's actually a relatively young dessert in comparison to many others so there's plenty of room for experimentation which Braci does with finesse in their Petit Fours.
The Mini Tiramisu Tart was an exceptionally delightful reimagination, bearing the trademark coffee and chocolate fragrance, though accentuated with a touch of smoke and masala as a crevice is imprinted on the crowning marshmallow using binchotan.
Another nostalgic treat was the Carrot Candy, inspired by the chef's mother, which washes over you with a comforting spice-forward profile as you slowly nibble on its gently chewy body.
The other two, a White Chocolate with Pear Candy Shell and a traditional Roman Bread dessert, were less noteworthy but hit with the perfect homely comfort to wind down the meal at Braci.
While I am a fan of Nonna's time-honoured recipes, I am also a sucker for innovation. Suffice to say, Braci's modern sensibilities and willingness to think out of the box deeply moved me, proving to be one of my most memorable meals of 2021.
Make your reservations here.
BRaci
Website | Instagram | Facebook
Address: 52 Boat Quay, #05-01/ #06-01, Singapore 049841
Hours: (Tue–Sat) 12pm–2pm, (Mon–Sat) 6pm–10pm