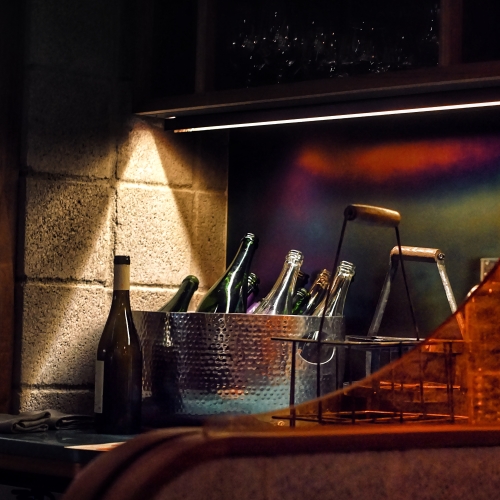 Cheek Bistro JAZZES THINGS UP WITH Groovy Fool Wine Bar Rebrand
I still remember my first experience of chef Rishi Naleendra's culinary genius. It was 2017, at Cheek By Jowl, right after he snagged his first Michelin star. This Boon Tat Street spot has been the cornerstone of his career, host to a slew of creative Cheek concepts before the new Fool Wine Bar has taken over.
Those who wander into the space, now given a groovy and psychedelic facelift, might not recognise it as a wine bar at first. Nothing really says "wine bar" when you take in its rebellious energy and unorthodox decor palette choices.
But despite the 80's-inspired psychedelic house party getup, Fool Wine Bar is more than equipped to provide you with a top-notch wine and dine experience.
It's 2021, there's no longer a need for the pre-conceived frou-frou of a wine bar and Singapore's wine bars, taking cues from pioneers like RVLT, are amping up on the rock & roll and electrifying vibes.
Everything is carefully wrought to provide you with a fun, unpretentious night out with some adult grape juice. A chic soundtrack that evolves from groovy jazz to soulful rock & roll? Check. Intimate, knowledgeable service from staff clad in aprons adorned with Beatles and Star Wars insignias? Check.
Simple but Persuasive Bar Bites
Many people knew Cheek Bistro as chef Rishi's casual concept that steered away from the high-brow leanings of Cloudstreet and Fool Wine Bar is the same — in fact, the food is even more stripped down.
The Dark Rye Rolls ($12) embodies this ethos, being a simple rye bread despite a resemblance to the elaborate Cloudstreet liquorice stout bread. Still, it does everything splendidly, sporting a moist, fluffy texture while pairing perfectly with the umami vegemite butter.
Fool Wine Bar also came up with a creative twist of the iconic Cheek Bistro snack of waffles with chicken liver parfait liver. With initial doubts about them topping the classic, I was proven deadly wrong.
Instead of waffles, you get all that creamy, robust liver flavour loaded into the Chicken Liver Eclair ($16) with a delightful pastry texture. The addition of dates then juices the snack up with a pleasant vivacity.
On the other hand, the Veal Sweetbread ($16) wasn't anything special — you could hardly tell they were using such an exotic protein if it wasn't stated explicitly. But more importantly, the blue corn tacos were too tough even if the protein itself was nicely crunchy and succulent.
In a move that might leave many culinary purists sharpening their pitchforks, Fool Wine Bar pushes a novel marriage of German and Italian flavours in the form of a Spaetzel Cacio e Pepe ($18).
I can't claim that it's perfect but I did enjoy how the sharp and salty cheese-pepper sauce clung so snuggly onto the chewy squiggles. And those tendrils of crispy kale help amp up the savoury factor even further, suited for those who revel in the relentless flavour bomb that is a cacio e pepe.
An unassuming dish that would please cheese lovers here at Fool Wine Bar is the Pan-Fried Saganaki ($18). With a texture somewhat like halloumi with a gentle crust and a touch of spice, this is a simple indulgence good to pair with the wines.
Similarly, the Arctic Char ($32) is yet another dish that showcases simplicity executed with finesse. The skin comes with an immaculate caramelisation formed on it, reminiscent of a saba fish, but the flesh underneath is splendidly soft and tender.
You'd be hit with a blissfully rich explosion just by popping a slice into your mouth with a generous helping of luxurious bonito butter and some ikura for some additional bursts of umami.
A Wine Bar that doesn't Fool You with pretensions
As I said, Fool Wine Bar doesn't take us for fools. There's no need for pretensions and an uppity ambience that some might associate with wine bars. And yet, their wine menu is just as comprehensive and impressive as any wine bar.
The trippy holographic menu cover is just a precursor to all the unique wines set out in magazine-style. If you're not well-versed in wines lie me, just get one of the sommeliers who will helpfully run you through the sprawling selection.
To start, we were pointed towards the bottle of Anatolikos Fine Assyrtiko ($108), a Greek natural wine that presents a beguiling medley of citrus, oak, and acidity.
Out of all the varieties at Fool Wine Bar we were getting intoxicated on, the Veyder-Malben Alter-Native (S$32/glass) was probably the most memorable.
This Austrian Orange boasted of just the most refreshing tart notes while possessing a good depth of flavour — all while tasting impossibly clean for an orange.
Fool Wine Bar
Website | Facebook | Instagram
Address: 21 Boon Tat St, Singapore 069620
Hours: (Tue-Thu) 5pm–10pm, (Fri to Sat) 12pm–10pm