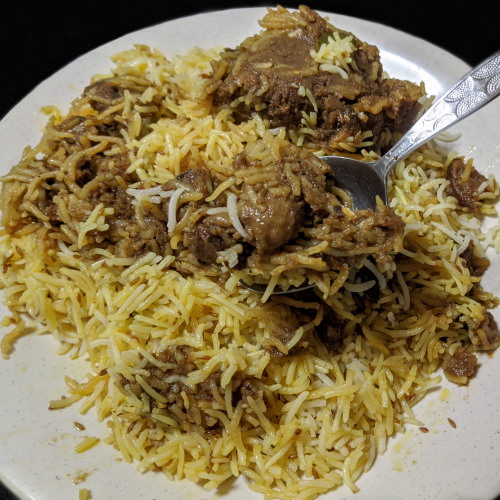 Secret Black Metal Briyani worth selling your soul.
Creations that could make even angels weep with masochistic pleasure. Global Mat Soul Kitchen are touted as one of the best briyanis in Singapore, and even international sources like Vice featured them.
Briyani from the notorious home kitchen requires painstaking effort to acquire and is unstirred by traditional Indian conventions. First, you have to get into their instagram account, then wait for the black-metal-inspired posts or stories for instructions.
It's hard to get a packet due to the exclusivity and popularity. Even though it's one of my favourites, I'd only managed to snag two packets thus far when the stars aligned. You should probably turn on your notifications and pray you're fast enough, as they are usually fully booked within minutes.
Make no mistake, the man behind the operations is not doing it for fame or money. He is driven by passion, preparing it when free of his day job and lion dance troupe commitments.
THE GLOBAL MAT SOUL KITCHEN BRIYANI IS PURE INDULGENCE
My virgin experience with a packet of Global Mat Soul's mutton briyani ($12) simply blew me away. Each mouthful exploded with aroma, whilst a complex storm of spice-forward flavours accentuated that fragrance. The indulgent flavours sensually torched my tongue with a mild heat, but also incited a sense of arousal from the pure decadence.
The mutton was fork-tender and delicious, with a controlled dose of enjoyable gaminess. Above all, the basmati rice was fluffy and moist, but not at all soggy from the gravy.
My second time was given to his honey chicken briyani ($14) which simultaneously bloomed with inexplicably complex flavours, mild heat and a sweet honeyed vibrancy. The sweetness layered coherently atop the richer flavours to cleave through the heaviness mercilessly.
That massive slab of chicken was tender and juicy throughout, whilst seductively tinged with honey. The basmati rice was similarly on point like with the mutton version — man does not have consistency issues.
Undoubtedly one of the best briyani places in Singapore, and it's no wonder many big-name food bloggers/reviewers/PR personnel have heavily praised Global mat Soul Kitchen. Still, the chef is constantly humble and warns to "manage expectations" — it's impossible when you open the boxes.
Global mat soul kitchen briyani
Address: Somewhere in Aljunied, you'd get the address when you beat the crowd to reservations!
Hours: Depends on when the chef is cooking