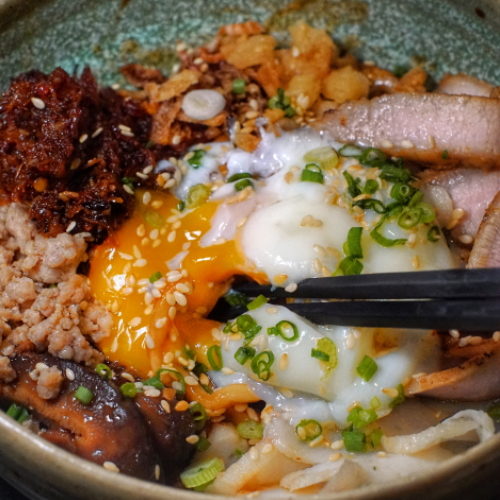 Modern Bak Chor Mee Twist & Craft Beer For Good Luck
After establishing itself as one of the best bars for craft beer-fuelled shindigs, the iconic Good Luck Beer House at Haji Lane was met with the unfortunate challenge of shedding the emblematic fixtures and beer-focused concept for a facelift last year.
The process took a while but the new Good Luck now stands on its own as a purveyor of all things local, from the bar grub to the hopped-up liquid flowing out from their bronze taps.
Unlike its casual cafe sibling at Katong, this new incarnation of the Haji funhouse is part unpretentious Japanese ramen bar and part rowdy watering hole, with swaths of vibrant posters plastered across the wall, jazzing up the space with the entire spectrum of pop culture from Star Wars to Lollapalooza.
In this new Good Luck, being a beerhouse isn't the core of the concept. There's a lot more balance between food and drinks now with their new signature bowl receiving as much tender loving care as even their craft beer curation. With months of fine-tuning, their boisterous Haji Lane noodle romp is ready for a slurpin' good time.
Gratifying, Unique Singapore Ramen
"Singapore Ramen" is probably not a concept foreign to many of the discerning gourmands of Singapore. A Noodle Story is a Michelin-affirmed hawker stall that's lauded for pushing the boundaries by marrying familiar noodles with creative elements.
In the same vein, Good Luck's Signature Bowl ($13.90) added endearing licks of experimentation on the local Bak Chor Mee blueprint, adding Japanese elements into the fray, brewing up a comforting and unique storm of flavours.
Expect flavours and textures suspiciously nostalgic to your local palate but given a new spin in this alter ego that is elevated with Housemade XO Sauce, Sherry Shiitake, 64 Degree Sous Vide Egg.
Good Luck's Signature Bowl was an interesting jumble of Ban Mian, Bak Chor Mee, and Mazesoba facets — doused in a hearty XO Seafood Relish and given an immaculate spicy finishing touch with the potent 3-blend chilli.
The bowl was crammed full of umami while still retaining a good balance from the sherry and XO. More importantly, the noodles had a delightfully chewy bite and the crowning glory was a 24 Hour Wet-Brined Pork Jowl — blissfully tender and a cut above the majority of other local ramen bars' Chashu.
Still a Great Spot for Inebriation
Ultimately, despite all the wok-hei-filled Hokkien Mee and Char Kway Teow that were mainstays on Good Luck's menu since its Beerhouse days, the one unifying factor for regulars here is the tipples.
If you're one of those beer guzzlers like me, you can't miss the golden window of 12pm to 6pm on weekdays where they have their happy hour.
With an impressive range of craft beer taps repping Singapore's very own homegrown, not many other places can beat Good Luck's range of local brews that has 12 on tap at any one time, regularly rotated. Easy to drink Off Day Pilsners, potent Alive Brewing Imperial IPAs, and experimental Brewlander Goses — different strokes for different folks.
Diversity is not just within the beer kegs — a wide array of cocktails are also worked into the menu, given playful local touches in drinks like the Nanyang Espresso Martini and the Ong Lai Colada.
In contrast to the original beerhouse operation of Good Luck, the tipples are courtesy of Ah Sam Cold Drinks Bar, a stalwart that cemented its spot on Asia's 50 Best Bars before wrapping up their physical store last year,
For a good ol' Friday night with plenty of alcoholic lubricants, familiar local flavours, and a bustling ambience — this is a fun bar where you can unwind. It might not be Good Luck Beerhouse on the signboard anymore but everyone's favourite Haji Lane craft beer spot is still here in spirit.
Make your reservations here.
Good Luck
Website | Facebook | Instagram
Address: 9 Haji Ln, Singapore 189202
Hours: (Wed–Mon) 12pm–10:30pm, (Tue) 4pm–10:30pm