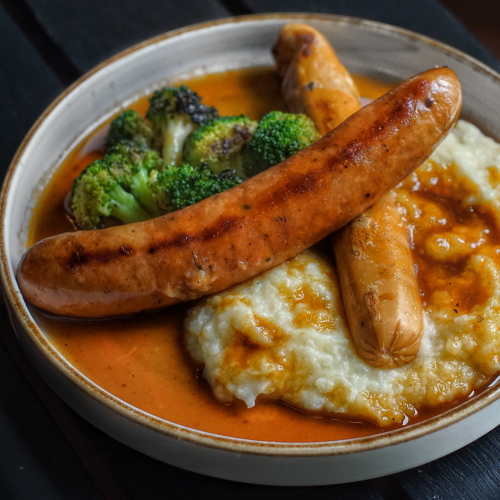 Good Intentions has good vibes & $3 coffee for chill brunches and craft beer for fun nights
With a deluge of new cafes popping up all over the trendy hood of Katong, it's become a cafe-hopping haven of sorts as of late. Joining the fray is another new entrant Good Intentions, who provide a unique edge over the motley of IG-worthy brunch spots in the area.
Any caffeine-fuelled person can tell you how expensive it is to sustain a caffeine addiction and Good Intentions are here to change that with their $3 soft launch price — quite a steal in this gentrified neighbourhood.
Adding onto that, it's also run by the same people behind popular craft beer establishment Good Luck Beer House, so you can expect plenty of fun local craft brews to support local.
There you have it — you have caffeine to fuel your days and alcohol to fuel your nights (but also days for people like me). It's the complete package.
And for the maximum productivity boost, Good Intention's second-floor loft is also an uber cosy spot that's relaxing, flooded with calming daylight and accented by potted greens.
Having spent an afternoon working here, I found myself revelling in the tranquillity — and alcohol — and it's a great hangout if you need a spot to just lounge about.
Comfort food for Comforting Stay
There's nothing really elaborate or complicated about the food at Good Intentions — it's all your classic comfort foods that go well with whatever beverage you order, many of which are modern brunch takes on timeless bar foods by burger experts Bergs whose burgers are also on the menu.
After some deliberating between the English pub classic of Fish & Chips ($18) or Bangers & Mash ($16), I leaned towards the gravy-loaded latter. They say you can't really go wrong with bangers & mash, and it's true.
Sausage lovers would enjoy the nice juicy bite on the sausages but the mash could do with some tweaking in terms of graininess. And while Good Intentions' burnt onion citrus beef gravy inject a dose of sweet umami, it was mildly cloying.
However, getting a basket of Good Intentions' Tater Tots with Thyme Aioli ($7) is a necessity for any visitor. Those airy nuggets of potato let out satisfying crunches and the thyme aioli gave it a gentle herby punchy that cut through most of the grease. A perfect companion to both coffee and beer.
Prepare to drink a lot
With all that said, the highlight at Good Intentions is definitely the beverage program that features a range of coffee, tea, craft beer, and even cocktails.
A no-brainer would be to order their Coffee ($3). With a price tag of only $3 for both black and white coffee, you'd be able to affordably satiate your coffee cravings affordably with beans sourced from local roasters Smitten.
Ice cost an additional $1 but that's money well-spent in the crazy heat and it also helps dampen some of the acidity in the coffee which was a simple but effective blend of robust nuttiness with a moderate dose of acidity.
Taking a cursory look through Good Intentions' craft beer menu, the first thing that jumped out to me was the classic Kiam Sng Di Gose ($14/happy hour, S$18/regular) from Singapore Beer Project. A classic that has never failed me with its rousing combination of guava tartness and salty zing that makes it a supremely refreshing drink for the hot days.
Cocktail drinkers are also given some focus with their Cocktail menu, filled with drinks supplied by Ah Sam's Cold Drinks Bar. The bulk of it was made up of classics injected with a spurt of local-inspired creativity including Calamansi Margarita ($16) and Osmanthus Negroni ($16).
My choice of poison was the Rosella Sour ($16) that was a floral mix of gin, peated whisky and rosella topped with vegan foam. A simple drink that was easy to drink for lounge about in the relaxing ambience of Good Intentions' space but don't expect to be wowed — it's only $16 after all.
Something that unexpectedly called out to me was their Chamomile Agave Iced Tea ($8) that Good Intentions makes in-house using a blend of Chamomile and Earl Grey, coloured with the brightness of Agave to imbue natural floral fragrance without being as saccharine as honey.
They are currently still in soft launch so there will be kinks but the good vibes? That's more than good enough for me to swing by for a cheap cuppa.
Good Intentions
Website | Instagram | Facebook
Address: 45 East Coast Road, Singapore 428765
Hours: (Daily) 10am–10:30pm