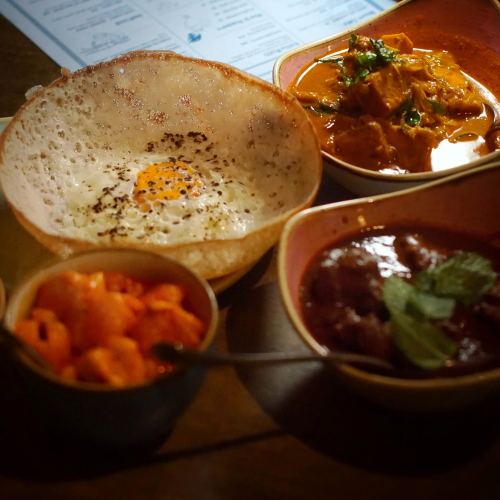 Rishi Naleendra's Kotuwa Whisks Your Tastebuds Away To Sri Lanka
A quick trek from Jalan Besar Station brought us to the entrance of the Wanderlust Hotel where a sturdy wooden door greeted us. After pushing past the door and taking a few steps through the cosy lobby, we're left face to face with a majestic stone horse standing guard at the entrance of Kotuwa.
Our chaperone quickly whisked us away to the chic confines of a small dining room, slathered with tasteful sheets of flamingo wallpapers and with a stash of vinyl records peeking out from beside the entrance.
Almost like an ersatz chef's table, we were given front row seats to the kitchen performance, only separated by a thin glass panel with the Kotuwa logo proudly emblazoned upon it.
This was a long overdue trip, after the pandemic and various mishaps forced postponement time after time. It was surreal to finally be seated in this unique Sri Lankan outfit that's been a subject of endless extolling.
Another brainchild of culinary magician Rishi Naleendran, Kotuwa is a remarkably distinct entity from the likes of Cloudstreet and Fool. Drawing from his Sri Lankan heritage, this modish outfit is out to bedazzle Singaporeans with a cuisine foreign to many of us but is firmly squeezed against Chef Rishi's heart.
A Warm Welcoming Start
We begin with a peculiar motley of carbs, eggs, and greens jumbled up into a tantalising brown mess which prompted cheeky parallels drawn to the hawker classic of Char Kway Teow.
Kotuwa's Chicken Kottu ($22), unsurprisingly, was so much more than that. Given a deluge of gravy, the elevated Sri Lankan street classic hit with a reassuring richness and spice to warm the palate while also graced by a rousing textural party from morsels of chopped Rotti, eggs, and meat
A succession of plates hit the table next, as the rest of the orders arrive. As a palate cleanser, the zesty Lychee Achcharu ($8) freshened us up and cleaned away the residual of the heavy Kottu with its piquant blend of tropical sweetness, acidity, and slight prickly heat.
A Spice Wonderland
Refreshed, we plunged our spoons into Kotuwa's star dish of Lamb Curry ($24), with chunks of lamb shoulder submerged in a tantalising pool of mahogany-hued Sri Lankan red curry.
With every tender, succulent lamb morsel enrobed in a smooth coat of curry, this was a magnificent display of robustness as complex spices and punchy heat beautifully played counterpoint to the gentlest whisper of sultry lamb game.
The follow-up was a curious jackfruit dish, Kotuwa's Polos Ambula ($16), that was a compelling argument for the fruit's rapid traction as one of the most popular protein substitutes.
Despite being juxtaposed against the lamb, the baby jackfruit held its own quite remarkably. Firm, tender and meaty — you wouldn't suspect this was a fruit because the baby jackfruit was scant in any of that pungency and was elegantly dressed up with coconut perfume to complement its crisp earthiness.
Potentially recognised as a cardinal sin somewhere in the world, the meal only felt whole when some carbs came into the fold — the trusty sidekick for the night was a piece of Kotuwa's Egg Hopper ($6) adorned with the golden smile of egg yolk at its heart.
A light crisp around the edges with a delectable soft chew in the middle, these pancakes were the perfect foil for some of the heavier sauces on the table that night.
Is the Kotuwa experience a mind-blowing one? Probably not. But while it might not have some of the quirkiness of other lauded establishments featuring cuisine from the region, it's evident this is a restaurant with heart, with love. The flavours are comforting, they don't try to overcomplicate and sometimes that's just what you need.
Make your reservations here.
Kotuwa
Website | Facebook | Instagram
Address: 2 Dickson Rd, Level 1 Wanderlust Hotel, Singapore 209494
Hours: (Sat–Sun) 11am–3:30pm, (Wed–Sun) 6pm–9:30pm