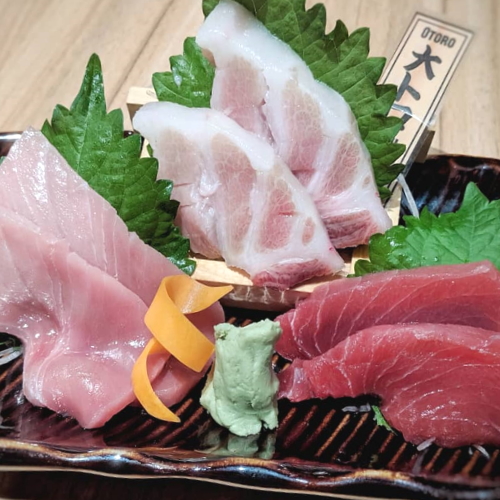 delicious Japanese food to go with free flow alcohol at this authentic gem.
Izakaya Niningashi is one of my favourites izakayas. There's something unique about authentic Izakayas, quite a special sub-culture in Singapore. Imagine thundering chatter as rowdy Japanese salarymen make merry, high on alcohol.
A relative newcomer to the scene, but having been to a handful of Izakayas, including the legendary Nobu-Ya, I can attest to Niningashi's food and atmosphere.
The first thing you must order at Niningashi is obviously the free flow alcohol ($35++/90mins or $55++/ 150mins). Unbelievably good deal since you can choose from a good range from Suntory highballs to sake. You can be as buzzed as you want; choose your poisons according to your mood.
Their Izakaya food is as good as the drinks
Heading down for drinks is fine, but why miss out on good food while you drink? The food at Izakaya Ninigashi is pretty good too and quite affordably priced for the quality.
I have to say that their sashimi is extremely fresh and worth the money, considering they aren't a sushi-ya. Their selection is seasonal and sometimes you can find exquisite items like Shirako (cod milit) which is one of my favourite exotic fish parts.
Why stop there? Izakaya Niningashi's menu contains crazy choices like an entire tuna steak. I didn't go that far, but my smaller portion of three cuts of tuna and their otoro is by far the fattiest I've had for this price range.
If you like your fish cooked then the Grilled Fish ($25.90 for 2 types) is a no-brainer. Stunningly well grilled, the crispy outer skin broke open to reveal juicy and soft flaky flesh.
Full of flavour with a gentle smokiness, though depending on which variety you get it gets slightly salty.
For great alcohol accompaniment, order Izakaya Niningashi's Wagyu Beef Steak ($32.90/100g). Crazy juicy and tender, it released a torrent of decadent beefy flavours that made us swoon, as it melted orgasmically in our mouths.
A surprise favourite of mine was this Pork & Chicken Meatball Hotpot ($29.90). I really enjoyed that nice pleasant spice that mingled with a bright piquancy. The ingredients were all delicious, particularly loved their chicken balls.
Izakaya Niningashi is a great all-in-one place for you to satiate your alcohol, sashimi and general Japanese food cravings. For winding down with friends or colleagues after work , you know where to go.
Izakaya Niningashi
Website | Instagram | Facebook
Address: 2 Craig Rd, Singapore 089662
Hours:(Mon-Fri) 12pm-2.30pm; (Mon-Sat) 6pm-11pm; closed on Sundays