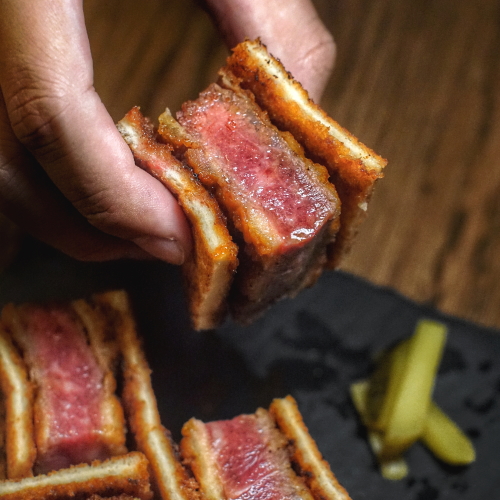 Sake Labo Marries Modern Japanese Tapas With Vibrant Retro Edge
Izakayas are, more often than not, set to a blueprint — the decades-tested template of an unassuming, stripped-down watering hole decked in simple wooden furniture while sake bottles perch on ledges, and Japanese salarymen go about their merrymaking without a care in the world. Swimming against the traditional current is "Japas" bar Sake Labo, standing out by injecting itself with a healthy dose of glamour.
Sake Labo is not your run-of-the-mill Izakaya with strips of youth vibrance while splashes of chic retro energy are mixed in with snazzily bold and modern branding. All of that fits the concept to a tee, as their focus is on much more unconventional "Japas", a portmanteau of Japanese and Tapas.
That said, it's not exactly mould-breaking for Western cuisine elements to be melded with Japanese. It's actually quite entrenched in Japanese culture. Japanese-Italian, for example, is a fleshed-out style that eventually developed its own nuances.
What Sake Labo does exceptionally though, is to package all of that with a modish and quirky approach. In a market where the big players are much more loyal to the traditional Izakaya mould, save for a few exceptions, this occupies a niche that youthful mavericks have been calling out for.
The Telok Ayer space is divided into two parts — the stairs leading up guide you to a mezzanine where chef's table magic happens while choosing the alternative of heading down to the basement will see you spirited away to a Tokyo-style underground bar.
Tapas Kissed by Japanese Flavours
Sake Labo's signature of "Japas" is a multitude of creatively conceived dishes that draw inspiration from both Tapas and Izakaya bar bites.
Small "Japas" are tailor-made in case munchies are required as sake companions. For instance, the bite-sized Maguro Cornetto ($18) rewards the palate with short but potent bursts of richness.
A sumptuous jumble of medium fatty Tuna is complemented by a suite of acidity and sweetness, then touched up the nutty and crispy crunch of the seaweed cones. Fleetingly similar to Spago's rendition of the tuna cone but more straightforward, making it a great tipple companion.
Of course, Fried Chicken is an undisputed bar staple and Sake Labo fries up a tantalising O.F.C ($12), enrobed in a simultaneously crispy and fragrant batter.
By its side is a saucer crammed with a punchy Sazon mayo dip then embellished with a lavish confetti of furikake. A creamy and robust concoction for sure but my palate felt slightly overwhelmed as the excessive potency drowned out the chicken's individual virtues.
Theatrics are a natural expectation upon the sighting of a smoking dome which the Unagi "Sushi" ($18) promptly delivered. Despite all that pizzazz, it's a dish with more substance than style.
This tidbit is Sake Labo's wretched twist on the timeless sushi, swapping out sushi rice with a crispy sliver of rice crisps. Wretched it may be to sushi purist sensibilities, you can't argue against its competency as a truly indulgent bar snack when the smoky grilled unagi and torched Mentaiko sauce hit in gratifying tandem.
Some Heavier Hits But ALso Misses
When it came time for Sake Labo's "Premium Japas", I instinctively dipped my fork into the bowl to gently entwine the Chilled Truffle Kombu Udon ($25) glamorised with the invitingly warm hues of Ikura and Crispy Sakura Ebi.
When designing a dish with this kind of elegance and simplicity, pristine udon texture is paramount and Sake Labo nailed it as slender strands of udon recoiled gently while the crispy Ebi crackled and the umami Ikura popped, arousing a flavour party in the mouth.
Maybe their iconic Labo Sando ($48) depends on the luck of the draw but this signature was quite the underwhelming VIP that we waited the whole night to peep.
While A4 Wagyu is plastered on the menu, we were unfortunate that the kitchen was in a supplier transition period and we were given substitutes of Australian Wagyu. Richness is a guarantee but the chewier texture, quite likely due to the less satisfactory marbling, was definitely not up to standard for its legendary status.
As the Kaisen Paella ($48) swooped in, we were enamoured by its vividly intense shade of brown and the conspicuous scarlet crustaceans adorned atop.
Sake Labo managed to achieve a reasonable texture on the rice but the presence of char was rather scant, only propped up by a decently robust seafood profile.
A meal at Sake Labo is meant to be a sake-fuelled romp where tipples are ingested simultaneously with their newfangled bar bites. Peak gastronomy is not what you should be looking for here — for a good, fun time, the grub on the show is more than enough to satisfy, all things considered.
Make your reservations here.
Sake Labo
Website | Instagram | Facebook
Address: 29 Stanley Street, Singapore 068738
Hours: (Mon–Fri) 12pm–2:30pm, (Mon–Sat) 5pm–10:30pm
*This was an invited tasting.