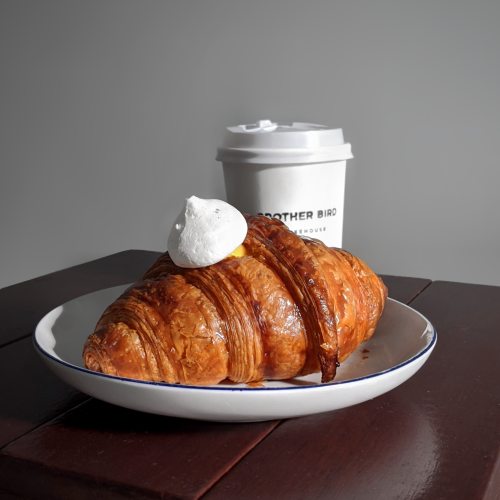 Crowds flocking to Brotherbird for Flavoured Croissants
Stateland Coffeehouse has been reborn as Brotherbird Coffeehouse. The previously popular cafe known for unique items like their mochi donut soft-serve shuttered late last year. They have rebranded for their offshoot to take the main stage.
The cafe after the facelift was gorgeous. The minimalist decor and sleek whites of the second floor provide a perfect backdrop for those instagram shots. One of the most aesthetic cafes around.
Best Croissants Singapore has to Offer?
If you haven't tried their mochi croissants, you're missing out. These little bundles of joy sell out at the speed of sound. Brotherbird's creations are easily the best flavoured croissants in Singapore.
I still remember being smitten by my first, the Taro "Orh Nee" Croissant and that distinct texture — flaky and lightly buttery on the outside, whilst dense and doughy in the middle with an enjoyable chewiness. The filling was fragrant and mildly sweet, and that taro flavour just paired exquisitely with the croissant.
The beauty of Brotherbird's croissant texture is in the chewiness acting as a platform for the filling, and trust me when I say they have very innovative filling ideas. From tang yuan to hae bee hiam — sky is the limit.
Consistently well-executed, innovative and hardly ever feel gimmicky; I feel they have carved out their own niche in the saturated local cafe scene.
This mandarin orange meringue croissant, my first at the revamped cafe, was another hit. The filling had a controlled sweetness, and was elegantly perfumed with bright and zesty orange notes, pairing well with the light butteriness of the croissant
Brotherbird Coffeehouse is Not Just A Croissant Shop
Whilst the popular mochi croissants are still their biggest pull, they also introduced some cool new items for their brunch menu. The items range from typical brunch offerings like french toast to more special "burrata" toasts.
Their coffee is also sourced from 2 Degrees North, supplier to some of the best cafes in Singapore like Atlas Coffeehouse and Populous Coffee.
From the brunch menu, I enjoyed the honey toast ($12) with its vibrant honey notes and an intoxicating fragrance. The texture was on point — fluffy bread and a crunchy crust, without a hint of sogginess. The ice cream and poached pear supplemented the toast so well, adding flavour complexity to a dish that might otherwise be monotonous.
In contrast, the waffles were pretty decent but nothing to particularly shout about. Since you're definitely going to get croissants here, maybe more carbs wouldn't be a good choice anyways.
So there you have it, the shiny new Brotherbird Coffeehouse — sleek and modern, with a spanking brunch menu. Their croissants are still good as ever and they reinvent themselves every month with new flavours, and I recommend any pastry or sweets lover to visit.
Brotherbird coffeehouse
Instagram | Facebook | Bakehouse Instagram
Address: 32 Bali Ln, Singapore 189868
Getting There: 5-10 mins walk from Bugis MRT
Hours: (Mon-Fri) 10am-6pm, (Sat-Sun) 9am-6pm
Price Range: Approximately $10-$20 per pax