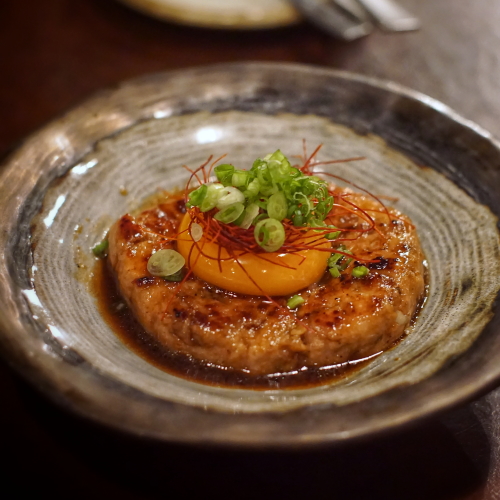 MoboMoga Sake Bar is a non-traditional Izakaya like none other
Rowdy Japanese crowds downing too much alcohol, indistinct chatter, simple homely dishes — an enjoyable ambience no doubt but what if an Izakaya was even more fun? Look no further than MoboMoga, the epitome of off-beat and quirky.
Izakayas are generally fun affairs but you need a booking here if you're looking for a sake bar that's not prim or proper, where they are endearing playful, in an almost kitschy way.
Just stepping into the sake bar requires a bit of finesse to duck under the diminutive door, frame resting at chest level.
I thought it was "hole-in-the-wall" quite literally as I carefully shuffled in like a Hobbit.
But perhaps there is one fixture that will draw all your gazes when you step in.
That's right, there's a disco ball in MoboMoga which they light up when the night gets less young.
But the night will never be too young for some of their upbeat, 80's-influenced playlist which cycles through Japanese disco and the timeless classic from Village People, "YMCA".
Quite the infectious jams to groove to while watching them hard at work in the open concept kitchen.
Can't Go wrong with classics
Is it really a Japanese bar experience without drinks? Needless to say, the Suntory Kaku High Ball ($13) is the most natural instinct we had since we weren't in the mood for Sake.
What's cool about MoboMoga is that they have a MEGA size option which upsizes your drink in a massive way for just $8.
If there's a star here, it's definitely their Shizuoka Style Oden. This style differs from the traditional Oden we're familiar with in quite some ways. Prepared with a beef broth that's richer and darker, it's quite a flavour punch.
Basically got almost everything off the menu and I have to say the highlights were the Hokkaido Radish ($5) and Pork & Lettuce ($9).
Firstly, the Radish was so unbelievably soft that it effortlessly broke down without the need for much force. Furthermore, it was coloured by the deep depth of flavour of MoboMoga's broth, making it an umami bomb.
The Pork & Lettuce was also a killer combo of soft tenderness. Fresh ingredients, big flavour, and sublime tenderness is the motif of their Oden.
If you're a fan of firefly squid, like I am, then don't miss out on their Firefly Squid Skewer ($12/2 sticks).
Couldn't get enough of the perfectly-grilled umami bombs that burst in the mouth with copious amounts of almost-creamy juice. As much as I adored the marinated rendition, MoboMoga has me completely sold on indulging in these tiny morsels on skewers.
As far as the Yakisoba ($22) goes, it's pretty solid of a dish. But I found it to be quite one-dimensional and even with all its richness, I couldn't justify that price tag.
Similar sentiments surfaced for the Ham Cutlets with Blue Cheese ($16), which are pretty small servings for their price tag.
Mobomoga's Playful Twist
While classics like skewers and Oden are done immaculately here, the focus should be on MoboMoga's more playful ideas — such as this Grilled Chicken Meat Ball ($12).
Most would expect this item on an Izakaya menu to mean the Tsukune-style skewers, but what came was a behemoth of a meatball, topped with a beautiful yolk.
Quite possibly the juiciest, most flavourful meatball that's graced my palate in a while. Especially when those silky golden slivers of yolk added such a delicate smoothness to the succulent meat.
Last but not least, the piece de resistance at MoboMoga — at least to me — is this Low-Temperature Chicken Liver (S14).
For those who revel in having Foie Gras melt in your mouth, meet it's more affordable cousin. Pure decadence packed into pink nibbles, they melt in your mouth ina way reminiscent of Foie Gras but with a cleaner, gentler profile on the palate.
Topped with sharp gently sharp attenuating combination of spring onions and pickles, it is a unique dish that I would love to try elsewhere.
While a reservation is hard to score, MoboMoga is almost definitely worth the hassle. The vibes are fun, the cooking is sound, and the ideas are bold. One of Singapore's best izakaya, like no other.
MoboMoga Sake Bar
Address: 207 River Valley Road UE Square #01-58, Singapore 238275
Hours: (Mon–Sat) 5pm–10.30pm