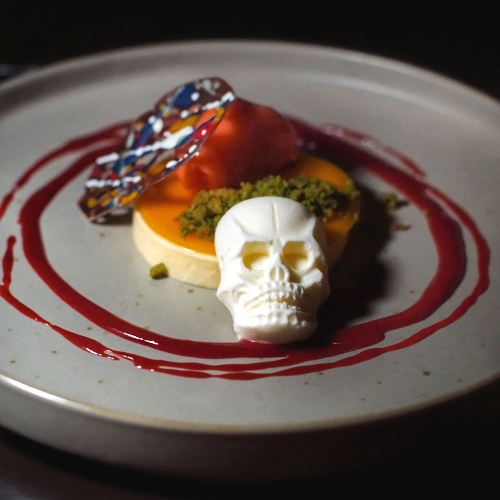 Lucha Loco is hosting a special day of the dead Fiesta in collab with Janice WOng
The Loco group are undoubtedly the heavyweights of Mexican dining in Singapore. And there's no place that's a livelier cocina party than the alfresco affair of Lucha Loco.
While the trek to Lucha Loco is not an insignificant one, their hidden enclave in the Duxton neighbourhood is exactly what allows them the freedom to dress up the place in a way that feels like you've been spirited out of Singapore.
And for a month, that lively Mexican energy is tuned up further, as the entire space is jazzed up with vibrant decorations inspired by the traditional Mexican festival of Day of the Dead. The lively fiesta will be in full swing from 27 October 2021 to 27 November 2021.
The place has given an entire facelift — technicoloured banners, whimsical skull motifs, and an eye-catching altar, the whole shebang. But Lucha Loco's commemoration of Day of the Dead goes even further with a special feast featuring Janice Wong's input.
Solid Hearty Flavours
Starting off with the Black Maria ($19) was perhaps the best thing that Lucha Loco could have done to kick off the Day of the Dead fiesta.
A supremely easy-to-drink Margarita alter ego that's adorned with a charcoal-paprika salt rim adding a feisty spice that complements it perfectly.
The first course of the Day of the Dead Feast Set for 2 ($128) is Lucha Loco's Chips, Salsa & Guacamole — simple, satisfying, but nothing too extraordinary.
A swift follow-up came in the form of their Seared Scallops ($26 ala carte) where the centrepiece of Hokkaido scallops was rendered the most immaculately tender medium-rare.
Building on the pristine texture of the shellfish was a layered supporting cast of heirloom tomato pico de gallo, tajin, and roasted maiz puree. While twang paired with scallop is quite an intriguing profile, the heat of the tajin was slightly too strong and hampered the scallops.
For a palate freshener, we were then served Lucha Loco's House Cerviche that was primarily a jumble of barramundi and prawns dressed in a zesty forest-green sheen. Nothing elaborate but just a delightful segue before the main.
An Ingenious collab with Janice WOng
Our eyes were dazzled by the main which chased the cerviche — a tri-coloured collection of Beef Short Rib Enchiladas ($38 ala carte). This was quite a stunning plate of enchiladas with natural hues of green, red and purple.
But the real show starts when you cut them open and get a peep of Lucha Loco's mouth-watering slow-braised beef. Admittedly, the tortilla skin sported more chew than I would have liked but the hedonistic explosion of flavours from the luscious beef quickly made me forget about that.
With that, we've come to the end of the main course here but that's when the fun truly begins — when the dessert of Pastel De Catrina ($19 ala carte) gets served.
The highlight of Lucha Loco's Day of the Dead menu is undoubtedly the dessert, done in collab with Janice Wong, the world-renowned pastry chef known for her intricately plated sweet treats.
To add a touch of spookiness to the dish, you've got two different sets of skulls adorned atop a dainty mound of corn parfait, blood orange sorbet, passionfruit gelee, and pistachio crumble.
As with most works of Janice Wong, this Lucha Loco dessert isn't just all about flair — each skull has its place in the dessert. The white skull is a sea salt ice cream that adds a touch of elegant salinity to the vivacious and fruity base while the other is a chocolate painted skull that adds some depth to the lively undertones.
As a whole, the colourful ensemble comes together for an enjoyable blend of sweetness, tartness that is given a complimentary hit of richness for a well rounded overall profile that was certainly the best curtain raiser we could have asked for.
Having been to Lucha Loco a handful of times, I have to say I've never been disappointed yet. And this festive menu just nudged the enjoyment a bit higher than usual — it's always a blast here at one of Singapore's most popular Mexican diners.
Lucha Loco
Website | Instagram | Facebook
Address: 15 Duxton Hill, Singapore 089598
Hours: (Mon–Sat) 11:30am–10:30pm
*This was an invited tasting.