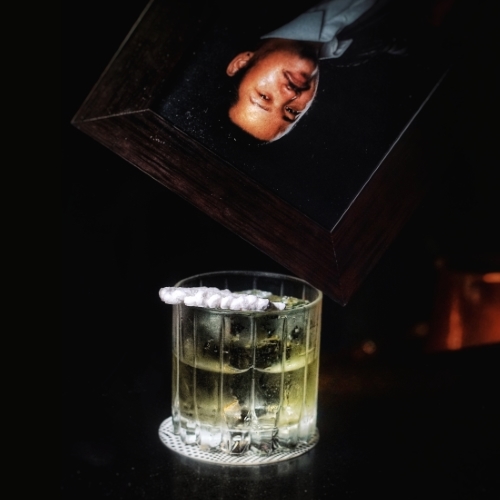 Indulge in Sumptuous Rooftop Views at Smoke & Mirrors, Asia's No. 60 best Bar
I still remember being entranced by the luxurious sweeping vistas over the Singapore skyline on my first visit. Seeing the MBS, Esplanade, and Singapore Flyer illuminated during golden hour in all their majesty. That million-dollar view alone makes Smoke & Mirrors the best rooftop bar in Singapore — one that warrants a visit for any special occasion.
Before you get drunk on tipples, you'd get intoxicated on their immaculate al fresco ambience. Soak up in the sumptuous view and watch the Sunset etch a beatific orange sheen on the skyscrapers before the city comes alive with flourishing incandescence when the sky turns dark.
But it's not just the ambience and the views that make Smoke & Mirrors such a blast. Earning a spot in Asia's 50 Best Bars is not as simple as offering the most glamorous views.
At a respectable No. 60 on the latest rankings, Smoke & Mirrors is a bar on the up and up. It's a perfect storm of luxury with the most personable and intimate hospitality.
There are no pretences and no noses pointed up skywards despite its seemingly ostentatious set-up. Everyone is treated like a friend here, even when things turn a bit hectic on packed nights.
At the bar, you've got the ever-suave and friendly Edu Zamora —awarded WGA 2022 Mixologist of the Year— shaking up your world with his signature double-handed shake.
With his award-winning pedigree and experience from stints at establishments such as Asia's No. 8 MO Bar, you can be sure of enchanting mixological wizardry.
But he's not the only one. Really, Smoke & Mirrors has no shortage of colourful characters. There's Wee Siong, whose can-do attitude churns out glass after glass of magic until you struggle to walk out straight. And then there's Mel, whose creative palate results in some ingenious inventions.
The Real Art of Drinking Vol. II
Despite a deceiving facade that screams "tourist trap", the Smoke & Mirrors team are skilled mixologists who merely refrain from judging you for your banal Prosecco or Gin & Tonic orders.
Still, they don't mess around when it comes to shaking things up. Their passion and finesse are distilled into one singular menu —The Real Art of Drinking— which takes inspiration from the artworks that populate the National Gallery just below.
Chasing their success, Smoke & Mirrors recently launched The Real Art of Drinking Vol. II and it's crammed full of creative and crushable tipples — notably the impossibly creative Wok's That Smell ($32).
It is supremely easy to drink despite being made with seemingly bizarre components like sambal and lupcheong. Akin to a spicy margarita, it's piquant, sweet, and carries a complex spice depth. The crowning glory is a cloud of lupcheong smoke that imbues a distinct, uniquely Singaporean wok hei component.
On the eye candy front, the photogenic Dreaming in Colour passes in its edible paper garnish to its successor, Monkey God ($25). On this new menu, Smoke & Mirrors trades the elegant violets for braggadocious oranges, adorned with abstract scrawls depicting the mythical ape.
The vivid hues are enough to warn you of its danger — it's fatally easy to drink. A combination of Aperol and mandarin orange blossoms into a vivacious fruitiness, masking a furtive rye kick in the background.
Contrastingly, the Monochrome ($25) is dressed up in tuxedo monochrome for a suave, minimalistic look. As the sleek greyscale suggests, this is a sexy drink loaded with depth.
Be prepared for exuberant richness from the amalgamation of whisky, amaro, and burnt bread cream. Through some wizardry, Smoke & Mirrors conjured up a toasty and creamy tipple that's basically the bastard child of Eggnog and Ramos Gin Fizz. Sublime flavour combination.
Matcha is quite ubiquitous in the cafe scene but strangely hasn't seen much usage in the bar industry. So the Cha Cha Duet ($26) is Smoke & Mirrors' attempt at popularising it with not just one, but two drinks — for the price of one.
A truly harmonious dichotomy of yin and yang — one, a refreshing and perfumed with the most subtle tea fragrance and the other, a robust blend of citrus and matcha.
Out of the whole menu though, there's no other drink that can beat the Sweet Sayang ($26) for the comfort and nostalgia factor.
Wrapped in a batik cloth, this is Smoke & Mirrors' homage to familiar childhood flavours. Using the Jungle Bird as a blueprint, it's tweaked with a charming dose of sour plum that's also beautifully married to the sharp twang of pickled guava.
Best Tater Tots in Singapore?
Smoke & Mirrors is one of the bars that really mean business when it comes to grub. Their kitchen is manned by a chef who formerly cut his teeth in Mexico, which endowed him with authentic recipes and traditional knowledge of Mexican cuisine.
Alas, even with the slew of quesadillas and tacos that the kitchen has to offer, my perennial favourite here is the humble Tater Tots ($14). I swear by Smoke & Mirrors for the best tater tots in Singapore.
Tater tots here are jazzed up with a very simple addition — melted cheese. Sounds insignificant but it accentuates both the mouthfeel and the base flavours, making it compellingly addictive, especially after a swig of the tangy sauce.
And if you wanna know what decadence looks like, an order of the Loaded Nachos ($28) at Smoke & Mirrors will elucidate the concept to you.
Admittedly, the price is steep for nachos but the bowl quite simply overflows in a gooey, saucy mess. All the cheese you'd need, all the sauce you want, and all the tender meat to make each mouth so delightful.
Off-Menu Indulgences
While I am besotted with their meticulously crafted menu, some of my favourite drinks at Smoke & Mirrors are actually off-menu, bespoke. The bartenders here are quick on their feet and knowledgeable about classics so you can expect a gamut of excitement.
My most memorable here was a Black Forest Negroni — an unbelievably easy-to-drink rendition. Bright strawberry notes accentuate the Negroni's sweetness while plunging chocolate notes bolster its inherently dry finish.
Occasionally, you can catch them in a particularly creative mood and if you butter them up well with compliments and appreciation, magic can happen.
One of my most memorable Smoke & Mirrors concoctions is the adorable Ernest & Friends, served in an Ice Bear cup. On the prompt of his first return home since Covid, Edu whipped up a vividly tropical triple-rum Mai Tai to hearken to the halcyon beach days with his son.
Smoke & Mirrors also shakes up a mean Last Word here that is potent enough to spell out a whole eulogy for your night. Switch it up with some whiskey and get the Final Ward instead, if your body is really craving a nightcap.
I'd suggest ordering that Last Word. Because this rooftop bar is a place you should walk out of, clumsily manoeuvring your limbs — the creative cocktails, scrumptious bar bites, and grandiose cityscape spectacle will push you to extend your stay for that never-materialising "last drink".
Make your reservations here.
Smoke & Mirrors
Website | Instagram | Facebook
Address: 1 St. Andrew's Road, #06-01 National Gallery, Singapore 178957
Hours: (Wed–Fri) 6pm–1am, (Sat, Mon–Tues) 6pm–12am, (Sun) 5pm–12am