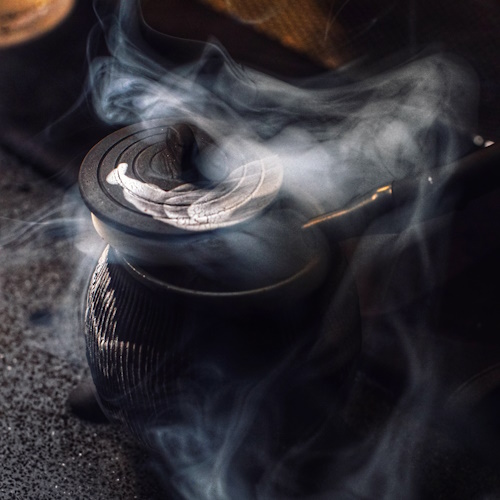 Indulge in Sumptuous Rooftop Bar Views at Smoke & Mirrors, renwed with The Real Art of Drinking: Vol. III
I remember being entranced by the luxurious sweeping vistas over the Singapore skyline when I first visited Smoke & Mirrors. Seeing the MBS, Esplanade, and Singapore Flyer illuminated during golden hour in all their majesty.
That million-dollar view alone makes Smoke & Mirrors the best rooftop bar in Singapore — one that warrants a visit for anyone chasing an immaculate vibe.
Even before you get drunk on tipples, you'd get intoxicated on the al fresco ambience, soaking up in the sumptuous view and watching the Sunset etch a beatific orange sheen on the skyline.
Then, as the sky turns dark, the cityscape comes alive with flourishing incandescence to match the gentle twinkle of the stars.
However, it's not just the ambience and splendorous sights that make Smoke & Mirrors one of the best bar destinations in Singapore — the inherent opulence doesn't stop everyone from being treated like friends here, even when things turn hectic.
Servers and bartenders approach every query with earnest geniality, with neither snobbery nor trepidation of being too friendly. It's a perfect storm of luxury and the most personable and intimate hospitality.
These merits create an immaculate canvas for the crux of a cocktail bar — the mixology. Fittingly, the artists behind the bar are an eclectic bunch, led by veteran Mel John Chavez
Hailing from the trailblazing mavericks, Tippling Club, his nous is suited to wielding the confluence of culture and experiences, coming from a bar team consisting of personalities from all over the region.
Under Mel's careful supervision, their ideas are brought to life and condensed into mini anthologies that pay homage to the National Gallery's many artworks.
Fittingly christened "The Real Art of Drinking", each volume contains the quirkiest ideas that usually skew towards progressive than traditional. After two successful editions, a third volume has come hot off the press in August.
The Real Art of Drinking: Vol. III
Whilst previous editions focus on individual artworks, "The Real Art of Drinking: Vol. III" takes a step back and explores the more abstract ideas behind different disciplines of "art".
Through mixology, this collection of tipples explores the essence of everything from painting and sculpting to tattooing and photography.
Starting simple but with flair is the Kiss of Revival ($30), a theatrical crowd-pleaser that takes its cues from literature — specifically the seminal Grimms tale, Snow White.
Evoking the scene of a smoking cauldron, Smoke & Mirrors borrows from the fable by mixing in sour apple Cointreau with a potent Tequila base. Apple-forward but with a noticeable boozy sting, this potent poison will probably appeal to most palates.
The current volume king, License to Kill ($28), is presented with a spiffy bowtie as a tie-in to cinema's suavest protagonist, James Bond. In spite of its name, this sharp cocktail is agreeably balanced with charming undercurrents of smoke and oolong tea.
As with the former, it will give your palate a spirited pinch. However, it also resolves itself dignifiedly with a kiss of malt while the tea and smoke harmoniously muddle into each other.
Throwing out the rulebook on classics, the bodacious Let's Get Inked (S$30) is probably one of the most enthralling and off-beat highlights of Smoke & Mirror's new menu.
In line with the rule-breaking spirit of tattoo as an art form, the unconventional New York Sour riff incorporates bacon, red chilli, and corn into a bourbon-rum amalgam.
This one is charmingly odd and coloured with a savoury funk of chilli that gradually intensifies as you work through the coupe glass, but remains plush throughout as you'd expect from a well-made sour.
Going into perhaps the most comely of tipples, Smoke & Mirror's performance art representative is, as expected, a Yayoi Kusama homage.
Aptly named Round & Round ($30), this well-layered cocktail is whimsically emblazoned with polka dots and finished with a technicolour-specked white chocolate garnish.
Crafted around whisky and Cognac, this is a furtively inebriating drink that hides subtle layers of complexity underneath a chic spark of Kyoho grape — though the insidious dryness in the finish might put some people off.
While the prices can fall on the steeper end of the spectrum, they are usually backed up by sound mixology and justified by the ritzy venue. That said, the Say Cheese! might raise some eyebrows at $34.
A tenable decision though, as each order of the photography-inspired sipper entails a polaroid camera privilege to capture those fond memories of the night.
Plus, it's a boisterous dose of pure spirits: Whiskey, dry curacao, PX sherry and Smokey Monkey. Though it's a bit of an acquired taste since it's a straight drink that's all about depth and its fearsome dry finish.
of Truffle Fries and Bespoke Drinks
Looking past "The Real Art of Drinking" curation, discerning drinkers can also consider leveraging the bartenders' creativity and familiarity with classics too.
Some of my favourite memories at Smoke & Mirrors were found off-menu, in the form of creative bespoke cocktails that range from Milo Alexanders to Rum & Coke Daiquiris.
Regulars even get treated to memorable specials, such as the Mint-Green Ice Cream Baby Girl by junior bartender Joshua — a delightfully minty and extremely fun Ramos Gin Fizz twist with an adorable back story to it.
Besides drinks, nibbles are an inadvertent sin during a glamorous night out. Even though there's usually apprehension that bar food is usually a banal afterthought, rubbish those preconceptions when you're here.
For one, Smoke & Mirrors' Truffle Fries (S$16) overshadows any trendy cafe rendition — well-seasoned, fluffy thick-cut fries and a generous blot of truffle paste make this extra luxuriating. A personal favourite.
The bar also excels at Mexican grub, doling out a loaded-to-the-brim party of Nachos (S$28) as well as some exceptionally hearty tacos, including my favourite moreishly tangy Spicy Chipotle Chicken (S$22).
Candidly, it lands on the slightly pricier side of the spectrum but there's no doubt that the menu is loaded with good-quality stuff that put up a respectable fight against many of the buzziest taquerias around town.
There will, naturally, be concerns about the steeper pricing. But realistically, Smoke & Mirrors isn't a regular indulgence for most people. It's more of a special-occasion setting where you revel in immaculate vibes and carouse without a care in the world.
It's the kind of place you could find yourself leaving while clumsily manoeuvring your limbs — the creative cocktails, scrumptious bar bites, and grandiose cityscape spectacle will push you to extend your stay for that never-materialising "last drink".
Make your reservations here.
Smoke & Mirrors
Website | Instagram | Facebook
Address: 1 St. Andrew's Road, #06-01 National Gallery, Singapore 178957
Hours: (Mon–Wed) 6pm–12am, (Thurs–Sat) 6pm–1am, (Sun) 5pm–12am