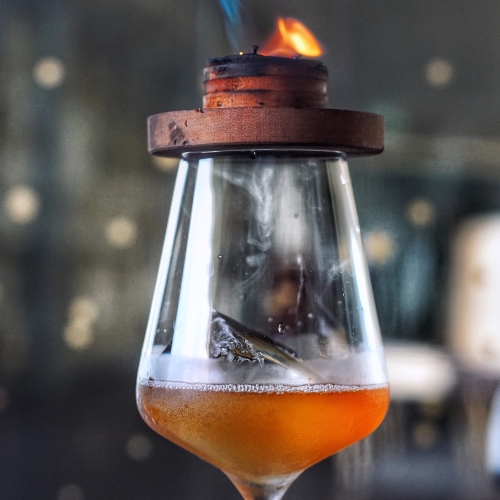 Decadent VIew and Sumptuous Rooftop Bar Ambiance at Smoke & Mirrors
It's only been a few months since I first stepped foot inside but after frequent revisits, I absolutely suggest Smoke & Mirrors the best rooftop bar in Singapore you should visit for a special occasion. It's an absolute blast here.
Before you get drunk on tipples, you'd get intoxicated on their immaculate al fresco ambience where you can take in luxurious sweeping views of the Padang and the iconic skyline fixtures of MBS and Singapore Flyer.
But it's not just the ambience and the views that make Smoke & Mirrors such a blast. The friendly staff is also a big part of the experience.
At the bar, you've got the ever-suave and friendly head bartender Edu shaking up your world with his signature double-handed shake. With his pedigree as an alumnus of the World's 50 Best No. 36 MO Bar, you can be sure of enchanting mixological wizardry.
But he's not the only one. Really, Smoke & Mirrors has no shortage of colourful characters. You've also got Wee Siong with his handsome charm and can-do attitude who churns out glass after glass of magic until you struggle to walk out straight.
NoT Mere Smoke & Mirrors
Despite all the seemingly tourist trap vibes, the bar actually crafts some great concoctions. Smoke & Mirrors has a fixed menu but after a few visits, I realised some of the best concoctions are in the minds of the bartenders.
But if there's one drink to order off their art-inspired menu it's the By The Padang ($25) which is an amalgamation of gin and Kaya. It doesn't come with the punchy profile you'd expect from a kaya cocktail, however — it's supremely easy to drink.
Instead of a heady coconut aroma, Smoke & Mirrors played around more with the floral aspect of pandan to coexist with the botanical notes of gin. The fragrance is just a perfume at the back to round things off.
On the other hand, the Smoke on the Water ($28) is a must-order for lovers of theatrics and anything flashy. You'd be shown your drink smoked right in from of your eyes with a smoking lid and a blow torch.
The Smoke on the Water is yet another deceptively light drink despite the smoke element, turning out very gentle and floral-dominant ultimately.
In terms of the most photogenic drink that can be found on the menu —if you're a clout-chasing content creator like me— nothing beats the Dreaming in Colour ($26) at Smoke & Mirrors.
It comes with a Pollock-esque motley of colours on an edible rice paper, reminiscent of the signature at Edu's previous home of MO Bar. There's nothing particularly special about this but it's an extremely palatable tipple that you can slowly sip on while taking in the majestic view
The grub here is also pretty esoteric. You can find a mix of Chinese food from Yan downstairs and Mexican favourites made in collaboration with the hidden gem El Concinero. Get the Fried Cod and Pineapple Taco ($18) as a piquant and balanced tidbit that will get you in the mood for your drinks.
A Trick Up Their Sleeves
As I said, some of my favourite drinks at Smoke & Mirrors aren't on the menu. My all-time favourite found here? A Black Forest Negroni that's basically a toned-down and unbelievably easy to drink rendition.
You get bright strawberry notes to accentuate the Negroni's sweetness then deep chocolate notes in the finish that really complement the dry finish.
While there's always the Smoke on the Water for smoke lovers but if you try your luck, you might be able to get one of Wee Siong's tea-smoked creations that have both punch and irresistible amounts of fragrance.
And as a self-professed lover of The Last Word, Smoke & Mirrors also shake up a mean one here that is so strong, it might be your eulogy for the night.
Whisky lovers can opt for The Final Word, a bewitching twist that comes with an unapologetic spirit-forward bite and a maraschino cherry that will absorb everything to provide you with the ultimate coda for your experience here.
In conclusion, get one or two off the normal menu but pick the brains of the bartenders. You'll be pleasantly drunk on the ambiance and intoxicated by the drinks, I guarantee it.
Smoke & Mirrors
Website | Instagram | Facebook
Address: 1 St. Andrew's Road, #06-01 National Gallery, Singapore 178957
Hours: (Daily) 3pm–10:30pm