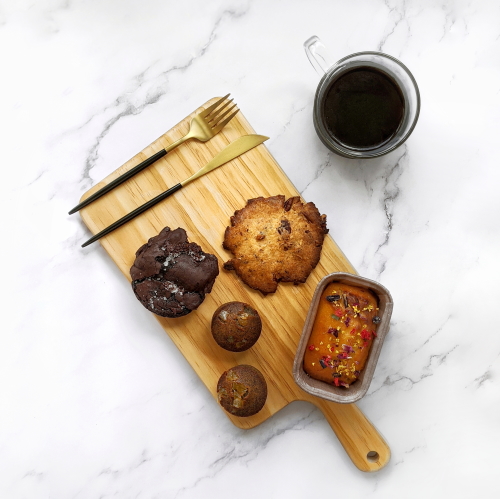 Maira Yeo, formerly of Meta Restaurant, Joins the Circuit Breaker home bake sale craze
Maira Yeo was part of the Meta Restaurant team that earned a Michelin star in 2017, and left the setup in early 2019. Whilst she's been honing her craft overseas post-Meta, she's back in Singapore momentarily and wants to help out the community with her skills during circuit breaker. A great gesture!
Her bake sale will see 80% of profits going to charity, including those helping migrant workers, many of whom have been drastically impacted by covid-19.
These eye-catching crackly chocolate brownie cookies ($4), or more affectionately abbreviated as CCB cookies, were brookies fit for hedonists. They delivered a gratuitously rich chocolate indulgence that wasn't overly sweet, whilst coarse salt acted like serrated edges that sawed through the heaviness.
The texture was gratifying as the perfectly caramelised shell provided a candy-like crunch moments before your teeth plunged into the dark moist fudginess.
Contrastingly, the pecan miso brown butter cookie ($4) sported a chewier texture, and it shone in its mix of fragrant miso, butter and brown sugar flavours. The pecan complemented the miso, whilst a nice tinge of savouriness lingered in the aftertaste.
Dense, moist and sporting a lightly sweet centre, the olive oil yogurt lemon loaf ($5) was quite spirited. The sweetness glided into a bright tart crescendo, as the crumb mingled into the bread.
Pair of candied ginger and buckwheat financiers ($5), or PCB as she christened them, were my favourite of the lot. A beguilingly fluffy yet moist texture underscored the brown sugar-tinged fragrance.
The fragrant sweet buckwheat-molasses profile also interacted quite dramatically with the candied ginger. Just introducing that gentle kiss of sweet spiciness added quite a bit of endearing feistiness that elevated these delightful morsels.
Of course, these aren't like her creations at Michelin restaurants, but still delightful home bakes nonetheless. Great quality at great prices, for a great cause. What more could you ask for?
Pre-order them now on her instagram, available for self-collection or islandwide delivery ($8).
Maira Yeo Covid Bakes Lah
Address: Blk 596B Ang Mo Kio St 52
Getting There: Approx. 10 min walk from Ang Mo Kio MRT
Hours: Self collection at 12-8pm
Price Range: $4-$30 per pax