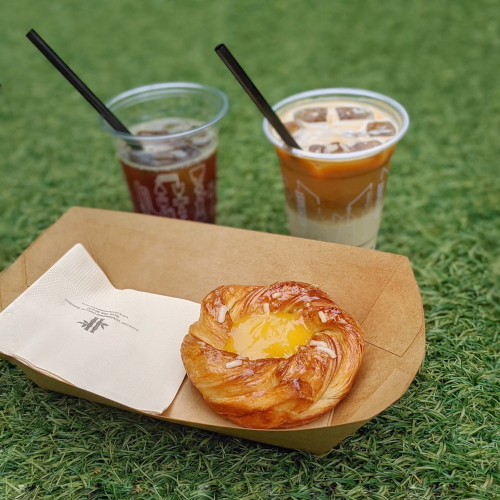 Alchemist, one of Singapore coffee scene's best. They Roast their own beans in house, and the result is amazing coffee.
Design Orchard Branch
Opened in January this year, Alchemist's Design Orchard branch couldn't be more unfortunate as the pandemic hit. A shame, as this was a nice aesthetic cafe in a good location.
It is situated at the top, after climbing past the sweeping terraces that overlook the junction of Orchard. A great spot for people watching with coffee, doubtlessly. The interior is a clean, grey-toned industrial chic space that is perfect for chilling
Alchemist's Dark Matter blend is amazing. The bold chocolate-forward blend hits you with a euphoric wave of aroma, and pairs amazingly well with milk. The white ($6.50) made with the blend was a concoction that was equal parts robust and milky — immensely easy to drink.
Could have done with a touch less milky, but it was still extremely delightful. This comes from someone who prefers filter over whites, because they often contain the same boring nutty or mildly chocolate notes all over Singapore.
The pourover ($7) was also decent, but not particularly memorable (so I didn't note the beans) or worth mentioning when the white is the obvious choice.
Their Design Orchard branch also carried a nice array of bakes from The Bakehaus, and this passionfruit danish was quite the looker. It was enjoyable, with flaky buttery pastry but the filling was a bit too sour and monotonous. Went well with the coffee though.
Alchemist Cold Brew Ready to Drink
Perhaps moreso than their actual cafe selections, more interest is focused on their cold brew, which made rounds on social media during the circuit breaker period. If you need your daily dose of caffeine whilst working from home, these babies are worth your dollar.
In particular, the Another White contained the same great qualities I'd expected — fragrant cocoa notes hit fast and strong, and blurred into a nutty finish, with a hint of caramel. Besides being a touch sweet, there was thoughtful nuance in the screen time allocated between the flavours.
Its highlight was in the brew blissfully caressing the tongue with a silky creaminess, perfectly complementing the profile.
Alternatively, the Frutti Pebbles carried more vivid fruity notes that were tropical and strawberry-like. Blessed with a touch of rich milkiness, this was reminiscent strawberry milk from childhood, but better. Cos there's caffeine.
A Typical Mocha was my least favourite, by virtue of it lacking any semblance of coffee. That could be a good thing for some people. The chocolate was pronounced and luxuriously rich, but not too sweet.
You can order the cold brews here at $36 for 6 or $60 for 10, at a flat delivery fee of $5.
Alchemist (design orchard)
Website | Instagram | Facebook
Address: 250 Orchard Rd, #03-01 Design Orchard, Singapore 238905
Getting There: Approx. 5 mins walk from Somerset MRT
Hours: (Daily) 10am-7pm
Price Range: Approximately $5-$15 per pax