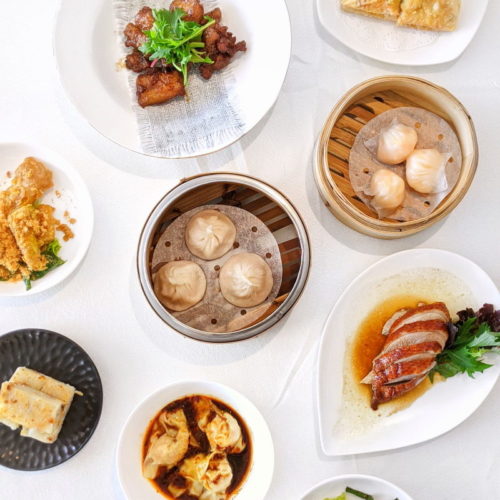 MajestIc Bay Dim Sum Buffet satisfies Decadence through Comfort Food
Unlisted Collection is a company commonly associated with its adventurous fusion concepts, that's why Majestic Bay was an interesting prospect for me.
I was invited to taste their all-you-can-eat dim sum buffet, which I easily agreed because who doesn't enjoy pigging out on dim sum?
Majestic Bay is obviously not a casual dim sum eatery. It's an Unlisted Collection concept that operates out of the swanky Flower Dome at Gardens by the Bay.
Needless to say, I was intrigued by what the Majestic Bay dim sum buffet experience would offer.
Default Dishes give a good preview
While buffets at upscale restaurants normally command a premium, the prices were reasonable here. $26++ on Mondays to Fridays and $33++ on weekends and PH, children between 3-10 can dine for just $18++.
Right off the bat, the buffet starts off with a bang with 6 default dishes served to everyone. Presumably, these are higher-quality dishes that can kickstart a memorable buffet experience at Majestic Bay.
My personal favourite of the bunch was the Coffee Sauce Pork Belly Ribs. The sauce carried a hefty savoury profile, which faded into a deep lingering finish. Fans of pork belly would squeal at the tender fatty meat — thought I found it too unctuous.
Quite a novel twist from the common coffee pork ribs featured in neighbourhood zichars, which utilise leaner ribs.
Majestic Bay's Cantonese Roast Duck was another enjoyable introduction to the restaurant. It was tender, flavourful and did not hide a trace of gameyness.
Their execution of this classic dish didn't leave much room for complaints, but don't expect one of the best ducks out there.
Perhaps the more impressive dish was this Herbal Poached Sea Prawns, which saw plump crustaceans swimming in a pool of herb sauce that tasted absolutely nourishing.
The prawns' freshness was evident from sporting succulent bouncy bites. A clean profile acted as the perfect foil to the earthy richness of the herbs.
Some Classics stand out at Majestic Bay
Besides the special default dishes, Majestic Bay also does pretty solid renditions of some classics. Admittedly I am not one to often dim sum joints, but it's evident in its quality above the likes of supper spots like Swee Choon.
In particular, the Xiao Long Bao was one of my favourites here. The skin was slightly too chewy, but the soup more than made up for it. A gratuitous explosion of broth sweetness made me slightly open my eyes in wonder.
My dining partner had the same sentiments — great soup but room for improvement on the skin.
If you ask me for a must-order at Majestic Bay's dim sum buffet, some eyebrows would probably be raised when I mention the crispy beancurd skin roll. Sometimes less is more, and this crispy baby really hit the spot with its addictively crackling skin.
One item which was slightly jarring was the Charsiew Bao. It didn't taste bad per se, but it tasted strangely familiar to marmite or honey pork more than actual char siew.
However, its sweet porky flavours were still rather enjoyable when paired with the fluffy bun exterior.
Overall, Majestic Bay didn't disappoint. Obviously, these weren't mind-blowing artful creations comparable to those from higher-end restaurants. But for a buffet that sets you back approximately 30 bucks, it really helps scratch all those dim sum itches,
Majestic Bay
Website | Instagram | Facebook
Address: 18 Marina Gardens Dr, Flower Dome, Singapore 018953
Hours: (Daily) 11:30am–3pm, 5:30pm–9pm
*This was an invited tasting.