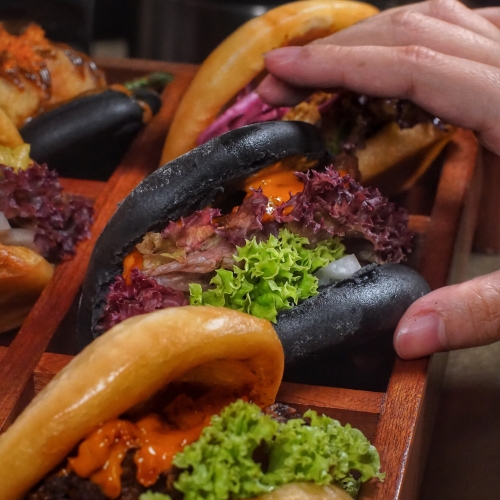 Chinese Flavours Glammed Up at Modern Bar JU Hua TAi
Ju Hua Tai is very different from its Chinese cuisine ilk. I remember my aunts and uncles praising Chinese restaurants' cooking as being "homely" when I was young, and that was etched into my core as dogma that good Chinese restaurants are supposed to taste like home.
Still, the culinary landscape has shifted and my tastes have expanded, so sitting in the swanky confines of Mod-Chinese Bar Ju Hua Tai left my breathe bated in anticipation for what was to arrive.
The excitement is pumped even higher when bathed in the glitzy neon fixtures that shower the entire bar in a sexy red glow, while mandopop hits from the naughties were set on repeat, particularly Jay Chou's works — this bar was named after his music, after all.
There's something inherently rebellious about Ju Hua Tai using daring strokes of modern flair to transform the space into a spectacle that fits into its Duxton Neighbourhood, while still maintaining a kind of oriental elegance that will make you wonder if Zhang Yimou might have had a hand in the design.
Perhaps one of the most endearing fixtures of the bar is bar manager Dan who invested oodles of time and effort to get acquainted with various Chinese flavours in his quest to fashion creative tipples.
And it's a moving tale — all the drinks at Ju Hua Tai are crafted with Chinese ingredients and stories in mind and not just shoddily slapped together"wuxia" novelty drinks, loosely taped together with some theatrics.
Familiar but Different
At first glance, you'd realise most of the menu is quite familiar as assortments of skewers and crispy pork belly reassure you of the authenticity and homeliness of the grub.
One of the easiest to digest would be the Ma La Mushroom ($10), a mound of juicy, tender, silky fungi goodness all enrobed in contrasting mala heat and a chilled mushroom touch.
A sense of adventure can still be satiated since Ju Hua Tai also churns up some interesting Bar Snacks like Crispy Zai Er with Sriracha Sauce ($12) and Oriental Fries with Chinese Cheese Sauce and Furikake ($12).
Since the bar snacks were created as booze companions, it's no surprise to find the Power Crispy Pork ($15) which plays on the classic La Zi Ji. Imbued with that satisfying airy crunch and a ferocious touch of numbing spice, a swig in the tangy green chilli chutney makes this a perfect bar snack.
Bao-based burgers and burgers are not a novel concept. However, Ju Hua Tai still gives a very good representation of many local flavours in this genre of fusion grub that has slowly gained a lot of popularity.
With all assortments priced between $8.80 to $9.80, most will instinctually just go for the whole shebang with the Platter of 6 at just $50.
Ju Hua Tai manages endearing marriages of less common components, as can be seen in the rich and saucy Beef Rendang and a cheeky Soft Shell Crab in Sweet Curry that hearkens to the Singapore classic of chilli crab,
Sip on Your Roots
Those of us who have our roots entrenched in the rich annals of Chinese culture will be familiar with the time-honoured maxim of "饮水思源" — literally translated as "think of your roots while drinking water".
As such, it's always interesting to see how the Western-dominated discipline of mixology collides with the proud vibrancy of Chinese culture. Ju Hua Tai straddles that creative edge with finesse, best articulated through this Chrysanthemum's Secret ($22).
Looking past its majestic presentation in sleek china and topped with an arresting chrysanthemum jelly, it also sported the most eloquent balance of sweet, fruity, and easy-to-drink from its components of Gin, Chrysanthemum, Lychee, Rasberry and Elderflower.
The real good stuff comes in a polished traditional bronze goblet as Dan concocts Ju Hua Tai's star drink, the Qin Emperor ($36), with a mixture of Glutinous Rice Tea, Black Walnut Bitter and the exquisite Mao Tai.
For palates that are more attuned to the lavish liquors, this was smooth, punchy, and immensely complex thanks to the sublime depth of Mao Tai.
Ju Hua Tai is not your typical Chinese bar. It's modern, fresh, exciting, and creative. Most importantly, all of these factors are packaged together immaculately without turning to shoddy gimmicks that many other "fusion" bars resort to.
Make your reservations here.
Ju Hua Tai
Address: 9 Duxton Hill, Singapore 089593
Hours: (Mon–Sun) 5pm–10:30pm
*This was an invited tasting.