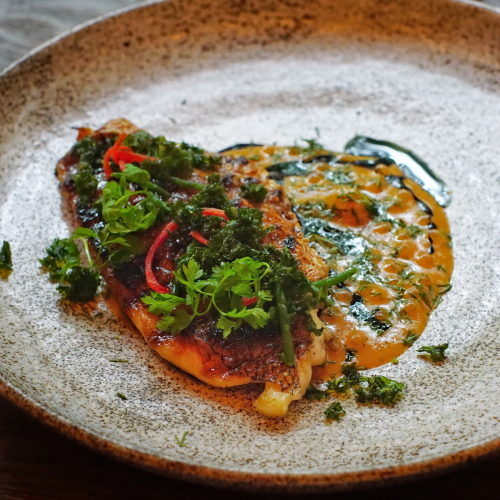 Andrew Walsh's Catfish Restaurant Marries Esoteric flavours with a happy ending
Chef Andrew Walsh (chef-owner of Cure, Club Street Wine Room, et al) opened one of my most heavily anticipated restaurant openings in Singapore in 2020 — Catfish at Telok Ayer.
Oh boy, if meals were dates then Catfish had truly catfished me — in the best possible way, of course. While I am familiar with Chef Walsh's inspired culinary nous and experimental edge, the restaurant still exceeded my expectations.
My date's suggestions of marriage (of flavours) were powerfully convincing and by the end of my meal, I was ready to believe in marital bliss.
This timely Weekday Set Lunch ($55/3 course) at Catfish helped finish 2020 on a high note, against all odds in an unnerving year.
Indescribably Good main plates
I'd just get right down to the piece de resistance at the restaurant of Catfish's Sichuan Market Fish, because it scratched all the itches I never even knew existed and blew every other fish course I've had in Singapore out of the water.
Is this an attempted Catfish? Well, the overpowering feistiness I expected from the ensemble of samphire, herbs and laksa didn't quite materialise.
The end result though was so so much more bewitching. All facets of its flavour shone through beautifully and with eloquent balance.
The silky rich sauce smothered the fish with a gamut of flavours which alternated between controlled coconut fragrance, sweet-umami, kisses of spice, and an exquisite herbaceousness.
Moreover, that slab of fish itself was grilled to perfection as reflected in its gentle crisp, tender bite, and juicy smoothness.
Alternatively, we thought Catfish's jet-black Beef Short Rib Pastrami would be perfect for the less seafood-inclined, even though the restaurant's concept is slightly biased towards ocean catch.
We were quite smitten by the luscious, vividly-pink-centred beef and how a tarry cloak of deep flavours formed a vignette around it.
Red cabbage and mustard then added a certain attenuating levity which brought an elegant balance to an otherwise decadent dish. Come for the fish, stay for the beef as well, I'd say.
Lukewarm introductions
Alas, the starters fell somewhat short of the heights that the mains reached. It's not a slight to the sides at this restaurant, but rather a testament to the mains Chef Andrew has created for Catfish.
For example, Catfish's inspired Squid and Chicken Wing Ramen did elicit some sense of wonderment. Ribbons of bouncy squid swam in a chicken and truffle broth to loosely replicate a bowl of udon soup.
Its flavours were strong but fell somewhat flat from a lack of the promised truffle perfume. But overall, the textures and its zany concept carried the dish.
On the other hand, Catfish's Hamachi in Ponzu was deftly executed. For starters, the Hamachi's delicate flavours were accentuated by the crisp citrus of the sauce and Nashi Pear.
It's a show of finesse and balance — sometimes less is harder to get right. However, there's not as much adventurous spirit in this as the Squid Noodles.
Catfish Date, Still a happy ending
Besides the mains at Catfish, the desserts also brought a palpable joy to end our experience at the restaurant.
In particular, the Strawberry Pavlova was quite interesting. It's since been replaced by the raspberry Eton Mess. But I found it the stronger of the two desserts.
It's an unassuming mound of whiteness, but the magic starts when it's broken apart. The hidden feisty, piquant strawberry notes start frolicking towards the sharpness of its emerald soulmate, basil.
Pieces of the daintily-shattered fromage blanc seamlessly mixed an airy sugariness into the dish. It's a simple amalgamation, but Catfish managed to make it somewhat enchanting.
Contrastingly, I found the Chocolate Mousse a pleasant dish which did not have a real standout factor. An ensemble of honeycomb and orange curd interesting textural and flavour counterpoints to the luxurious and creamy chocolate mousse.
Might have expected more from the appearance, but hey the Catfish name of the restaurant must have taught me a thing or two.
I admit that I have heard much of Chef Andrew Walsh's concepts but have never been to Cure, firmly perched at the top of my list. However, at the end of it all, Catfish put a voice in my head saying "make haste my child." It's made a fan out of me.
Make your reservations here.
Catfish Restaurant
Address: 5 Gemmill Ln, #01-01, Singapore 069261
Hours: (Tues-Sun) 12pm–3pm, 6pm–10.30pm