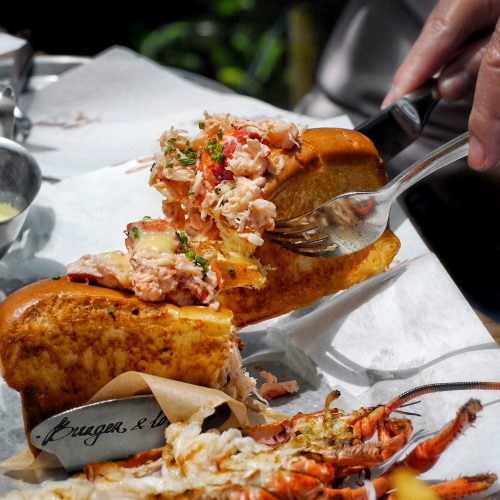 Does Burger & Lobster make the best lobster rolls in Singapore?
It wasn't surprising when Burger & Lobster opened at Jewel Changi in 2019. You'd have heard of many Singaporeans flocking to their London outlet, much like Flat Iron — which inspired the popular Featherblade.
Of course, lobster rolls weren't as big in Singapore back then. Nowadays, Burger & Lobster faces strong competition, especially with international superstar Luke's Lobster's foray into Singapore.
But unlike Luke's Lobster, the Burger & Lobster outlet at Jewel Changi exudes an air of sleek luxury. It's located at the apex of Jewel Changi, at the level where Canopy Park is.
Nothing beats indulging in a lobster roll under the beautiful sunlight leaking through the glass-domed ceiling of the marvel that is Jewel Changi.
Chic but laidback simultaneously, it lends itself to being a perfect spot for both hanging out with family or impressing a date.
I was there for the former reason, and we ordered The Sharing ($130) platter for a good value lunch. It came with one burger, one lobster roll, one lobster, 2 mocktails and a dessert.
The best Lobsters Roll In Singapore?
There are steadfast fans on either of the franchise's corners but I was more moved by the London stalwarts' rendition.
The Original Lobster Roll ($28) that Burger & Lobster served at Jewel Changi triumphed the rendition I had at Luke's a few months back.
What really impressed me was their special garlic butter sauce. It's not an exaggeration to say that it's the big differentiator. Quite simply a luxurious umami bomb that accentuates the base flavours of the lobster.
The crux of a lobster roll is in produce quality after all, and they are close — that decadent sauce undoubtedly gave Burger & Lobster the edge.
As far as the rest of the ensemble goes, everything was done perfectly. Succulent chunks of shredded lobster were embraced by the lightly crunchy, but ultimately pillowy, buttered brioche.
In the department of sides that Burger & Lobster provided, the accompanying Fries (S$5) were pleasantly crispy but not mindblowing. Bewilderingly, it was the Salad (S$5) that I was smitten with — the balsamic sauce was just sublime when drizzled onto the greens.
If you don't wanna be a high roller at Burger & Lobster
But if you're not a high roller looking for some lobster rolls, Burger & Lobster's grilled lobsters are good as is.
Good seafood is an iffy area for me — many times, the end product's quality doesn't justify the price. However, Burger & Lobster's Original Lobster ($55) is something I might begrudgingly shell out my coin for. Grilled exceedingly well, the crustacean's crisp sweetness was brought out beautifully.
You can just indulge in the plump, bouncy flesh as is. But then again, who would say no to a generous shower of that magical sauce?
I didn't try personally get a bite of Burgers & Lobster's other eponymous signature, the Mayfair Burger (S$14). But the feedback from my dining partner was that it's a solid burger that's juicy and enjoyable.
Finally, when it comes to everything else that's not hot food — genuinely not worth any attention. The mocktails were run-of-the-mill, and these Chocolate Jewels just tasted faintly like fudgy brownies.
In the end, I have to say the meal left me quite satisfied. However, even with its fancy Jewel Changi location, is Burger & Lobster worth the price? I can't say for sure. But considering its price tag isn't far off from Luke's Lobster, I would happily return if I'm craving some lobster rolls. Especially with that magical garlic butter sauce — it's a no-brainer.
Make your reservations here.
BuRger & Lobster Jewel Changi
Website | Instagram | Facebook
Address: 78 Airport Blvd., Jewel Changi #05-203, Singapore 819666
Hours: (Daily) 10am-10pm