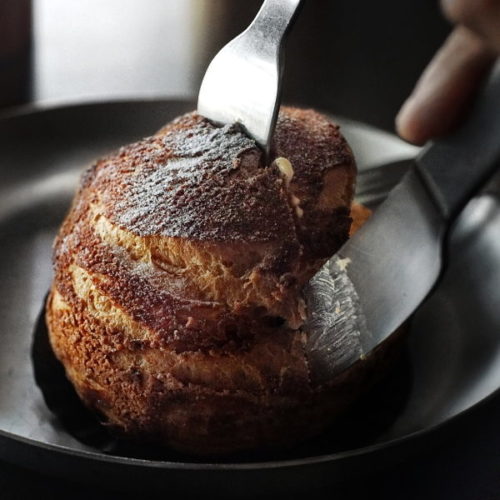 Does Pantler have the best cream puff in Singapore?
Singapore's food scene has seen no lack of cafes specialising in pastries, but not many can boast of being a mainstay in the scene for as long as Pantler has been.
More than half a decade since its inception, Pantler finally moved out of their maiden home in the neighbourhood of Telok Ayer.
Their long-lasting popularity does not rely on the bells and whistles but instead comes from their reputation of crafting elegant pieces of pastry.
While the Telok Ayer cafe has become something of an icon, we couldn't complain about the sprawling new Pantler space at River Valley which opened in 2021.
A lot more modern, cosy, and spacious — this is definitely a spot worth making a pilgrimage down for some afternoon snacks.
Best Cream Puff in Singapore
My first introduction to Pantler was their chou a la crème ($5.50). Its choux shell was beautifully delicate, and produced some incessant, melodious crackles as the knife slowly carved through it. Thick, velvety cream then sensually oozed out, luxuriously milky and punctuated with a toasty sweetness from some addictively crunchy nougatines.
Choux is a simple pastry, but perfecting one takes a bit of skill. Elevating one with nougatine, however, takes a bit of imagination. There's no doubt that Pantler is in contention with Baristart for the title of best cream puff in Singapore.
Classics Done Immaculately
If you love apples, the apple chibouts ($9.50) will satiate your sweet tooth with a wealth of caramelised apples and baked custard, nestled neatly beneath a brûléed chiboust layer. An indulgent mix of light cream and bright apple sweetness, with intensity of flavours pristinely moderated.
Their Mille-feuille ($9.50) was a deftly-executed rendition of a classic. It's beauty was in the layers after layers of flaky buttery goodness, which sported a tasteful sweetness from that flawless glaze. Can't go wrong with this timeless pastry.
For cakes, their figaro ($9.50) was Pantler's quirky but elegant take on strawberry tiramisu made with white chocolate and mascarpone. It was luxuriously creamy with a controlled sweetness like any good tiramisu would be, and accented by vibrant notes of strawberry and raspberry.
Like any patisserie with a wide array of treats, there will be hits and misses. The Banana éclair ($9.50) was perhaps the only pastry I was quite blasé about. The saccharine combination of banana and caramel didn't quite work, but a nice airy éclair crunch partly salvaged that.
In terms of the most unmistakable classics, Pantler's Tarte Tatin ($9.50) was a delight with a nice balance of spirited caramelised apple twang and the fragrant buttery textures of the pastry.
Pantler's longevity is no surprise — they don't just churn out insipid eye candies, a sight that sadly pervades the cafe scene. Customers can always be assured of the best quality and craftsmanship here and I alway relish every visit.
Pantler
Address: 474 River Valley Rd, Singapore 248359
Hours: (Tue–Sun) 10:30am–6:30pm