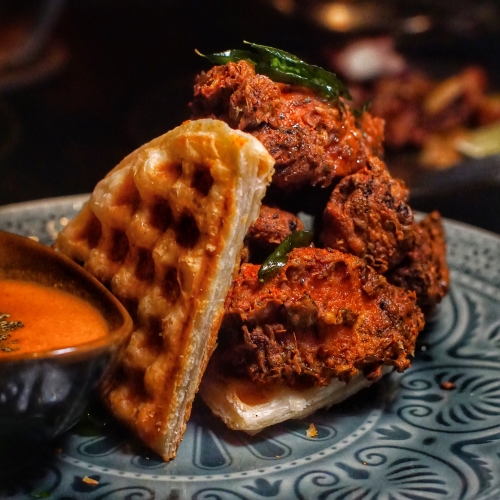 Firangi Superstar rolls out the most Whimsical Mod Indian Fusion in Singapore
Indian food to many Singaporeans typically means a few dishes — Prata, Briyani, Butter Chicken and the like. But it's so much richer and diverse than that and the swanky new Firangi Superstar is here to shake up those preconceived notions.
At its heart, this swanky new restaurant isn't an Indian restaurant. Not really. You've got a Wes Anderson inspired themed decor, The Beatles blasting on the speakers through the night, and many echoes of fantastical romanticisation.
But that's also where Firangi Superstar shines — it's off the wall and something you will struggle to find even amongst the best Indian restaurants of Singapore.
This out-of-the-box experience is a daring one-of-a-kind fusion that modifies so many iconic dishes into endearing bastardisations that somehow feel so wrong, yet so incredibly right.
The Great
It might be a daunting task to sift through Firangi Superstar's extensive menu but it's an interesting trawl — you'd be intrigued by a slew of beef, Ceviche, Burrata and all sorts of stuff not normally seen in Indian cuisine.
For more crackle, get the Pucker Up ($25) to stun your palate with an absurdly crispy yet melt-in-mouth pork belly. It's like your classic pork belly dish but Firangi Superstar deftly spruced it up with the rich nuance of Indian spices.
Another Western style dish they nailed with absolute perfection was the octopus. The Tikka Takeaway ($29) featured a tandoori tentacle with an immaculate juicy bounce and intoxicating char that may be even more impressive than some Spanish restaurants.
Making octopus up to the standards of Spanish restaurants gotta mean that Firangi Superstar is really doing something right.
The Amazing
But things really get interesting when you order their signature of Prata Waffle ??? ($24), Firangi Superstar's wildly creative reinvention of the local favourite.
It's a triple entendre — the Prata is waffle-flattened like a croffle while the whole dish is a homage to the classic waffles and chicken. The chicken was immensely juicy and so incredulously bolstered by the controlled richness of the butter sauce.
The Prata was a bit less airy than you'd want but it does play a perfect foil to the chicken. Plus, such an ingenious concept is a point clincher on its own anyway.
I'd waxed lyrical about every single dish so far but really I'm just getting started, because Firangi Superstar's Indian Saddle ($19/100g, min. 400g), a tandoori lamb saddle, was an absolute culinary revelation.
Simply put, this is absolutely the most tender, most succulent, most blissfully luscious lamb dish I've had — in any cuisine. Easily triumphed most steaks I've had and bestowed with that sexy whisper of the game that I can't resist, especially when given the Midas touch of tandoori spices.
This is something I don't say very easily about any restaurant, but every dish at Firangi Superstar was a homerun. Sure, it ain't the most traditional. Sure, it's a bit eccentric. Ultimately though, they do it all with the utmost attention to detail and this deftness in execution is something that can make a fusion restaurant absolutely stand out from the rest.
Firangi Superstar
Website | Facebook | Instagram
Address: 20 Craig Rd, #01-03, Singapore 089692
Hours: (Mon–Fri) 12pm–3pm, (Mon to Sat) 5:30pm–10:30pm