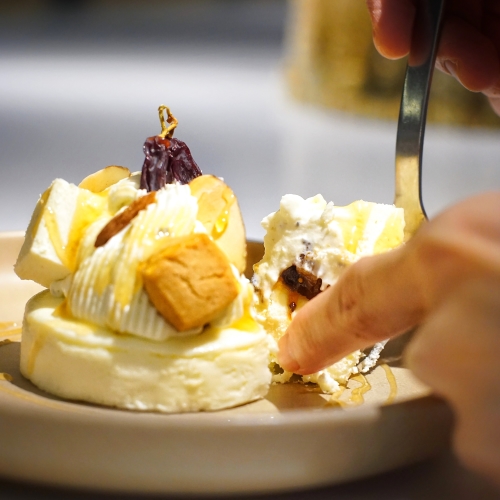 KKI Sweets — Where crafting Desserts is a fine art
We love our desserts, from the most simple waffles & ice creams to intricately moulded croissants — you can find wildly popular dessert stores at every corner of the island. KKI Sweets are, however, on a level above every other cafe.
While patisseries such as Lee's Confectionery and Pantler are reknown for making textbook-perfect pastries, the pastry craftsmen here make desserts that are akin to art.
Social media would have told you the extent of KKI Sweet's intricacies when they shifted into their new space at Seah street, with raving reviews about their slew of pristine and envelope-pushing creations that will spruce up anyone's feed.
KKI's Delicate Touch
Their delicate touch can be felt throughout the space too and not merely reflected through their sweet creations. Every inch, every nook, every cranny is designed to exude the most tasteful and elegant vibes,
Rooted in stylish minimalist design philosophy and aided by an eye for geometric beauty, KKI Sweets' home is like a scene out of a Kinfolk shoot.
With a gentle touch from lush plants to provide contrast to the sleek whites, you'd find yourself quickly immersed in the cosy ambience.
The perfect accoutrement to the delicately picturesque scene is of course a dose of warmth and perfume from their Hot Tea (S$6) that's made with tea leaves from Lupicia, an esteemed Japanese tea specialist.
Dessert Making as An Art
As far as the offerings on KKI Sweets' menu goes, their "J" ($13.50) has to be the perennial social media darling due to a guileful disguise as a potted plant.
The lifelike mimicry is the best reflection of their astute attention to detail, with texture down to the soil being as life-like as the ingredients physically allowed it to be.
Cutting into it is quite a spectacle as well, as you tear into the soft creamy "concrete" pot to expose a medley of yuzu, black sesame and matcha, which serenaded the palate a gentle and balanced rhapsody of tart, sweet, and earthy notes.
Still, the craftsmanship admittedly trumps its taste — that's not a slight though, it was just that photogenic.
On the other hand, the "FROMAGE" ($13.50) was probably the highlight of our KKI Sweets experience. While not as attention-arresting as the "J", the flavours here were striking.
It showcased a cushioned cheesy richness that was married to boisterous rum fruit flavours, perfectly rounding the profile with the precise sharpness to pierce through the delicate funk.
While we originally only planned for 1 pastry each, we were lured in by the owner's gentle push to order another. Compared to the rest of KKI Sweets' innovations, the "DUMO" (S$11.50) was more stripped-down and routine.
It's simple but does its job impeccably with a delectable blend of milk chocolate richness and coffee richness. Not decadent, not too subtle, but just right.
While this is a long-overdue review, recent plans to return has spurred me to reminisce on my experience at KKi Sweets. Is it worth the return? That's a no-brainer — the desserts here are just like fine art. Picasso ain't got anything on them.
KKI Sweets
Address: 3 Seah St, #01-01, Singapore 188379
Hours: (Wed–Sat) 11am–7pm, (Sun) 11am–5pm, closed on Mon & Tues