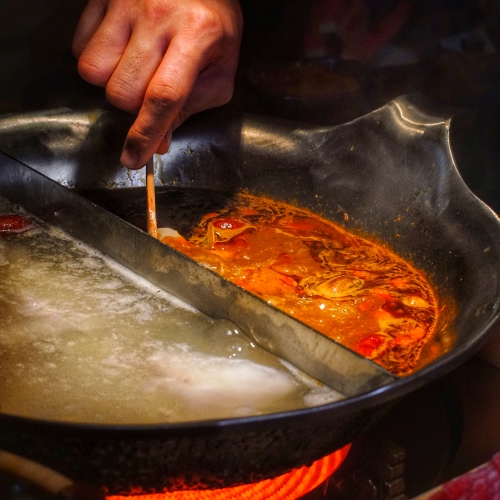 Decadent Hotpot & Bubble Tea Double Trouble at Coucou Hotpot
With hotpot's ubiquity in Singapore, the masses are more than familiar with the sleek and bougie getup of these steamy sanctuaries littered around the island. However, new entrant Coucou Hotpot provides something different from the rest of the pack, aiming to impress by satiating their desires at a deeper level — with bubble tea.
This luxury hotpot brand from China delivers that same decadent pampering experience but without the bright warm lights of their competitors. Coucou Hotspot at Suntec City is sleek and dark, handsomely plastered in slate tones, while vignetted by the dim glow of overhanging chandeliers.
Late market penetration is an uphill battle so they have to leave an impression. For that, they've gone the extra mile to jazz up the space with the golden glow of neon signs and mist slowly wafting out of a pool at the entrance.
What Coucou Hotpot hopes is the coup de grace that will convert fans of their competition is a dual specialisation in the two biggest obsessions of Singapore — hotpot and bubble tea.
Warming Up Your Tummy
Bubbles zealously floated to the top of each section of the hotpot, one dyed a crisp translucent yellow and the other a passionate crimson. As fearsome as the red may appear, their Taiwan Style Spicy Soup Base ($28.90/$39.90) is reasonably moderated which doesn't overwhelm with spice and added just the right amount of richness to it.
Coucou Hotpot's showstopper was easily their Coconut Chicken Soup Base ($28.90/$39.90). Unlike your typical chicken broths, this was tinged in a vibrant coconut sweetness which added a lot more complexity to it than the traditional maize that you'd find floating around in chicken soups.
Right after the warm broth heats up the tummy, follow it up with a massive mug of their Da Hong Pao Bubble Tea ($4.80/$5.80) to warm up your soul — simple, smooth, and milky while joined by its iconic partners in crime in the chewy pearls. A perfect foil to hotpot.
A Luxurious Night
Luxurious plates of ingredients then started to blitz our table, huddled around the bubbling hotpot filling up the empty space. Despite the generous myriad of selections for us to dunk into the bubbling broth, our heart was most unexpectedly stolen by their Mushroom Combo ($16.80).
Even with my passion for fungi, this platter contained some of the most delectable morsels of mushroom that I've ever had the pleasure of fishing out from a hotpot. Every mushroom, especially the Shiitake, was obscenely leaking with sweet juices while sporting the most immaculately tender, succulent bite.
Fish paste is ubiquitous in any hotpot setting and Coucou Hotpot's Mashed Prawn Paste ($16.80) gives the same delicious burst of flavour with a luscious, juicy texture but amps up the richness more with crustaceans instead.
In the end, though, the most important aspect of hotpot besides the broth has to be the meat. In this department, this luxurious hotpot experience provides you with a dizzying array of protein to put to swim in the bubbling soup, ranging from Australian Grain-Fed Short Ribs ($42.90), Berkshire Pork Collar ($26.80), and Australian Lamb Leg ($18.80).
As far as hotpot meat slices go, these cuts from Coucou Hotpot were exquisite and transformed into beautiful slivers of rich, tender decadence. Picture perfect texture on the beef and pork collar, immaculately balanced in fats and leans — don't think I've had a better specimen of meat at any of the other hotpot competitors in Singapore.
For anyone pining for the fresh kiss of the ocean, it's imperative to get a platter of the Seafood Combo ($89/$128) that's brimming with fresh catch ranging from Abalone, Scallop, Prawns to Bamboo Clams — sizeable, juicy, and ready to dive into the scalding hot sea of broth.
Ultimately, hotpot is not a cuisine that requires much art or finesse. Hotpot is something that comforts you and just provides you with a spectacular experience with good ingredients and great soup. On that front, Coucou Hotpot effectively delivers by offering a pampering experience, luxurious touches, and irresistible bubble tea.
Make your reservations here.
Coucou Hotpot‧Brew Tea
Website | Facebook | Instagram
Address: 3 Temasek Boulevard, #03-332 to 337, Suntec City Mall, Singapore 038983
Hours: (Mon–Sun) 11am–11pm