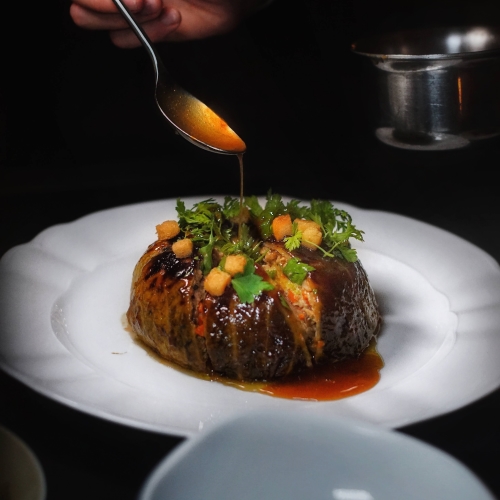 Claudine Restaurant is An Artful Triumph in Restaurant Decor
"Mise-en-scène" is a term that describes the setting of a scene in a play, film, or art piece. It encompasses every fine detail from the mood and the lighting to space usage. To me, complimenting a restaurant for crafting out perfect mise-en-scène is extremely high praise. And for Claudine Restaurant, its immaculate setting at Dempsey Hill could not be more perfect.
Giving your patronage to a new opening always stirs up a multitude of emotions. It's the long wait for the reservation date. It's the expectations formed from hearsay. And it's the excitement to bask in the ambience yourself.
Hence it's no small feat how Chef Julien Royer, of Odette fame, transformed the space into a sanctuary for fine-casual French cuisine. Every inch of the stately chapel that once housed White Rabbit has been repurposed and given new life while retaining echoes of its old charms.
Claudine stands in the middle of a quaint road at Dempsey Hill, a short trek from other luminaries such as Burnt Ends. Soft golden evening sun rays blanket white walls while intricately-detailed window arches beckon to you like a cottage from a fairy tale.
What awaits inside is more exquisite — a stylish interior imbued with a rustic touch from swaths of scarlet, accentuated by ornate glass panes adorned with florals. Claudine is a restaurant dedicated to Chef Julien's mother's cooking and the love shows.
The marriage of modernity and heritage elucidates how Chef Julien's modern French sensibilities look to elevate nostalgic and close-to-heart home cooking. While regal gothic stained glass overlooks the dining hall, a svelte, snaking tube lamp also meanders through, adding chicness to the mise-en-scène.
A similar word, "mise-en-place" coincidentally also refers to how a kitchen is set up in traditional French cooking. So it's apt that the open kitchen set-up was an equal force of beauty.
My gaze was constantly directed at the back end of the restaurant where Claudine's Executive Chef, Julien Mercier, directed his troupe like a seasoned orchestra conductor.
In plain words — the vibes were perfect. Dreamy decor, check. Convivial service, check. Pristine kitchen, check. Claudine is a restauranteur's wet dream at its most salacious — a finely-assembled French restaurant with a clear raison d'etre.
Simplicity is Key
While it might be curious to associate simplicity with a chef as decorated as Chef Julien Royer, it's a paramount tenet for the homely French cooking to which he aspires to pay homage.
Bread Courses are best for gauging the restaurant's competency in understanding simplicity. Here, their rustic slices of bread sport a perfect crust crunch and crumb density.
But the key element for bread is, unquestionably, butter. Claudine's choice of accoutrement is a sublime Iberico Bacon Butter that smoothly compliments the loaf — one of my favourite bread courses at any restaurant in Singapore.
After engorging on the bread, our appetisers started streaming to the table. The first was an Organic Egg Forestière ($28) encased in a light orange robe of panko, demurely resting upon a gleaming pool of black truffle vinaigrette.
Jammy yolk oozes out when cut and the entire ensemble is efficaciously rich, punctuated with aged Parmesan pep and vibrant vinaigrette piquancy.
The follow-up Claudine's Onion Soup ($22) is a representation of the restaurant, and Chef Julien Royer's, finesse in a modern interpretation of a timeless classic.
Get ready for a palate blitzing by intense beef bouillon as the depth of brown indicates. A concoction that zealously warms your soul up with cheese-tinged umami after the soup is decanted over tender morsels of onion and punchy Comte cheese.
Of course, you expect opulence stepping into a Julien Royer restaurant and Claudine's Hokkaido Uni Pasta ($58) answers that decadent calling, in spades.
Lubricated by buttery Uni, dainty strands of kombu-coated angel hair pasta laminate the tongue with creamy bliss. An altogether minimalistic, but spectacularly harmonious, assembly of premium ingredients.
Alcohol is an instinctual order to match the air of romance and the restaurant's spirits menu brimmed with wines. But being a cocktail aficionado, I decided to go with Claudine's Negroni spin.
Aptly named "Tonight is the Night" ($26), this potent nightcap swaps out Sweet Vermouth for White Port. Even without the unadulterated Negroni oomph, I am still enamoured by the marked grape notes white port imbued — a pretty respectable spin, all things considered.
Exquisitivity Overload
Claudine's restaurant experience is also marked by displays of tableside showmanship since mains came with their own side of sauce-pouring or assembly.
The night's first performance is announced by the raising of a wooden table, where Claudine's Steak Tartare à la Parisienne ($52) is tossed up ala minute, as the restaurant stays true to time-honoured practices. It's a pampering experience using Polmard blonde d'Aquitaine beef, one of the highest quality French beef varietals that can be sourced.
Claudine ensures the protein is given the respect it deserves by keeping it classically uncluttered by coating it with mustard, capers, and pepper in an elegant ratio. No bells and whistles, just the archetypal steak tartare — rich, luscious, and silky, right out of a textbook.
What truly astounded us was the Chou Farci ($98), a dish the French had a proclivity for classing as "peasant food". It's through Claudine's arcane touch that this unassuming dish mystifyingly transformed into the restaurant's signature. Something even the bourgeoisie shall lose their heads over.
The head of cabbage is presented to us wholly unmarred in its crockery, before Claudine's staff plates it up in equal portions and a moreish jus is drizzled over.
A lavish, sizeable chunk of Foie Gras comes into sight upon sliding out a wedge of the cabbage. Yes, Claudine's twist on this homely was quite unlike any other restaurant — it incorporates the unctuous liver into a plain jumble of meats and vegetals,
Texturally, it's absolutely pristine. The outer skin of cabbage boasted of meaty succulence and gentle crunch while a build-up of textures from the motley of ingredients and the velvety Foie Gras tastefully tied everything together. It's robust, spice-layered, slightly sweet, and deftly controlled in balance.
Alas, the biggest disappointment of our restaurant visit also came with an exorbitant price tag — the highly-anticipated Claudine 'Bouillabaisse' ($178). Sumptuous no doubt but the overall amalgamation felt one-note despite the wealth of lavish seafood.
For this dish, you fish out your choice of seafood to pair with croutons, a concentrated stock, and a sharp, heady saffron rouille which unfortunately drowned out most of the palate space. The opulent ocean catch ultimately had little impact. A case of luxury for luxury, when a less expensive cast would have aided in a similar fashion.
Adhering to the comforting, nostalgic theme of the restaurant, Claudine's Whole Roasted Brittany Pigeon ($68) was another dish made simply. Tender flesh, pillowy gnocchi, and an earthy assortment of flavours to pair with the pigeon — but no real wow factor.
A Sweet taste of Halcyon Days
Strangely, Claudine's desserts are rather nostalgic reminders of the tastes of my childhood, despite it being a French restaurant. A prime specimen of that was the fabulous Île Flottante ($22).
The Creme Anglaise that gushes out from its hollow core tasted, unironically, like fruit loops. Admittedly supremely comforting and packed the right saccharine punch — just not sure it's worth the price.
Similarly, the 'Pariterole' ($32) was an unelaborate play on traditional Paris Brest and Choux. The vanilla and praline combo, while luscious and delightful, felt rather monotonous whereas the choux also turned soggy rather quickly from the cream.
Claudine makes no false representations of what it's meant to be — an intimate restaurant affair that elevates nostalgic tastes. Alas, with Chef Julien Royer's accolades at Odette, the price point shoots right up. Especially given consideration of the venue and diligent food provenance.
Claudine is undoubtedly a visual spectacle and one of Singapore's most stellar restaurant experiences. Alas, that is a double-edged sword since it is saddled with the baggage of its pedigree.
While the cuisine is classic French that's not only well-executed but also elevated, it's lacking a je ne sais quoi that can justify the exorbitance, outside of special occasions. Alas, the budget could also be better funnelled into a more ambitious degustation menu elsewhere, depending on what you seek.
Make your reservations here.
Claudine Restaurant
Website | Facebook | Instagram
Address: 39C Harding Rd, Singapore 249541
Hours: (Tue–Sat) 11.45am–2pm, 6pm–9.30pm, (Sun) 11:30am–3.30pm