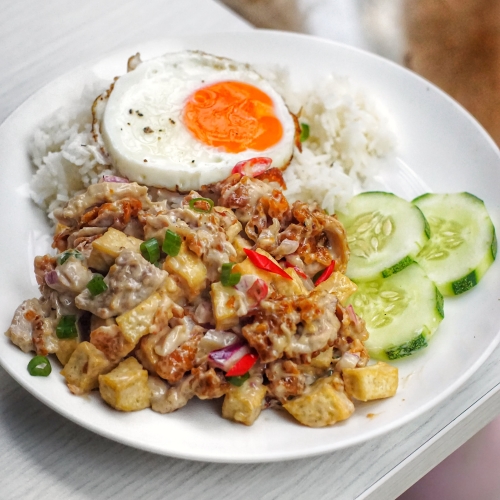 Flavourful Mee Goreng & Authentic Indonesian Classics at Fangko Coffee
Looking for the heartiest Indonesian flavours that would make even a native sweat from the heat? Then Fangko Coffee at Clarke Quay is the perfect place for you — they have spice levels that go from a harmless level 1 to tongue-searing 12.
The main allure of Fangko Coffee isn't that it's strikingly aesthetic or particularly IG worthy — it's a cosy homely cafe. The allure is in its authenticity and sincerity, being run by an Indonesian family who repurposed their family recipes for the cafe.
It's simple, understated and spruced up with a few nicknacks to give a luxe modern edge. Rows of adorable fairy lights hang overhead while bright neon signs illuminate the darker recesses of the space — a great spot to chill in those hot afternoons.
Authentic Indonesian Food
Cafes in Singapore generally follow the brunch spot blueprint that normally focuses more on Western food and rarely tasty Asian bites. Unlike many of Singapore's best cafes, Fangko Coffee menu comprises mostly Indonesian food and drinks in an elevated presentation to fit the trendy cafe crowd.
If there's one reason to go to Fangko Coffee, it's to savour a bite of their Smashed Chimken ($8.20). Akin to Ayam Penyet being chopped up and fried in their special homemade sambal chilli, this is a sapid flavour bomb that could give your tongue a nice numbing sear, depending on your spice tolerance.
And the best way to pair the chicken is with a side of their Indomie Goreng. One might preemptively write off this ubiquitous item but Fangko Coffee's Indomie Goreng is a step above most others I've tried, bursting with sapidity and injected with the piquant richness of Kecap Manis.
Another quintessential staple of the region is, of course, Nasi Lemak Ayam Berempah (S$10.20). The most alluring part of this ensemble will of course be the mound of rice, dyed a distinct blue with blue pea flower.
It tastes as good as it looks too — the rice was an intoxicatingly fragrant treat which paired immaculately with the spirited sambal. Besides that, the Nasi Lemak is also generously piled with tasty ingredients such as keropok to fill up your tummies.
Spice isn't everyone's cup of tea and if you can't take the heat, Fangko Coffee also has some alternatives to their fiery Indonesian classics. The White Chimken ($9.50) will be gentler to your palate with a pleasant mix of sweet-piquant mayo, tofu, and spices — well balanced and creamy.
Refreshing Sweets to Quell The Heat
Contrary to popular belief, drinking water has little effect on dousing out the heat set in your mouth. So if spice isn't your cup of tea, maybe a bottle of Fangko Coffee's signature Gula Melaka Latte ($4.50) would be your best remedy for that.
Using the potency of gula melaka, they replicated familiar local coffee flavours while elevating the kopi profile with more focused sweetness and a smoother acidity. A smooth cuppa that will swiftly calm your burning tongue.
In Similar chemistry, you can also quell the heat with some smooth creamy ice cream. In an area where there aren't a lot of gelato cafes except Dopa Dopa, Fangko Coffee's Waffles with Pistachio and Macadamia Nut Ice Cream ($15.30) is a welcome introduction to the menu.
Both flavours came with a nice nutty fragrance and decent smoothness. It's all homemade so I expect the quality will only improve further in the future.
Singapore's cafe scene is pretty much saturated with the same trite pasta and brunch permutations, so it's refreshing to see how Fangko Coffee managed to combine the best of authentic Indonesian flavours with some of the popular cafe fixtures. It's a hidden gem that I still find myself returning to when I crave punchy flavours and spicy tongue massages.
Make your pick-up or delivery orders here.
Fangko Coffee
Website | Facebook | Instagram
Address: 20 Hongkong St, #01-03, Singapore 059663
Hours: (Tues–Fri) 8:30am–8pm, (Sat) 9am–8pm, (Sun) 9am–5pm
*This was an invited tasting.