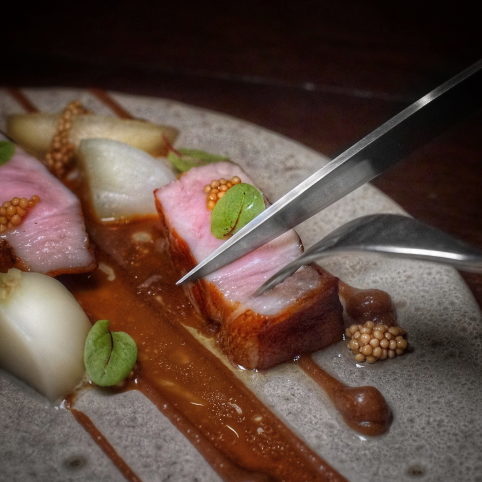 Salted & Hung Elevates Fresh Produce with elegant Aussie-Asian Romance
Salted & Hung is a place that's nestled deep into the crevices of my heart. Well, most Unlisted Collection concepts are infatuations. Needless to say, I found myself excitedly grabbing a table when they launched their redesigned set course menu in May, right before the dreaded dine-out restrictions hit again.
Since my previous visit, the restaurant has undergone a mini metamorphosis of sorts.
This new iteration is sharply dressed to the nines, seeing abstract paintings and plush flower arrangements prop up the atmosphere.
Still, despite its voguish makeover, Salted & Hung didn't lose touch with the affability at its core. As I strutted in — late as always — our genial, yet efficient, host swifly seated me with a crisp welcome white from the chef.
I couldn't wait to get my 5 Course Lunch Tasting Menu (S$78) underway.
Plenty of Bite in the Small Bites
It was clear what to expect at Salted & Hung from the get-go, after getting served their amuse-bouche of Beetroot Yuzu and Firefly Squid.
With a quick pop into the mouth, the combination of grilled firefly squid, crispy nori and hollandaise set off an enthralling big bang of umami.
Amidst the boom was a nice brine from the squid's juices and a mild garlicky note hanging in the back. Big flavours with a smart Asian twist was the name of the game.
Following up on that was Salted & Hung's housemade IPA Sourdough, served with Whipped Lard & Kombu Butter. A pretty solid loaf but alas, it's the bold Asian flavours that accentuate the bread.
No joke, I literally smothered each slice of bread with the exceedingly velvety whipped lard, made dangerously addictive with a slight prickle from the chilli oil.
To cap our pre-entree experience was a slick ensemble of Botan Ebi, Radish and Aged Ponzu. Where Salted & Hung shines is with the understated use of crisp but piquant flavours.
As with all perfectly-grilled Botan Ebi, the almost melt-in-mouth texture was a pleasure when lightly dressed and unobscured. Now we move on to the meat of the course menu experience.
Meat is still where Salted & Hung Shines
A bit of tableside never hurts to spruce up a dish, especially when the sauce rushes to fill in the gaps running between parallel streaks of puree like in this Miyazaki Grape Fed Pork.
Possibly one of my main draws to book a table at Salted & Hung and it didn't disappoint. Luscious, succulent and generously scored with fat, these were moreish pieces of protein jampacked with porky flavours.
As much as the Pork impressed, the star protein amongst the entrees was the Barramundi.
Every facet was executed perfectly as Salted & Hung's cooking demarcated clear boundaries between an impossibly crackling skin and its blissfully soft flesh.
A splash of simple seafood-forward flavours from the ensemble of Roe Cream & Clams dressed it up simply but beautifully.
Following this, a Fermented Pear & Sage Ice Cream palate cleaner was served up to clear out the heaviness. Transparent and refreshing, all you would ask from a palate cleanser.
Come for meat, stay for sweets
Besides the fresh produce that they generally have on show here, Salted & Hung actually churn out some quite quirky dessert dishes.
Chef Drew Nocente is, naturally, Australian and draws on much of his Australian childhood in his creations, best embodied by this Gold'n Gaytime.
Almost like a twisted deconstruction of the timeless Aussie tidbit, this popped with an earnest storm of toffee-malt. However, it was a deft layering of textures between the umami crumble and ice cream that helped it punch above its weight.
But it was the grand finale Candy Cart that stole the show. There's no attempt to overcomplicate with anything fancy or conceptual, and they stick the landing quite slickly.
Munching on the Anzac Cookie's crumbly blend of bacon bits and oats was simply an unadulterated pleasure.
The other item was the Golden Yay-Time, Bon Bons made to throwback to the Aussie classic of Golden Gaytime.
A simple hearty blend of salted caramel, chocolate ganache and caramel cereal base — we just wished we had more than a single pop.
Overall, I cannot recommend Salted & Hung enough for the quality at its price, which might even edge out the cheapest Michelin Star Set Lunch at Lerouy. A place that truly found the balance between presenting ideas that are earnest yet not drably simple.
Salted & Hung
Website | Instagram | Facebook
Address: 12 Purvis St, Singapore 188591
Hours: (Thur-Sun) 12pm – 2:30pm, (Tue-Sun) 6pm–10:30pm