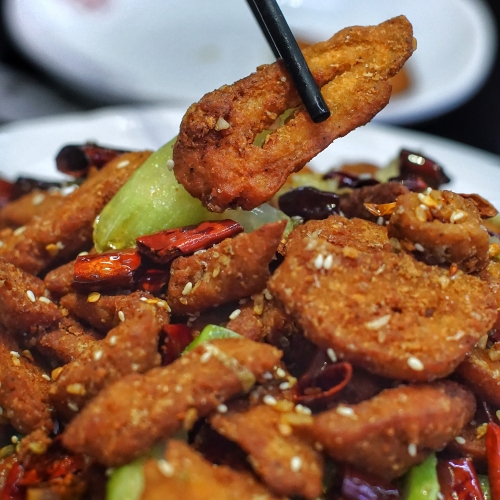 Good Come Again Will Make you Come Again for Sinful Chinese Skewers & Fried Intestines
Say you're confident without saying you're confident. Having a name like Good Come Again surely ranks quite highly on the list, especially when it's just an inelaborate, even crude, translation of the mandarin name "好再来".
And the truth is, you will come again. Despite the rather dingy, nondescript getup that's lit by the sterile glow of white fluorescents, there's really not much flair needed to make a Chinese eatery like this stand out.
If anything, it's the lack of pizzazz and stripped-down simplicity that gives Good Come Again its credence and charm as an authentic Chinese BBQ Skewer shop.
We all know this genre of food is all about straightforward, earnest flavours —sometimes endearingly drowned in MSG— that provide you with the supreme comfort the Dongbei region of China is renown for.
Sticks To the Classics
Many people in Singapore love Dongbei food for the BBQ skewers in particular and Good Come Again is definitely one of the most popular Chinese restaurants in the skewer game.
As with similar Chinese restaurants, Good Come Again's menu is populated by a dizzying spread of dishes. The diversity can make it a challenge to decide, especially when your Chinese literacy is limited.
Inevitably, a menu as sprawling as this would have some hits and misses. My experience says to avoid the Lamb Ribs Skewers ($3.50/pc) which ended up too dry and chewy.
Other than that, everything else worked. Also from the same mutton section, Good Come Again's Classic Lamb Skewers ($2.70/3pcs) were succulent and brimming with flavour, while carrying a sexy whisper of game.
Some other classics worth ordering were the rich and fatty Pork Belly Skewers ($2.70/3pcs) and the luscious Enoki Mushrooms ($1.50/pc) that exploded with mushroom juices.
An unexpected highlight was the Corn Skewer ($2/5pcs) —- pleasantly sweet and well-seasoned morsels of corn arranged neatly on a skewer. So simple but so damn satisfying.
Way TO A Man's Heart is Through The Gut
However, the most impressive area of Good Come Again's repertoire had to be fried dishes involving innards. Yes, pig intestines, pig liver, and the like.
Getting a plate of Deep-Fried Intestines ($18.80) is imperative to any Good Come Again visit. Regardless of your tolerance for organs, this signature is definitely worth a try.
No one else does intestines as well as they do. Kway Chap stalls may whip up cleaner-tasting ones but this was an immense umami WMD with the offal funk kept deftly under control, but still present to add a unique dimension.
More importantly, the melding of light crisp with a sensual gelatinous chew was sublime.
Admittedly, I'm not familiar with the best Chinese restaurants in Singapore since I generally struggle with the surfeit and overwhelming MSG. But if there's a place in Singapore I'd come again for Dongbei food and BBQ skewers, it's Good Come Again.
good Come Again BBQ 好再来
Address: 8 Lor 1 Geylang, Singapore 389118
Hours: (Mon–Sun) 11:30am–12am