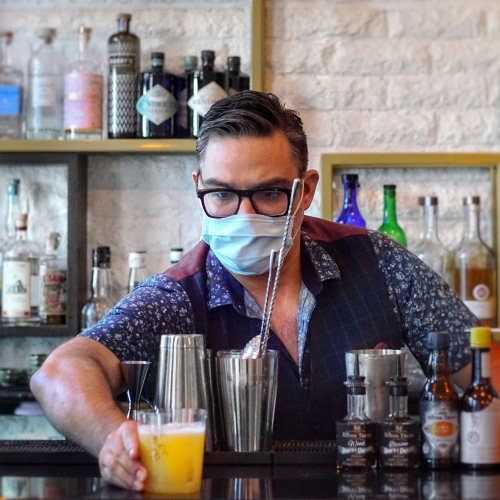 Flow Bar is a cosy lounge where you go with Ricky Paiva's flow
Manhattan is possibly one of the most iconic cocktail bars in Singapore, sitting at No. 6 in the World's 50 Best Asia 50 Best Bars. But cocktail aficionados would also be familiar with Ricky Paiva, one of the legends who spearheaded them in earlier days, and now heads the new Flow Bar at Duxton.
I think it's safe to say that Ricky is the lifeblood of the bar, who injects not just his larger-than-life personality but also his free-spirited drink-crafting nous and, most importantly, a painstaking effort to keep the bar free of a pretentiousness endemic to the scene.
Situated right atop Restaurant JAG, Flow Bar taps on many of the Michelin-Starred restaurant's resources, creating an ecosystem where there is a coherent flow between the restaurant and their drinks programme.
That connectivity is best demonstrated through the "Garden" section of their menu, which sees Ricky utilising many of the fresh Savoie-sourced herbs in the arsenal of the restaurant.
Of course, Flow Bar is not entirely dependant on Restaurant JAG. Their drink program is a robust, well-designed beast of its own which also features a "Living Room" section featuring elevated classics and a "Playground" section where Ricky's moxie conjures up some tipples with certain endearing esotericism.
A Comforting feeling of Lounging
This first part is where I illuminate the comforting warmth radiating from the bar in all facets, ranging from the intimate service to the comfort their menu delivers to our tummies.
Flow Bar's food was quite delightful, not just in a bar snack kinda way. No, they adhered to a higher bar of watering holes where food receives its due attention. It's evident in this delightful mound of Artichoke Hummus adorned with hazelnut rubble.
Its overall consistency was velvety smooth, and olives, artichoke, and hazelnuts joined forces to inspire a dreamy creaminess bearing an uncanny resemblance to pistachio ice cream.
As far as comforting concoctions go though, nothing on Flow Bar's menu goes down with as much of a reassuring warmth as the Thyme ($24) from the "Garden" menu which featured a perfectly synchronised hit between the Savoie lemon thyme and the Smokey Monkey Shoulder.
But if you want something that's just stunningly easy to drink, the Strawberry ($24) was a delicate and endearing play on a Gin & Tonic, sporting a gentle touch of fruitiness to keep it from being too textbook.
Ricky's Playful Twisted Mind
However, if you ask me what defines Flow Bar is the dichotomy of crushable accessibles and a playful slew of experiments that don't stray too far into the left-field, so that anyone could enjoy them.
For one, the Peppered Pineapple ($24) is just as easy to drink as anything off the "Garden" menu. But being something on the "Playground" side of their bar, there is of course a quirky twist — here, it was a tri-blend pepper rim.
The mix of mezcal, roasted pineapple, and fresh lime was quite a spirited persuasion but the distinguishing factor was an excitingly sultry combined hit of white, and green pepper varietals.
But if a drink was the best indication of Flow Bar's mixological ingenuity, it's the Shibui ($24). Ricky's drink-crafting sensibilities are arcane because this was a savoury cocktail that I would bewilderingly describe as "easy to drink".
Featuring Isle of Harris Gin, house-made vermouth, and umami bitters, you could pick up on a heady aroma of kelp. But that umami was controlled and blended into the smooth background seamlessly and unobtrusively.
While Flow Bar might not quite hit the lofty bar set by Manhattan but this new lounge is an undeniably cosy spot that has plenty of potential and warmth to draw me back in for future visits. In fact, I already did as a paying customer.
Flow Bar
Website | Instagram | Facebook
Address: 76A Duxton Rd, Level 2, Singapore 089535
Hours: (Tue–Sat) 5pm–10:30pm
*This was an invited tasting