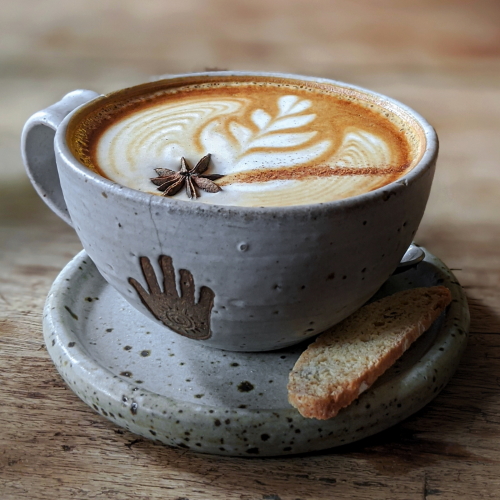 Kafe Utu brings one-of-a-kind African Bonanza into Keong Saik
I still remember the first time I stepped into Kafe Utu in 2018, just a week after they opened. Rustic wooden accents, streaks of raw earthy tones, and a glamorous pop of colour made it stand out in the Keong Saik hood.
3 years after they opened, I still struggle to find a cafe as unique as this African-themed cafe in Singapore. Their uniqueness doesn't merely rely on novelty either — it is stunningly designed and intricately planned out.
Trite to say, but it really felt like I was spirited away to another country when I stepped into Kafe Utu — nothing screams cheap novelty, it's an earnest homage to the owner's African roots.
Above all, the place really comes alive with the painstaking details and procurement of the right pieces to piece together a welcoming atmosphere that was still enchantingly voguish.
Not to mention how comfortable and serene the plush sofas in the loft of the second floor make you feel — this is a place that you'd wanna chill in any day of the week.
Fresh African Flavours
Admittedly, this isn't the most unique African dish but the elegant Ricotta Hotcake ($26) is the definition of eye-candy, featuring mixed berries, house-infused cardamom maple syrup & vanilla bean ice cream.
Now, this was unbelievably fluffy, it was blissful mouth to mouth, especially with a splash of the creamy vanilla ice cream. It's simple but the outrageously good execution propels it — my only qualm was with a rather steep $26 price tag for pancakes.
An unnoticed gem here was the Uji ($15), probably the undisputed star of the show for me. For the uninitiated, it's a style of fermented porridge native to Kenya which might have a mildly sickly mien but Kafe Utu's vivid and intricate plating added oodles of style to the ensemble.
Simply put, it's all about the mind-blowing complexity and layering of flavours. Contrary to the dreary greys, the Uji was actually delightfully sweet and sported a worldly twang, while earthy and nutty undertones presented themselves as a sexy counterpoint and serrated through any semblance of cloyingness.
If you're looking for small bites at Kafe Utu, don't hesitate to go for the Mahamri ($8) which may look mundane but were absolutely moreish little parcels of dough.
The Swahili coast fried bread bore a passing resemblance to donuts, especially in its pillowy bite, but delivered a whole different taste experience with its delectable cardamom and coconut combo.
Coffee is the secret winner
Friends are well aware of how abhorrently particular I am about coffee, so you might be shocked (or pleased) to hear that Kafe Utu is one of the few places I return just for coffee.
What makes Kafe Utu's coffee so spectacular is down to their finesse with Hokkaido milk — they manage to elevate every cup with the dreamiest and plushest mouthfeel without being too overwhelming. Another key factor is their charming esotericism, concocting exciting, one-of-a-kind cuppas.
Yes, beneath all the glitz and pizzazz of this Afro-palace, they actually make very solid cuppas comparable to your typical Melbournian-style coffeehouse. And this stunning looker of a Malindi Latte ($7) is the crown jewel.
A punchy but balanced medley of spices — including cardamom, cinnamon and nutmeg — a spice-forward complexity to complement the chocolate-forward espresso base, making it almost like a luxe chai latte chimera.
Kafe Utu's mocha Bidibado "Abracadabra" ($7) was quite a spiffy cuppa with a motley rim of pink peppercorns, nuts, and peanut butter.
It had fragrant nutty coffee notes that mixed with the rich chocolate notes, with a subtle depth of deepness and hints of spice from the rim. Balanced and layered, unlike the many cloying disasters claiming to be mochas out there
Alas, even with all the great caffeine I've ingested at Kafe Utu over the years, there is one drink that has never been able to endear to me — the visually impressive Cacao Kali (S$8).
I consider myself rather experimental when it comes to coffee but struggled to find coherent chemistry between the flavour notes discernable even after repeated attempts That overly punchy spice swallowed up too much of the nuance and the combo just didn't quite stick.
But really, just try it if it piques your interest; the important thing is that you must pay a visit even with the long waits — the unique food and chic vibes are worth the wait.
Kafe Utu
Website | Instagram | Facebook
Address: 12 Jiak Chuan Rd, Singapore 089265
Lunch hours: 10am–5pm (Wed–Fri), 9am–5pm (Sat–Sun)
Dinner hours: 6pm–10:30pm (Wed–Sun)