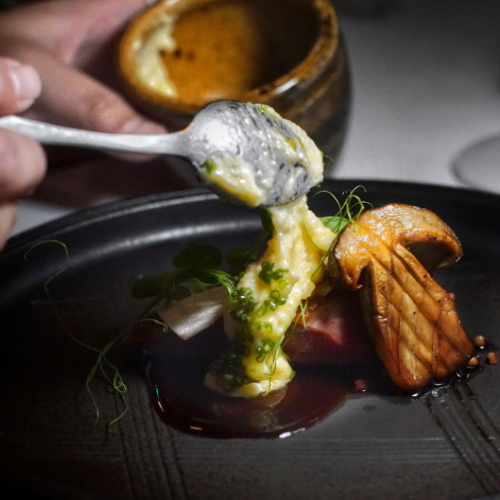 Restaurant JAG's SUmmer Omakase Menu is a magnificent Crescendoing Symphony
After a light-hearted prologue at Flow Bar which saw us sauntering with added spring in our steps, we were ushered to the ground floor for the marque event — the French Omakase ($298++) at 1 Michelin Star Restaurant JAG.
Graceful whites filled our field of vision — warm dimmed lights, elegant white walls, and fastidiously arranged tables set the stage for the rest of the night.
Restaurant JAG abstained from pizzazz, instead preferring to carry an air of intimacy and cosiness. That was further bolstered by sharp but cordial service from the waitstaff. Classic no-frills French, really.
Moments later, our servers chaperoned a rustic wooden chest and hoisted it tableside. What followed was a run-down of their fresh produce, many specially flown in from Chef's home region of Savoie.
Only the ingredients were the best that the season has bestowed upon us, currently featuring the harvests of Summer.
All braced for the oncoming splendour by Restaurant JAG, we waited with bated breath for an intricately crafted gastronomical performance.
Dainty, Elegant Intro
Like a well-paced symphony, Restaurant JAG picks up with an elegant, stirring intro comprising of vegetal-focused canapes. We started off with Celtuce, Mint, and Apple potions distilled into test tubes that were light, refreshing, and weightless — the perfect lead-in to prime your tastebuds for the rest of the night.
A deft transition into the next section led by the duo of Shallot and Serpolet as well as Fennel, Berce, Bayonne Ham assuaged us with their delicate but rousing profiles, gently nudging our palate in a direction of intensifying flavours.
Then came the first highlight of the night at Restaurant JAG — an exhilarating ensemble of Tomato, Vigne Rouge, and Octopus.
Simply a sublime combination without a hint of excessiveness that boasted an immaculately tender octopus. The precisely judged drizzle of vigne rouge played the perfect foil to the acidulated, yet heartening, twang of the heirloom tomatoes.
Without sparing us so much as a breather, Restaurant JAG chased the piquant first course with a miniature pod that concealed an exquisite medley of Corn, Caviar, and Sage. Simple as it may be, the sweet corn and heady caviar were a faultlessly harmonious pairing, especially when layered with a tender kiss of sage.
A Rousing Riff into the Climax
Satisfied with the buildup, Restaurant JAG began a dramatic uptick in its vigour, starting to layer more flavour notes while hasteninf the tempo as it transitioned towards the meat of the omakase symphony.
Kicking off the pre-chorus was a Bell Pepper, Verveine, and Crab where the compellingly smoky Red Pepper Sorbet played a magnificent counterpoint to the raspberries and luscious crab flesh encased within the spring-roll-esque tuille crunch.
Curiously familiar — almost Asian in scope — while delivering the most reassuring mix of textures to progress the meal to the next section.
We now stop just afoot of the splendorous climax — the relentless and fervent euphoria of Restaurant JAG's epicurean concerto — at a decadent bite of Langoustine, wrapped within Kale and paired with Archilee.
It's like if hedonism was manifested as a single starter. Besides the gratuitous medley of kale crunch and langoustine richness, there was a moreish undercurrent of horseradish and wasabi which helped elevate the dish with aplomb.
Then, Restaurant JAG Built into a Crescendo
It was all smooth sailing till this point, before Restaurant JAG's number deftly glissandos toward and beyond the stratosphere, into an otherworldly crescendo, starting with an enthralling union of Sea Bream with Zucchini, married with such pristine chemistry that it floored us.
It holds without mentioning that the Sea Bream's worldly freshness translated into buttery, melt-in-mouth bliss. Its immaculate ocean-tinged cleaness harmonised with the vociferous zucchini kick and a subtle whisper of brine.
With all that said, nothing held a candle to Restaurant JAG's stupidly memorable Pigeon dish, arriving with regal accoutrements of velvety polenta and umami black bean paste. Their piece de resistance was possibly the best dish to have graced my palate in recent memory.
Just cutting into the fowl's succulent light-pink flesh felt like a bow feverously slicing through the strings of a violin, anticipatingly swelling up to sumptuously tender bliss, with faint, measured recoils spurred by every bite.
Subquently, we dressed up the juicy morsels of meat with polenta and black bean paste. Once assembled, it pushed the night into a stellar sapidity-loaded crescendo that articulately justified Restaurant JAG's Michelin star.
A Graceful Coda at Restaurant JAG
As we see the shadows of the curtains creeping onto the stage, a refreshing combo of Strawberry and Melisse arrived at our table to freshen us up in anticipation of the grand finale.
While my general perception of desserts at upscale restaurants generally floated in a murky memory puddle of trite generics, Restaurant JAG raced towards the coda with a rather bold swirl of savoury-sweet made from Beetroot, Sariette, and Chocolate.
These may not be the most instinctual flavour combination. However, it was a bewitching spell of cacao and potent beetroot notes, working wonderfully to enchant our palates.
While that was the final course of the French omakase, the curtains have yet to complete their full descend, and we slip into an epilogue featuring a sweet foursome of a Petit Fours,
With an entirely gratifying pre-coda, especially exemplified by a vibrantly fruity Apricot Macaron, Restaurant JAG assertively postured us towards a strong, fulfilling finish.
As the drapes almost hit the ground, a myriad of Cheeses and Aperitifs spreads edged us closer towards the tail end of the night — equally satiating pre-cursors to the finale.
A well-conducted symphony where the orchestra worked with precision to present every aspect of Restaurant JAG's culinary excellence. All that, while not neglecting an emphatic, personable touch. Suffice to say, there were no doubts about their Michelin accolade after the 3-hour affair — their star was wholly deserved.
Restaurant JAG
Website | Instagram | Facebook
Address: 76 Duxton Rd, Singapore 089535
Hours: (Fri–Sat) 12pm — 3pm, (Tue-Sun) 6pm–10:30pm
*This was an invited tasting.