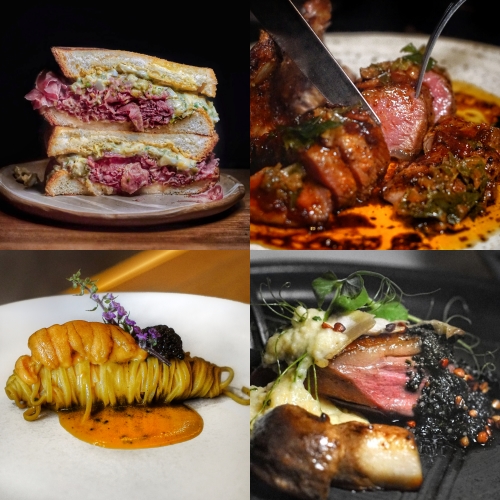 A 2021 Roundup of My Best restaurants & Bars in Singapore
In a year plagued with snap lockdowns and dining restrictions in Singapore, 2021 still managed to be a year of the best restaurant and bar experiences for me thus far, against all odds.
Which makes these experiences all the sweeter for me, after soldiering through this gruelling year and now trudging into 2022, full of anticipation. It's only fitting that I pay tribute to these great meals and tipples, and the people behind them.
My Best Restaurants in Singapore 2021
Restaurant JAG
Restaurant JAG isn't just one of my best meals of 2021, it might be my favourite restaurant experience in Singapore, period. The French Omakase is perhaps one of the most titillating gastronomical journeys I've been fortunate enough to experience.
While every dish in this fastidiously designed course dinner deserved a moving tribute, it's the blockbuster Pigeon dish that still stays imprinted on my palate till now.
It was sumptuous, tender bliss in every bite, propped up by faint, measured recoils. The fowl, accompanied with polenta and umami black bean paste, pushed the night into a stellar sapidity-loaded crescendo that eloquently justified Restaurant JAG's Michelin star.
Website | Facebook | Instagram
Address: 76 Duxton Rd, Singapore 089535
Hours: (Fri–Sat) 12pm–2pm, (Tue–Sat) 6pm–10:30pm
Restaurant Euphoria
Simply a euphoria-inducing lunch at this fine-tuned machine that featured a unique "Gastro-Botanico" French style by Chef Jason Tan, formerly of Corner House. Despite being a fledgling restaurant, they were bestowed the title of Asia's No. 36 less than a year into operation — and I get the hype.
It became apparent how they quickly became one of the best restaurants in Singapore in 2021 when we were served the most immaculate snacks for the Joy for Euphoria Lunch menu, including a dangerously addictive Mochishire and "Gazpacho" combo.
More impressively, while Chef Jason's delicate touch was pronounced and admirable in many dishes such as the Hokkaido Scallops stuffed with radish and Cod with airy crisp scales rendered through shallow frying, it was the Almond dessert that left me truly besotted. The best dessert course I've had to date.
Website | Facebook | Instagram
Address: 76 Tras St, Singapore 079015
Hours: (Wed–Sat) 12pm–2:30pm, (Tue–Sat) 6:30pm–11pm
Le Bon Funk
I can't believe it took me till 2021 came to finally try Le Bon Funk, which has been hailed as one of the best casual restaurants in Singapore. Boy, have I been missing out — it was such an experience that I promptly made a return visit.
Certain dishes were so inspired and scrumptious that I was left absolutely infatuated, such as their signature Foie Gras Toast — an unmatchable indulgence that features decadent shaved foie gras, paired beautifully with twangy cedar jelly and buttery toast.
Another item that's basically synonymous with Le Bon Funk is the Beef Tongue Sandwich, loaded to the brim with a tantalising mound of tender beef tongue and dressed with impossibly rich Gribiche sauce — possibly the best sandwich in Singapore.
Website | Instagram | Facebook
Address: 29 Club Street Singapore, Singapore 069414
Hours: (Tue–Thur) 5pm–10:30pm, (Fri–Sat) 12pm–10:30pm, (Sun) 12pm–5pm
Braci
2021 was a year of repeated disappointments on my hunt for the best pasta in Singapore but alas I found Braci, which blew most other restaurants out of the water. I couldn't get enough of their modern, cutting-edge interpretation of classic Italian flavours.
As the most iconic dish on their menu since their opening, the 32 Egg Yolks Tagliolini genuinely didn't disappoint. You'd get sent to heaven after getting a bite of the faultlessly al dente semolina pasta, majestically robed in the most luxurious uni sauce.
Braci also handled Venison, a less conventional game protein, with astounding finesse. Their Smoked Venison dish could be cut through effortlessly with a tenderness that rivalled any top cut of steak, while perfumed with the intoxicating scents of the Alpines from which Chef de Cuisine, Chef Matteo, hails.
Website | Instagram | Facebook
Address: 52 Boat Quay, #05-01/ #06-01, Singapore 049841
Hours: (Tues–Sat) 12pm–2pm, (Mon– Sat) 6pm–10:30pm,
Firangi Superstar
Undoubtedly one of the most unique restaurants opened in Singapore during 2021, Firangi Superstar was one of the best fantastical takes on Indian cuisine, featuring Wes-Anderson-inspired decor and Beatles on blast.
Yes, at its heart Firangi Superstar isn't really an Indian restaurant but that's where it shines — in an absurdly creative marriage of Indian food to many Western classics.
The easy standout is the Prata Waffle???, a whimsical take on chicken and waffles that features Prata ingeniously disguised as waffles. But if you're as big of a lamb aficionado as I am, then the unbelievably succulent tandoori Indian Saddle would blow your mind.
Website | Facebook | Instagram
Address: 20 Craig Rd, #01-03, Singapore 089692
Hours: (Mon–Fri) 12pm–3pm, (Mon–Sat) 5:30pm–10:30pm
Nixta
Probably one of the hottest openings of 2021, Nixta seats were a hot commodity but I immediately understood when I got to taste some of the best churros and tortillas Singapore has to offer.
It's strange to say but a good litmus test for a Mexican restaurant is their chips and guac — simple but articulately showcases the freshness of produce and quality of tortillas. And the Guacamole Nixta was miles ahead of any competition — smoky, crispy and sported an enthrallingly hefty bite to it.
While I'm not someone who gets infatuated with desserts usually, the hefty Churros made me fall madly in love with its impeccable crisp and stupendously gratifying dip of chocolate and caramelised goat milk. Not just one of the best restaurants in Singapore of 2021, but the best Mexican restaurant in Singapore, period.
Website | Instagram | Facebook
Address: 116 Amoy St, Singapore 069936
Hours: (Daily) 12pm–10.30pm
My Best Bars in Singapore 2021
Analogue Initiative
A new bar masterminded by Native co-founder Vijay Mudaliar, Analogue is a masterstroke of sustainability within the Singapore restaurant scene — perhaps of all time and not just in 2021.
You'd struggle to find bar decor that can triumph their eye-catching centrepiece, a wavy 3D-printed table crafted out of 1,600kg of recycled plastics. Above all, you'd struggle to find plant-based bar bites that can triumph their iconic Nuggetz and moreish Jackfruit Tacos.
In line with the dauntless innovation and creative drinks profile of Native, you'd find creative spins on classics such as the peanut-butter-negroni Spaceman. Whereas novel concoctions such as the layered and Asian-influenced Buckwheat well make sure you leave satisfied.
Address: 30 Victoria St, #01-31 Chijmes, Singapore 187996
Hours: (Tue–Sun) 5pm–10:30pm
MO Bar
Perhaps one of my most surprising finds of 2021, out of all the restaurants and bars on the list, is MO Bar which just debuted as one of Singapore's representatives on this year's World's 50 Best Bars.
To me, they deserve much higher than No. 36 — the mixology is a mix of sharp balance and hyperlocal inspiration that made me swoon as a cocktail enthusiast.
After coming back from London with a plaque, MO Bar had also rolled out a new Vol. 4 menu to round up 2021. My favourites of the new menu include the rebellious satay-tinged take on a Negroni, Satay by the Bay, and the Full Moon, a fragrant and easy-to-drink tipple that's the latest in their striking edible rice paper series.
Website | Instagram | Facebook
Address: 5 Raffles Ave, Singapore 039797
Hours: (Mon–Fri) 3pm–10:30pm, (Sat–Sun) 12pm–10:30pm
Smoke & Mirrors
A new find in 2021 which provides one of the best views you'd get in any restaurant or bar in Singapore. Before you get drunk on tipples, you'd get intoxicated by the luxurious sweeping views of the Padang and the iconic skyline fixtures of MBS and Singapore Flyer.
But it's not just the ambience — the friendly staff is also a big part of the experience. At the bar, you've got the ever-suave and friendly head bartender Edu shaking up your world with interesting concoctions on their menu or any peculiar requests you may have.
Pair the picturesque Padang backdrop with a glass of By The Padang's elegant mix of kaya and gin florals for a laidback evening, or get a whiff of intoxicating smoke with the Smoke on the Water. If you're lucky, you could also get a glass of their special off-menu tea-smoked creations that are one of my favourites.
Website | Instagram | Facebook
Address: 1 St. Andrew's Road, #06-01 National Gallery, Singapore 178957
Hours: (Daily) 3pm–10:30pm