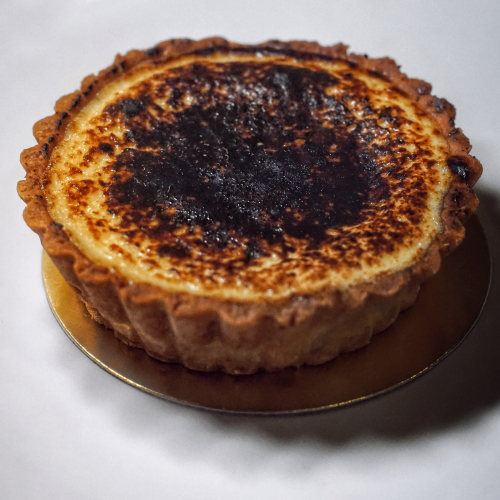 Get a slice of Burnt cheesecake heaven at Queic by Olivia, the REstaurant's new bakery
Olivia Restaurant & Lounge's legendary Basque Burnt Cheesecake needs no introduction, often raved as the best desserts Singapore has to offer. Alas, Olivia's prices are an indulgence and sometimes we just want a slice of cake. Hearing our prayers, they've opened Queic by Olivia.
If you ever wanted to have a slice of heaven without breaking the piggy bank, the Spanish outfit's swanky new bakery a street down is not just home to their burnt cheesecakes and in fact a church to all matters cheesecake. Hence the name — a play on the word "cake".
Banking on the resounding success of their flowy Basque Burnt Cheesecake, they're building a museum for everything cheesecake. So you'd even find the likes of the classic NY slice on display too. Don't take Queic by Olivia for just another Spanish bakery, you'd be gravely mistaken — their concept is a lot more ambitious.
Unlike the rustic elegance of Olivia, this new cafe is splashed in vibrant hues of brown and yellow — the colours of their iconic cheesecake. Queic by Olivia is a more modern concept and that's evident from their cryptic geometric branding that's rooted in the arcane art of baking.
Velvety Cream Cheese Bliss
It's an absolute war crime to leave without getting some of that molten cheesecake filling smothered all over your tongue. At $16 for a 4″ Olivia Burnt Cheeseake ($16/4″, $48/6″, $78/9″), you don't get just a slice of heaven but an entire chunk for the same price.
As insurmountable a task as it is to top their revered magnum opus, Queic by Olivia did it. This was better than my previous taste of their classic pastry — a verdict that my dining partner agreed with.
Queic by Olivia's rendition boasted of a molten core that flooded the palate with an exquisite deluge of velvety cheese. The delicate almond sable base then crumbled into a buttery avalanche for sublime textural interplay.
A controlled vigour of smoke comes right at you, underscoring the elegant richness of the cream cheese. This was pure unadulterated hedonism.
New Creations Not at Olivia
Being in their soft launch phase, they also graciously offered mouthfuls of their other pastries, gently divided into bites. Of those we sampled, the Chocolate Cheese Cake ($17/4″, $52/6″ , $82/9″) was a close runner-up at Queic by Olivia.
A wonderfully potent blitz of silky chocolate and a punctuated crunch amidst the sable built into different textural chemistry than the OG — almost as gratifying, though. Almost.
On the other end of the flavour spectrum, a spurt of inspiration also saw Queic by Olivia crafting an exceedingly savoury Idiazabal Cheesecake ($10/slice, $45/6″, $74/9″). With the supporting star of Idiazabal cheese, the smokiness is pushed to the zenith.
This is more akin to the regular burnt cheesecake as compared to Olivia's almond-sable version. One of my favourite renditions of this trendy dessert — creamy, exhiliartingly potent while still being delightfully sweet amidst the savoury explosion.
Simpler, non-flowy, and non-burnt cheesecakes also mingle amongst their charred cousins. Some of the more international features include the fruity American Cheesecake Macaron ($12), NY Cheesecake ($10/slice, $45/6″, $74/9″), and a more French-leaning Gateau Basque Cheesecake.
Queic by Olivia
Address: 41 Kreta Ayer Road, Singapore 089003
Hours: (Mon–Sat) 11am–7pm