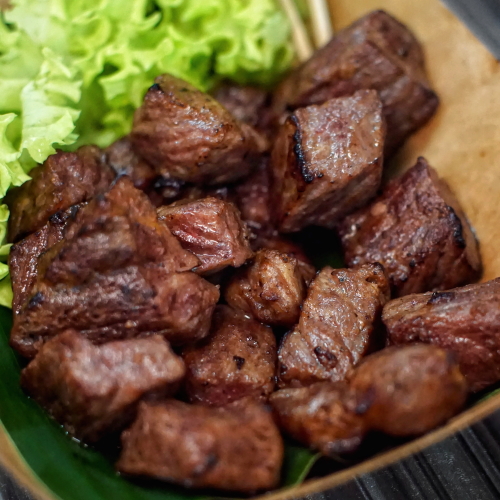 Kin Hoi's thai grilled meats are so good there's a money-back guarantee
If you're looking for a change of pace for authentic Thai cuisine in Singapore beyond your typical mookatas and boat noodles, Kin Hoi at Holland Village is a good choice for an authentic jolt of Thai flavours.
It's run by a Daniel former media executive who explained that he found more joy serving satisfied customers than pushing paper in an office. To achieve those smiles, he flies in ingredients from the Land of a Thousand Smiles to ensure an authentic taste of Thailand,
Unbelievably Good Meat for the price
First thing's first, go for their meats — amazingly well-grilled and loaded with copious amounts of flavour and juices. Kin Hoi is so confident in their meats, Daniel guarantees a refund to any first-timers who weren't satisfied.
For true indulgence, get the melt-in-mouth Thai Honey Grilled Pork ($12), which delivered such a decadent party of fatty succulence and crisp, I literally moaned. A nice whisper of smoke also helped underscore the depth of pork sweetness and honey perfectly.
Alas, Kin Hoi's signature Melting Beef ($12) might attract more people with its potent beefy richness and it's a mighty fine choice too. Every cube of beef set off an explosion of sapid juices that we couldn't get enough of.
Kin Hoi does Solid seafood & Thai classics too
Being a Thai stall, there was obviously also a huge emphasis on seafood dishes at Kin Hoi. For shellfish lovers, you wouldn't stop popping these lovely pieces of Cockles ($19/1kg) into your mouth, especially when drenched in their Signature Teochew Styled Sauce.
The cockles didn't have any fishy staleness at all and the sauce provided a delectable sweet-umami and gentle heat to enliven things.
Since Bangkok is still inaccessible to us, Kin Hoi is a place where you can get Thai Crab Omelette ($16.80) in Singapore that's similar to Michelin-Starred Jay Fai.
I enjoyed the nice fluffy golden-brown blanket of egg that came with a generous avalanche of crab meat but the pricing is on the higher side compared to some other popular Thai crab omelette places in Singapore.
It's a similar story for their plain Tang Hoon ($8) where a humble plate of vermicelli sets you back $8. Despite sporting an immaculate bounce and a nice helping of freshly-fried pork lard I'm not sure this is something worth the price.
That said, if you're ordering a Thai feast at Kin Hoi then it's not a bad idea to share this with others — it's a rather generous portion and is a very gratifying carb to slurp down with the heavier meats and seafood.
Here's probably the dish with the most interesting origin at Kin Hoi — Thai Duck Noodle (S$5). While now a staple on their menu, it originally started off as a staff meal dish that was so good they decided to share it with their customers.
Fans of gentler broth would enjoy the clear and light profile that sported a mild herbaceous perfume. A supremely comforting dish but not something that would wow you — not that it has to, either.
While we were obviously blown away by the unadulterated indulgence of their meat — and the great value they present — Kin Hoi does the comforting, homely Thai classics quite well too.
And thankfully so, because the balance ensures you aren't overwhelmed by some of the heartier Thai flavours so it stays enjoyable with an authentic edge to it.
Kin Hoi (Holland Village)
Website | Instagram | Facebook
Address: Blk 6 Holland close Singapore, Singapore 271006
Hours: (Daily) 9am–9pm
*This was an invited tasting.