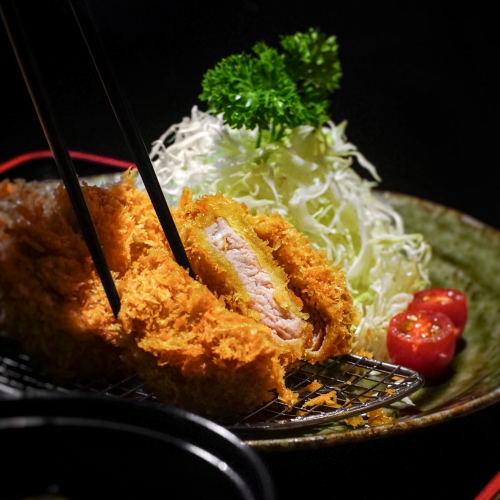 Hajime Tonkatsu is not just great affordable tonkatsu but a man's lifelong passion
Hajime is helmed by Singapore's first Tonkatsu chef, Chef Tan-San, and progenitor of the local style at Tonkichi all those years ago. These are not just slices of beautifully-fried pork but slices of history itself.
There's an illuminating conversation to be had with Chef Tan-San. On his formative years in Japan, on adapting the taste of Japan for local palates, and above all his attention to detail and insistence on hand-made ingredients.
What I saw was an unwavering passion and dedication to perfection, even in old age. And it's paying off in the form of a spanking new second outlet at Thomson Plaza.
Hajime Tonkatsu is Chef's Magnum Opus
The Premium Pork Loin Tonkatsu ($22.90) was 30 years of experience reflected through virtuosic frying. The result was a beautifully airy batter with a pristine crunch, coated onto succulent meat luxuriously scored fat. Ladies and gentlemen, a textbook Tonkatsu that's easily comparable with more expensive renditions.
One would mistake the Tonkatsu as the sole focus of the dish but it was really a harmonious ensemble of ingredients, each meticulously fine-tuned for their role. In particular, the palate cleanser of pickles pierced through the heaviness with their vivacious tartness as a palate — very addictive.
In contrast, the Nagoya Miso Fillet ($19.90) was less fat-endowed but the batter remained equally crispy. However, this edged Hajime's signature premium loin Tonkatsu for me because of the stunningly complex miso sauce.
A compelling combination of roasted fragrance and sweetness, whilst a gentle touch of sharpness radiantly shone through all the heaviness. Almost like an upgraded Chee Cheong Fun sauce that went well with everything.
Hajime makes Good Ramen Too
If tonkatsu isn't your thing, Hajime's Ebi Fry Ramen ($17.50) was a solid alternative for noodle fiends. The broth featured a creamy and robust Tonkotsu base, but was empathically elevated through the vibrancy of Sakura Ebi sweetness. A gratifying marriage of land and sea.
The ensemble of outstanding Tempura, sporting the same perfect airy crisp as Hajime's Tonkatsu, and smoulderingly charred chashu were also deft finishing touches. Honestly impressive quality for a tonkatsu specialist.
Maybe tonkatsu doesn't normally wow diners, but Hajime Tonkatsu has plenty of heart and story. It's as good as it gets, especially for the price point. There's elegance in the simplicity, and beauty in the details. It's almost romantic — one man's story of his unyielding dedication to his craft.
Hajime Tonkatsu & Ramen
Address: 301 Upper Thomson Rd, #01-110 Thomson Plaza, Singapore 574408
Hours: (Daily) 11.30am–2.45pm, 5pm–9.30pm
*This was an invited tasting.