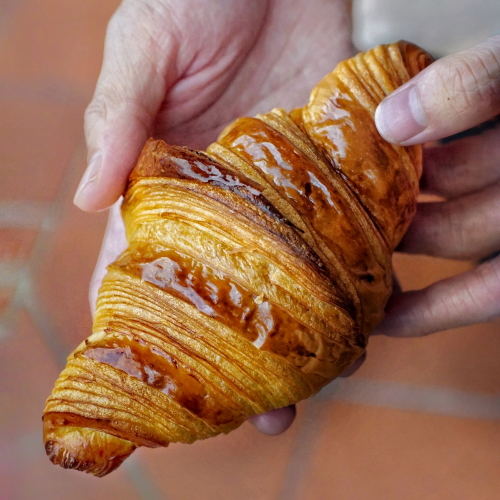 Petit Pain might have one of the scariest queues in Singapore, but are the croissants worth it?
Nestled in a quaint and unassuming shop space in Katong, Petit Pain produces some of the most popular pastries in Singapore. Alas, with their secluded location and the excruciating queues, have you wondered if they are worth the pain? Quite possibly so.
Go as early as possible because they sell out their opening stock quite speedily. Joining the queue any time after opening will probably see you reserving your loot for collection at their later bake times of 12:30pm or 2:30pm.
petit pain is the only pain i want
Lord have mercy on my deviant soul, for I have discovered a love for pain. Theirs was a textbook plain croissant ($3) — beautifully laminated and dyed in a golden butter hue. Countless flakes of its mouth-wateringly crispy shell scattered in the air as I pulled it apart to reveal the gorgeously fluffy and airy innards.
A shining example of craftsmanship. Simple and elegant, but the aroma of butter was already enough to make me lightly quiver. Maybe not my favourite croissant in Singapore (that goes to Baker's Bench) but Petit Pain created a gorgeous specimen.
Escargots, Drown your woes
The croissant is their signature but this Orange and Chocolate Escargot ($3.80) was my favourite from Petit Pain's pastry line-up. The mild chocolate richness and the vivid citrus tartness was quite the sweet marriage. Sweet but still nuanced, and not at all cloying.
The candied orange was the difference maker with that spirited perfume and the commentary tender bite. Extremely bright in profile, this is a pastry that will put a smile on your face.
The other escargot available at Petit Pain was the Raisin Escargot ($3.60), where the flavours on display weren't as exciting but the dainty raisin sweetness added a nostalgic nectarine sweetness to the buttery pastry.
The dried morsels of fruit were so chewy and plump which meshed wonderfully with the crisp. No bells and whistles, just understatedly great.
Everything is worth a try
Another highlight was this Apple Danish ($3.80). It was bliss when I dug beneath the golden layers to savour the tender and succulent apples, which was brilliantly articulate in both sweet and tart notes. That quirky flavour profile just effortlessly sliced through the rich butter of the pastry. Though maybe a tad more filling would have made it a bit more exciting.
The Pain Au Chocolat ($3.50) was maybe the least memorable of Petit Pain's pastry line-up. I thought the chocolate filling was rather scant and hence didn't enhance the flavour profile as much as I would have liked. It was good chocolate though — controlled in sweetness with a richness that paired well with the buttery pastry.
Other than pastries, Petit Pain also has bread such as the popular Shitake Flatbread ($4.50) which was an enjoyable medley of cheese, onions and juicy shitake generously embedded into the pillowy bread.
It was good —lightyears ahead of your typical bakeries — but compared to the outstanding pastries, I didn't feel as satisfied paying $4.50 for a bougie version of pizza bread.
All in all, Petit Pain's pastry craftsmanship is commendable, each piece was of good quality and flaked harder than my tinder dates. If you're on the hunt for the best croissant in Singapore, just bite the bullet and join the agonising queue. After all — no pain no gain.
Petit Pain
Address: 315 Joo Chiat Rd, Singapore 427566
Hours: (Tues-Fri) 11pm-5pm, (Sat-Sun) 10am-4pm
Price Range: Approximately $3-$20 per pax