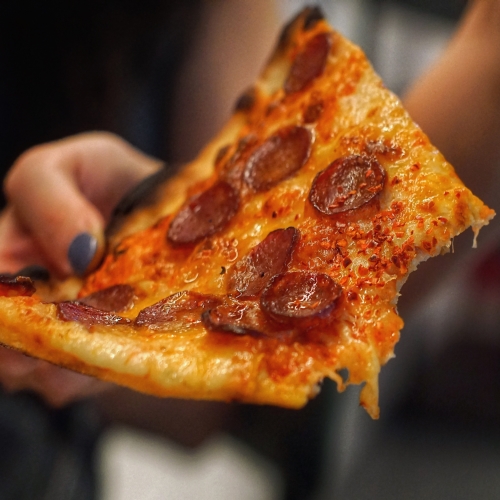 Sonny's Pizza Brings Proper Wallet-Friendly Pizza Slices True to the NY Spirit
The charisma of a good pizza is undeniable when the dough, the sauce, and the toppings are all done just right. At its core, pizza is a very simple dish. So even with the prevalent movement of artisan pizza joints all over Singapore, I'm more than happy to welcome the unpretentious NY-style pies of Sonny's Pizza to the fold.
An airy, rustic sourdough pizza still gets my attention but a slight feeling of fatigue has set in with the constant blitz of artisan pizza parlours, especially as more subpar newcomers enter the fray.
That's why Sonny's Pizza is such a breath of fresh air — because there are no airs here, just a good ol' New York Slice for a good ol' time. It is what it is, and what it is is good shit.
A stripped-down sense of intimacy makes sure you're just at home and you can let yourself loose like you were buying a cheap slice from any random New York corner store.
That said, while the overall vibe is laidback, the quality controls are anything but that. The man in the Sonny's Pizza kitchen is Chef Son Pham, a familiar name to gourmands in HK circles, whose portfolio speaks for itself.
Everything is fastidiously procured, every pizza tediously R&D'd to meet Chef Son's exacting standards at Sonny's Pizza. The pizzas might be value-for-money, but it sure as hell ain't cheap.
THe Must-Orders
And the magic is in the dough — made by hand, with high-grade 00 flour, fresh beer yeast, and with lots of love from Chef Son. The centre is kept nice and soft without being soggy, while the crust crackles with menace when you chomp down on it when still hot.
Contrary to popular belief —including my own convictions as a pseudo-carnivore— Pizza doesn't always need meat. Sonny's Pizza helped persuade us firmly with this slice of I'm Going Green ($6.50/slice, $22/12″).
This earthy medley of juicy mushrooms, bechamel sauce, and complementary herbs was just as satisfying as any meat-based pizza. And trust me, I hate veggies with a vengeance.
The poster child of Sonny's Pizza though is absolutely the Pepperoni ($6.50/slice, $22/12″). Yes, it's a boring classic but Sonny's Pizza makes one of the versions of this humble icon.
For starters, those crispy discs of porky goodness are custom made to specifications just for them to ensure the most perfect flavour and texture balance as Chef Son envisions
It's got saltiness, punch, and an endearing greasiness — all essential ingredients for the archetypal decadent Pepperoni slice.
More importantly, don't forget to douse it in Sonny's Pizza's addictive Hot Honey sauce. That does of floral sweetness and additional heat really elevated the entire slice so so effortlessly.
Another wacky homerun was the Saigon Stunner ($7/slice, $26/12″) which best reflects Chef Son's Vietnamese heritage with umami fish sauce and basil pesto. This was a flavour bomb that will intrigue anyone who is a fan of headier, herbaceous flavours
THe REst Of The Good Stuff
Don't be mistaken, the rest of the slices at Sonny's Pizza aren't half bad either but the stars just outshone them. However, if you're a breakfast or brunch aficionado, then this GM Pizza ($7/slice, $26/12″) is right up your alley.
The combination of rich hollandaise sauce, bechamel base, and bacon just acts as a huge warm embrace of hearty breakfast flavours — exceedingly comforting.
Similarly, the Sausage ($6.50/slice, $22/12″) hits with a nostalgic warmth with its ensemble of fior di latte, peppers, and Italian Sausage.
Being simple, stripped-down, and slightly greasy is its virtue — ultimately a satisfying party of saltiness that will hit the spot.
Last but not least, the Cheese ($5.50/slice, $18/12″) is the most unassumingly straightforward piece but is executed without a hitch. You get the richness of the marinara sauce and a mild layered blend of five kinds of cheese, all underscored by the sublime dough
A Connoisseur's Craft Beer Fridge
You're also in luck if you, like me, are a functioning alcoholic and a boozy drink is a tableside necessity. Since Sonny's Pizza has an extensive range of craft beer bottles and cans studiously curated by Chef Son personally.
The curation is measured, purposeful, with more creative brews mingling amongst many easy-to-drink favourites. There's good stuff from all around the world, with local trailblazers like Alive and Brewlander prominently featured too.
Another country that is frequently spotted in Sonny's Pizza fridge is Hong Kong, where Chef Son hails from. This is so far the only place in Singapore you can get a beer from Black Kite Brewery.
Naturally I had to pop open a bottle of the Salted Plum Gose ($13) which was tart and refreshing, bearing some resemblance to the classic Kiam Sng Ti Gose by local brewers The Singapore Project.
As with all restaurants, it's hard to predict whether Sonny's Pizza will stay on track since it's the early days but I liked what I saw, what I ate, and what I paid. Above all, I trust Chef Son's vision and drive to turn them into one of the best pizza parlours in Singapore.
Sonny's Pizza
Website | Instagram | Facebook
Address: 17 Circular Rd, Singapore 049373
Hours: (Tue–Sat) 12:30pm—10:30pm